For a beautifully romantic or self care evening filled with love, here are some of my choices of extra special bits for this year's love day. Including an easy to make cocktail to treat yourself to. It is my favorite go to whiskey cocktail, if it is too strong, add a splash of cold water.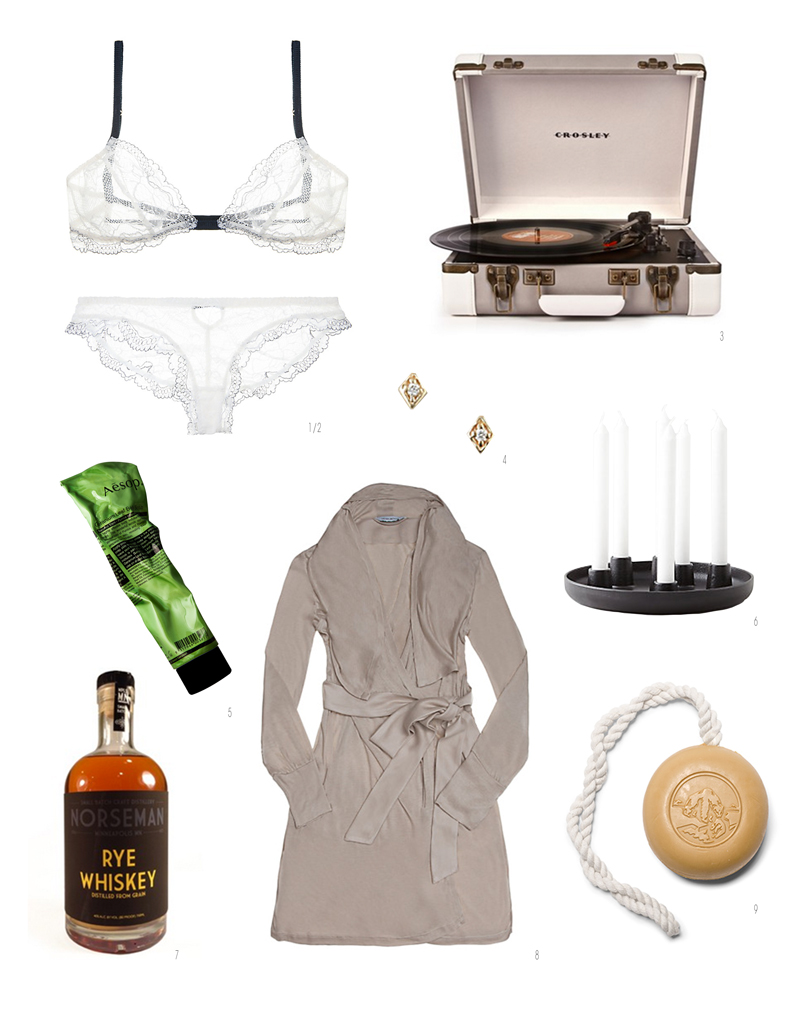 1/ Eberjey Joey Bralet ($56) 2/ Eberjey Joey Bikini ($56) My absolute favorite brand of intimates and sleepwear is Eberjey. Stunning detail and unbelievable comfort.
3/ Crosley USB Turntable (Nordstrom Exclusive) ($110) There is something so relaxing about playing a record, and just sitting down and listening to it. I've always been fond of Crosley, this will make a very fun gift for Graham to nerd out on.
4/ Tiny Diamond Filigree Studs by Bianca Monros Gomez ($195) I am not a huge jewelry girl, one of my favorite things to wear every day is an adorable petite stud earring. These studs by Bianca Monros Gomez make my heart skip a beat!
5/ Aesop Geranium Leaf Body Scrub ($35) I've just been so smitten with Aesop skincare, and this scrub is my absolute favorite. It has such a unique and refreshing smell.
6/ Candle Holder by Iittala ($110) No fireplace here in our little apartment, so this candle holder should do the trick.
7/ Norseman Rye Whiskey, made in Minneapolis  I love seeing more and more distilleries popping up in Minneapolis. See my favorite simple go-to whiskey cocktail below.
8/ Ashlinn Robe by Dear Bowie ($250) Oh my, this robe. If anything you splurge and treat yourself to, let it be this robe.
9/ Kaufmann Mercantile, Olive oil based hair & body soap ($27.95) Adding olive oil to your skin and hair, does wonders and this soap makes it so easy to do so.
Whiskey Sweet Orange Cocktail
Ingredients:
2 oz. Norseman Rye Whiskey
2 drops sweet cherry bitters
fresh juice from 1 orange, sweet
1 teaspoon honey
ice
Directions:
1. Add into a glass, stir, enjoy, repeat.