One of our favorite 'go-to' salads that we make quite often is this arugula, fennel and beet salad. We make little variations of it each time we make it but we don't change it much. My favorite part about making this salad is that we always make it together, I prepare the vegetables and Graham is on dressing duty. Typically we buy enough ingredients to enjoy this for three or so days in a row, and make it fresh each day. It pairs really well with cedar plank salmon or other fish.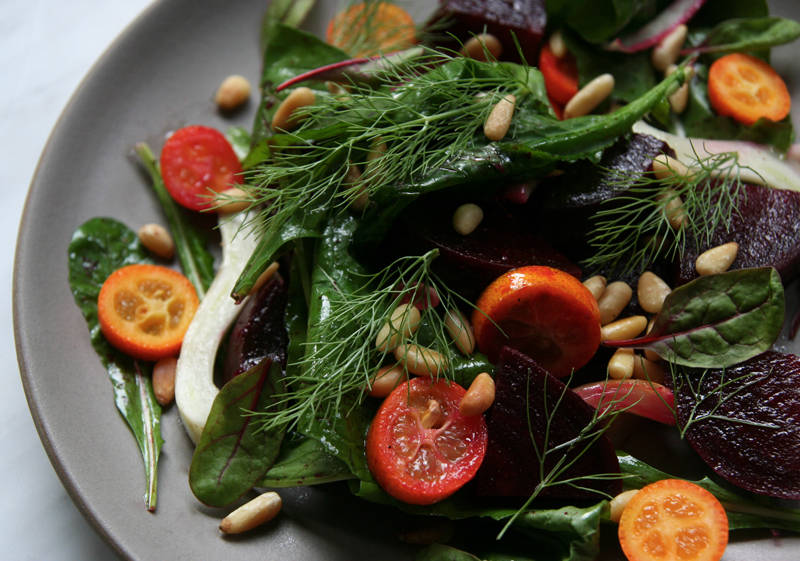 I love roasted beets. Not the beets that come from a can, that are scary and ooie-gooie mush cubes… No, the roasted beets that you make at home that are divine! My aunt, Laurie actually turned me onto roasted beets and the brand "Love Beets" which is sold at Whole Foods or other health food stores. Love Beets make eating roasted beets so easy, convenient and delicious. I love this section on their website called 'Fun Facts & Tidbits' it discusses all sorts of health benefits from eating beets.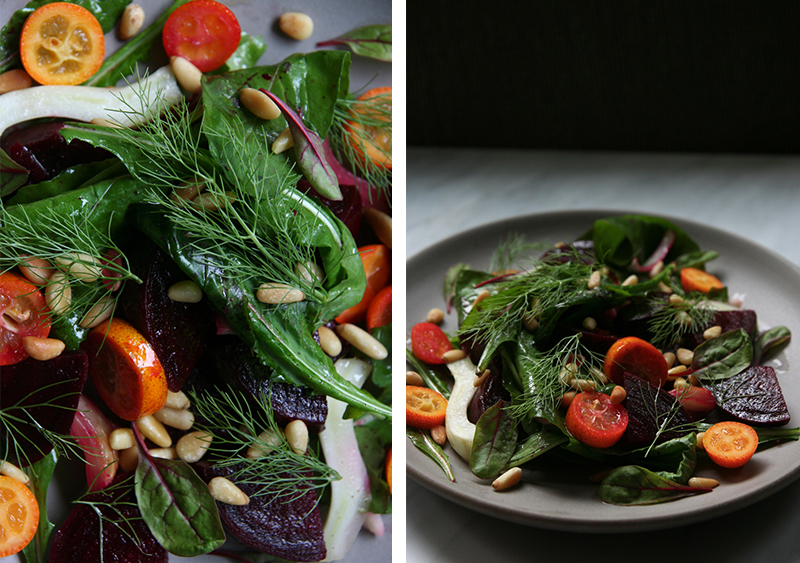 If you have time and want to roast your own beets, it is quite simple. Preheat your oven to 375 degrees, wrap your beets in aluminum foil and place them on a baking sheet in your oven to roast. Depending upon the size of your beets, roast beets anywhere from 45 to 60 minutes. After you can poke a fork through them nicely, let your beets cool for about 10 minutes, and then peel their skins off over your sink. This gets pretty messy, so make sure to wear clothes you do not care about or an apron and use a non-porous surface to avoid staining. Slice to your liking and that is it!
This salad can be adaptable and really easy to switch some bits out for others. Example, if your store does not have fresh arugula, use spinach. If kumquats are nowhere to be found, swap them out for oranges or tangerines. I hope you enjoy this one as much as we do!
Print Recipe
Arugula, Fennel, Beet Salad with Kumquats and Pine Nuts
Arugula, Fennel, Beet Salad with Kumquats and Pine Nuts
Ingredients
Salad Mix
2

roasted beets, cubed

My favorite ready made brand is "Love Beets"

1

fennel bulb

2

heaping handfuls of arugula

4-5

kumquats

sliced

1/4

cup

pine nuts

toasted
Dressing
2

tablespoon

olive oil or flaxseed oil

1

tablespoon

apple cider vinegar

3

tablespoons

orange

fresh squeezed juice

1

teaspoon

Dijon mustard

to taste

salt & cracked black pepper

to taste
Instructions
Assemble Salad
Prepare your beets, you may want to do this ahead of time if you are roasting your own beets. If you have purchased Love Beets or another brand, you are good to go. Slice your roasted beets to your liking and add to a salad bowl.

Cut the fennel in half lengthwise. Remove the tough core and slice it into 1/4" wedges. Heat oil in a sauté pan over medium-high heat. Add the fennel wedges, five it a quick stir, then allow to cook undisturbed, so you can get some nice brown bits, for 5-7 minutes. Turn down your heat to low, and stir and cook for about 2-3 more minutes. Set aside to cool and then add when cool to salad bowl.

In a small sauté pan, toast pine nuts over low-medium heat. Toast slowly and stir constantly to make sure pine nuts are toasted through out and do not burn. Set aside to cool and then add when cool to salad bowl.

Wash your arugula and add to your salad bowl. Slice kumquats and add to your salad bowl party.
Dressing
Dressing time: Add oil, apple cider vinegar, fresh orange juice, Dijon mustard and salt and pepper to taste in a glass bowl or salad dressing container. Either shake or whisk together and pour over your salad bowl goodness.
Toss
Gently toss salad and serve at room temperature or chilled.