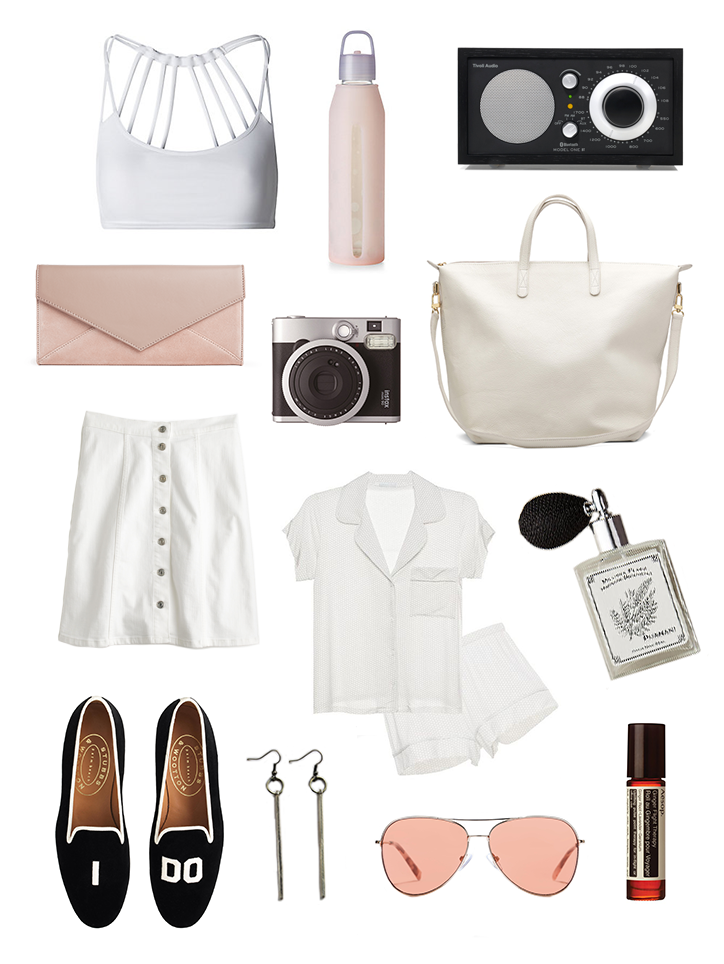 White Lululemon Sports Bra // Lululemon Water Bottle // Tivoli Audio Model One // Blush Cuyana Clutch // Fujifilm INSTAX Mini 90 // White Cuyana Oversized Carryall Tote // J.Crew Button-front white denim skirt // White Eberjey Short PJ Set // Melissa Flagg Eau fe Parfum at Anthropologie // J.Crew I Do Slippers // LaLunette Brass Point Earrings // J.Crew Rose Gold Aviators // Aesop Ginger Flight Therapy
This coming weekend me and oodles of my best girlfriends are going to Chicago to celebrate my recent engagement and marriage! You could call it a Bachelorette party, maybe a fling after the ring or bridal party? I have not been to Chicago in awhile, so I am really looking forward to seeing some of the spots, restaurants and shopping I've had a my knock list for awhile. I have done a round up for you including some of the items I plan on bringing with me on our trip.
First up, I've fallen in love with this Aesop Ginger Flight Therapy found at Nordstrom recently. I have been traveling a lot and spending a good deal of time at an airport or on an airplane and have come to relay on this amazing product. You apply it on pulse points during times of stress, nausea or weariness. It helps to give you a sensory lift but also calm your nerves naturally. Something else I can not travel without is a nice water bottle like this Lululemon one and an oversized bag. This Cuyana Oversized Carryall Tote has been in my "shopping cart" for awhile and I have yet to pull the trigger. The key to a great oversized tote is for it to have a long strap and have a zipper. If your tote does not have a zipper than all of your goodies are out there in the open.
Our Friday night plans when we get in will most likely be spent at the hotel in our pajamas, drinking wine and catching up. I plan on wearing this adorable white Eberjey Pj short set. I own several sets of these pjs both in long and short in different colors, and can not recommend them enough! I put together a playlist of all of our old college "going out/ party" music on Spotify and we will use my Tivoli Audio Model One to listen to it in the room. I also thought it would be fun to take pictures with the Fujifilm INSTAX Mini 90. There is nothing more fun than a "polarid camera" and a bunch of girls together in a hotel room!
Saturday morning we are all going to CorePower Yoga for a yoga sculpt class to prepare us for a night out. I'll be wearing my white Lululemon sports bra and yoga pants with a white headband. We plan on shopping during the day, eating tons of delicious food and going out at night. One of the places I am most excited to see is Soho House Chicago and spend all day Sunday there eating and enjoying the Cowshed Spa. If you have any reccomendations for restaurants, bars, clubs or shopping I would love to hear from you. And now, let the college music commence…