Happy Monday! Over the weekend, a lot was happening. I celebrated my birthday on Saturday and had the most beautiful day. We started by going to my favorite organic farmer's market in town and brunch with my family at one of my favorite Minneapolis restaurants, Spoonriver. After a beautiful morning, I spent all day at the yoga studio in my new teacher training program! I am currently learning how to teach Yoga Sculpt, with CorePower Yoga Minneapolis. Yoga Sculpt is a unique combination of Vinyasa Yoga, strength training and conditioning. This training is super exciting for me and I am so happy that I have the opportunity to be a part of the training group. I was a collegiate swimmer and loved strength training and pushing my physical body to it's edge.
Yoga Sculpt is an intense and challenging class designed to strengthen your whole body, increase flexibility and have all of the mental benefits of a spiritual yoga practice. My favorite part of the class is the energy and community atmosphere it harnesses. We play loud music, the class counts together and everyone is smiling and having a good time. If you have never tried a Yoga Sculpt class, I highly encourage it. During our teacher training, we do not just pretend students are doing cardio sets, push-ups and bicep curls… we act as the students and do them. Our group spent about 20 hours there this weekend in total. To say I was hungry after training was an understatement. I needed something that was filling and full of protein to help my muscles recover for the next day.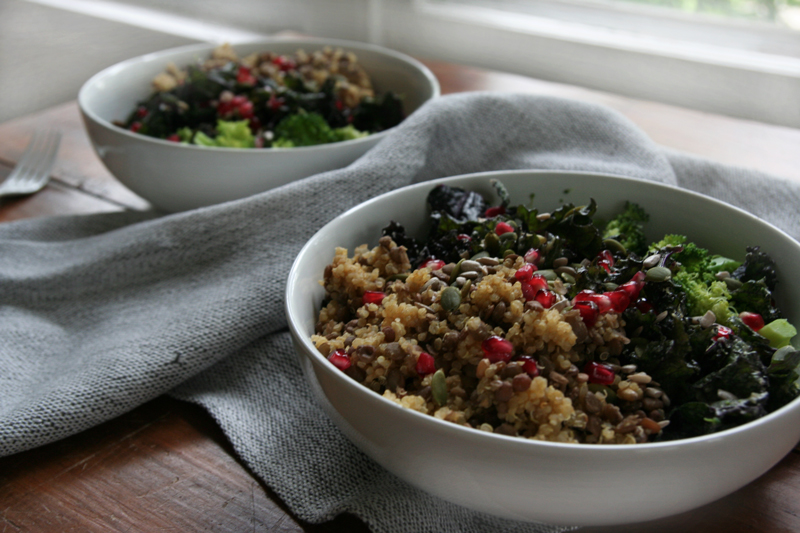 This broccoli, marinated kale, lentil and quinoa bowl with pomegranate seeds is packed full of protein, vitamins, minerals and amino acids to help your body recover from a big workout. Lentils are a great source of protein, and are super easy to prepare. Lentils also provide excellent amounts of our B-vitamins and protein with virtually no fat, which is fantastic for everyone but especially vegans. You can buy lentils pre-cooked at Trader Joe's or other stores that are so easy to put in meals. Quinoa is a high protein grain-like seed which is unprocessed and naturally gluten-free. Quinoa is one of the only plant foods that are considered a complete protein on its own and comprised of all essential amino acids.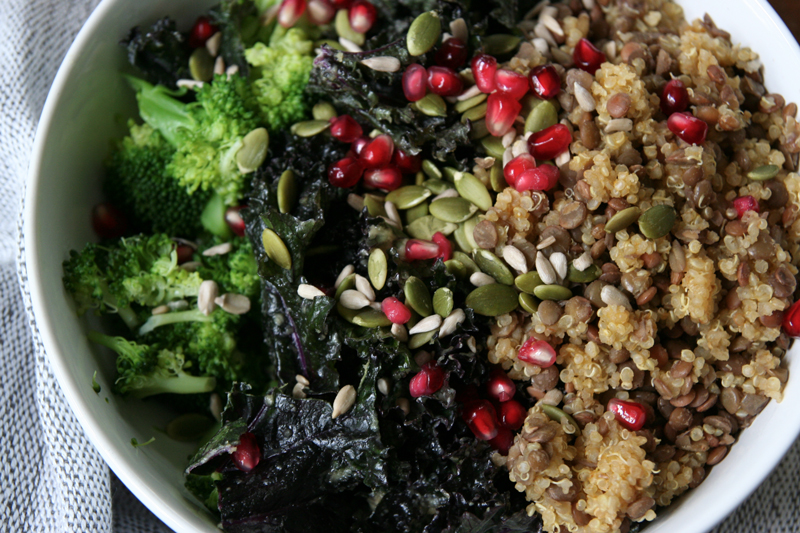 Now to the seeds… seeds are often overlooked because nuts are getting a lot of attention. Since I've been newly allergic to almonds, I have been doing a lot of research on other vegan sources of protein. Tahini, which is a paste made from ground sesame seeds is also high in protein, it has 20% complete protein, making it a higher protein source than most nuts. Pumpkin seeds are my new favorite high protein source that I just seem to put in everything now a days and it is truly a gift from nature. Avoid buying varieties that are salted, roasted or sprayed with pesticides, be sure you choose the best source from your local health foods store that are raw, organic and bright green. My favorite part about pumpkin seeds is they are rich in amino acids and have an especially high amount of tryptophan, the amino acid that enhances serotonin production in your body, which helps boost your mood and leave you feeling great!
Broccoli, Marinated Kale, Lentil & Quinoa Bowl with Pomegranate Seeds // serves 4
(vegan + nut-free + gluten-free + soy-free)
Ingredients:
1 cup lentils, cooked to instructions or rinse if canned or pre-cooked
1 cup quinoa
2 cups vegetable broth (optional)
2 heads broccoli, chopped into bite size pieces
large bunch kale
4 tablespoons tahini
2 tablespoons flax oil
1/2 cup pomegranate seeds
1/4 cup tablespoons pumpkin seeds
2 tablespoons sunflower seeds
salt & pepper
Directions:
1. Cook lentils, follow instructions on packaging. If canned or pre-cooked, rinse and warm on low heat in saucepan with small amount of water.
2. Cook quinoa with vegetable broth or water and dash of salt. Bring your liquid to a boil in a medium saucepan. Reduce heat to low, cover and simmer until tender and most of the liquid has been absorbed into your lovely quinoa. This should take about 15-20 minutes. After cooking, In a large bowl combine bowl warm lentils and quinoa and stir and set aside.
4. While your lentils and quinoa are cooking… Chop and steam your broccoli to your liking. I typically steam for about 3-4 minutes.
5. Shred with your hands the bunch of kale, about 12 stalks of kale into small bite size pieces and place in a large bowl. (You can include the stalks or not, it is up to you – I do not include them because they are a bit tough to eat.) After you are done shredding your kale, add tahini and flax oil into the bowl and massage into your kale bits. This technique is also done in the Green Apple + Avocado Kale Salad recipe.
6. This salad is great for lunches, you can prepare all of your bits and assemble into glassware (storage containers) and pull out when ready to eat. Can be enjoyed cold. To assemble, either in your glassware (storage containers) or into bowls in rows place your broccoli, marinated kale, and mixed lentils and quinoa. Top with pomegranate seeds, pumpkin seeds, sunflower seeds, sprinkle of salt and pepper.