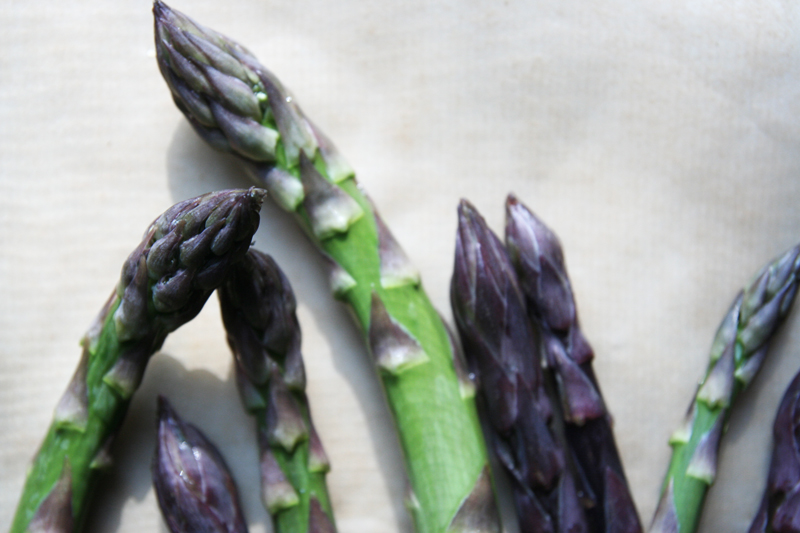 Asparagus, amazes me. I love it for its uniqueness, its boldness to be different, stand out as a beauty unlike any other plant. It has been coveted for almost 2000 years as a luxurious vegetable. Prized for its succulent unique taste and tender, snappy texture. In India and the Himalayas, asparagus was originally used in medicinal context. Often found in Ayurvedic medicine, especially in healing digestive problems. Something I learned after reading more into asparagus is how to select and store for optimal eating! "Asparagus stalks should be rounded, and neither fat nor twisted. Look for firm, thin stems with deep green or purplish closed tips. The cut ends should not be too woody, although a little woodiness at the base prevents the stalk from drying out. Once trimmed and cooked, asparagus loses about half its total weight. Use asparagus within a day or two after purchasing for best flavor and texture. Store in the refrigerator with the ends wrapped in a damp paper towel." Source: The World's Healthiest Foods.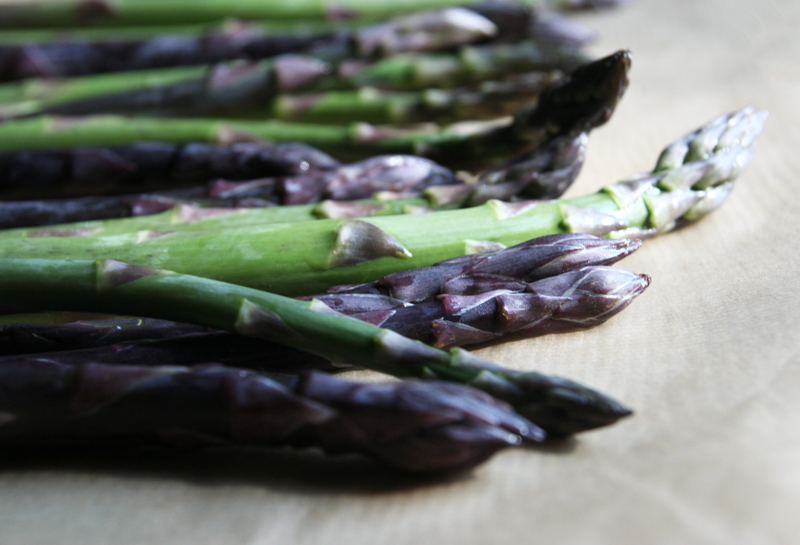 I picked up this asparagus at the local farmer's market this weekend and fell in love with its beauty. This flatbread pizza highlights and 'shows-off' this luxurious vegetable, asparagus. The crust is gluten-free, crunchy, earthy and kind of sweet. I tend to make a few dough balls ahead of time, and leave them in the freezer for when we want to make flatbread pizzas – which is quite often. The fennel and potato spread was inspired by a lot of things, but mostly from a local restaurant called Birchwood Cafe. Birchwood Cafe has weekly pizza and wine night that we frequent and they have awesome vegan and vegetarian pizza options that are quite creative.
This flatbread pizza is creative and a little different, but that does not make it hard to make… it is actually quite easy. This pizza makes a nice entree or appetizer for a dinner party outside this summer. We baked ours in the oven on our pizza stone, but it would be delicious grilled as well. If you are thinking about adding cheese to this pizza, I wouldn't, the fennel spread is incredibly creamy and you will not need anymore creamy – cheesy like flavors.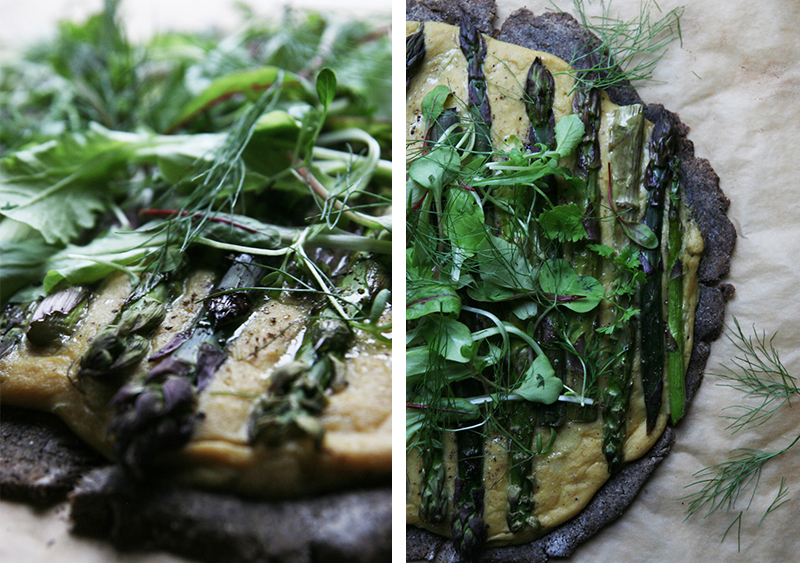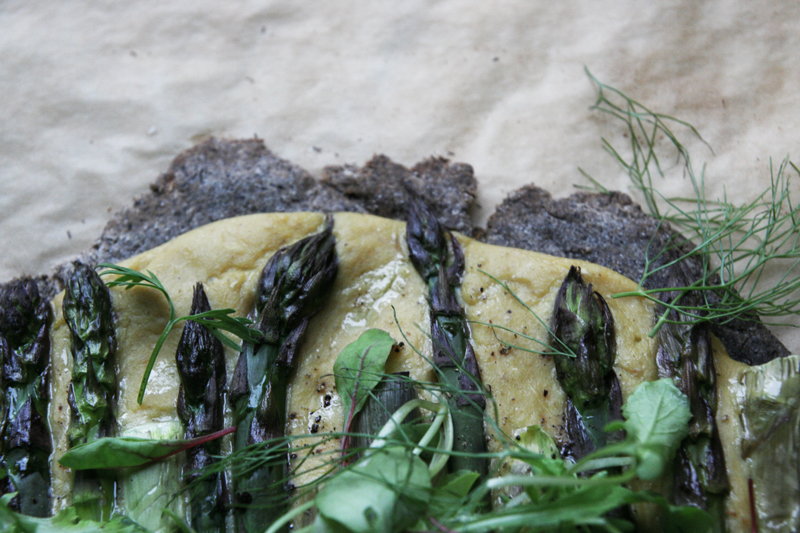 Buckwheat Flatbread Pizza with Asparagus and Fennel Spread // Makes two pizzas, Serves 4-6
(vegan + gluten-free)
Ingredients:
For the crust…
1 1/2 cups water
1 tablespoon sea salt
2 tablespoons coconut sugar, or raw organic sugar
1 tablespoon apple cider vinegar
3 cups buckwheat flour
1/2 teaspoon baking soda
4 tablespoons olive oil
For the topping…
1 small yukon gold potato
2 small fennel bulbs, cored and sliced, green fronds for fresh topping
4 tablespoons non-dairy milk, I use coconut milk
2 tablespoon nutritional yeast
1 teaspoon salt
about 12 asparagus stalks, sliced in half
micro green mix or arugula for topping
red pepper flakes (optional)
Directions:
1. Preheat your oven to 400 degrees F
2. Boil salted water in a medium sized pot. Reduce to a gentle simmer and boil potato for 15-20 minutes or until you can poke a fork through nicely.
2. In a medium sauté pan, over medium-high heat fry fennel slices in lightly oiled pan. Stir for about 30 seconds, and then let sit so you can get a nice caramelization. Let cook for 5-7 minutes and then set aside to cool.
3. In your food processor or blender, blend cooked potato, fennel slices, non-dairy milk, nutritional yeast and salt. Set aside your fennel spread for later.
4. Now onto your crust… Mix together the water, salt, sugar in a jar with a tight lid and shake until everything dissolves. Add the vinegar and shake lightly to mix. Set aside.
5. Sift 2 cups of buckwheat flour into a large bowl, then add the baking soda, olive oil and gently pour 1 cup of your shaken mixture from your jar. Start adding your last cup of flour slowly and mix with a wooden spoon. After your dough is not so sticky anymore; Briefly knead by hand of 1-2 minutes, be careful not to over knead. Separate dough into too dough balls and dust with additional flour. If you are making two pizzas right away, roll out each pizza dough and lightly dust with additional flour.
6. Assemble your pizzas… Spoon your fennel spread onto your pizzas and spread and create a thick layer. Trim ends and slice asparagus lengthwise and place in a row on top of your fennel spread. Drizzle with a little olive oil and sprinkle with red pepper flakes.
7. Place your flatbread pizza in the oven and bake for 10-12 minutes, one at a time. Top with micro green mix and fennel fronds, let slightly cool before serving.