Vegetable comfort food has been calling my name this week. Cool temperatures with rain every day this week it seemed perfect to make this cauliflower and tricolor potato pie with morel mushrooms. This recipe is inspired by Anya Kassoff's recipe for Cauliflower pie from her cookbook The Vibrant Table. Her recipe is inspired by Mollie Katzen's cauliflower pie.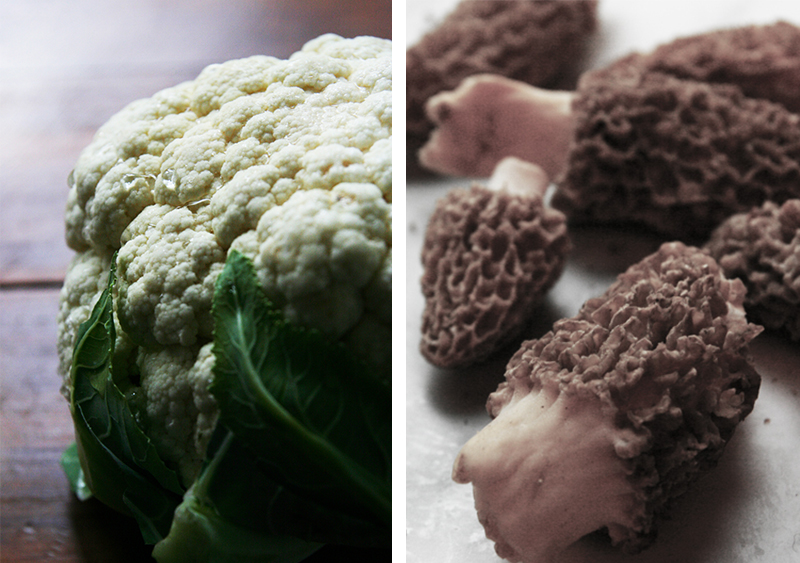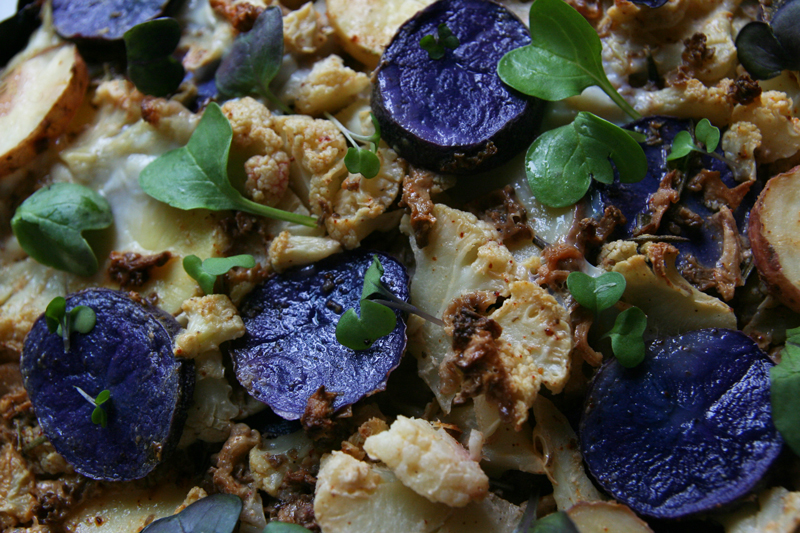 The crust of this cauliflower pie is made from yukon gold potatoes and sweet potatoes, making the crust naturally gluten-free. This is incredibly nutritious and healthy but still resembles a classic comfort food. A spring time highlight which is not necessary are the delicious morel mushrooms. Morel mushrooms are very tasty, but do look kind of silly, they have a distinctive honeycomb-like upper portion with thick ridges. Morels do appear pretty funky and esoteric, but trust me they are just a very seasonal mushroom that is extra tasty, that is all. They have a short spring time season and can be hard to find. If morel mushrooms are not accessible to you, use any other favorite mushroom in replace of the morels.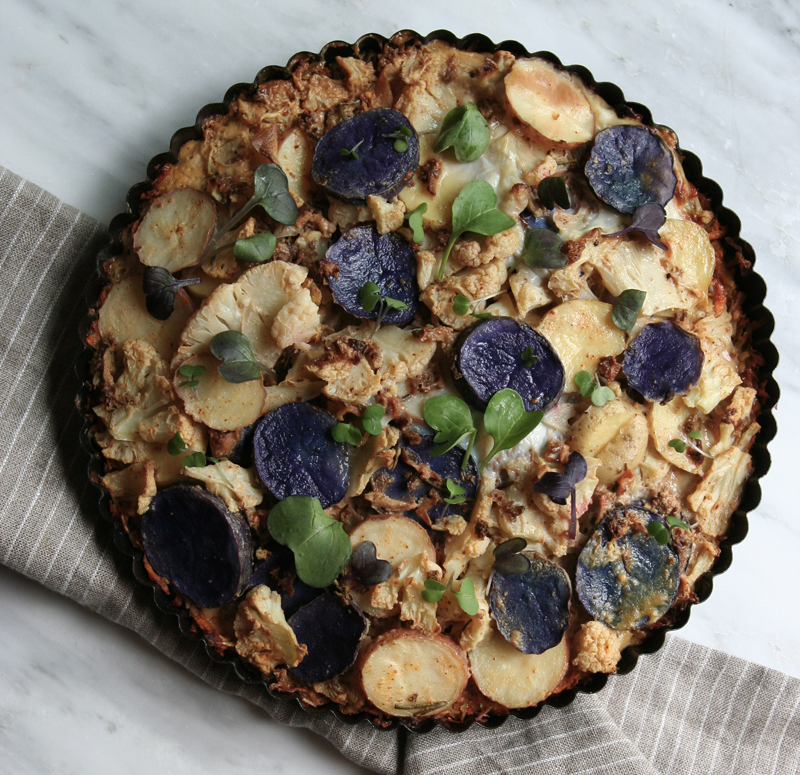 Cauliflower and Tricolor Potato Pie with Morel Mushrooms // Makes one 9-inch pie, Serves about 4-6
Recipe inspired by Anya Kassoff's Cauliflower pie from her cookbook The Vibrant Table
(vegan + gluten-free)
Ingredients:
For the crust…
2 medium yukon gold potatoes
1 small sweet potato
1/2 teaspoon sea salt
1/2 medium yellow onion
1 flax egg or egg (if not vegan)
freshly ground black pepper
1 tablespoon olive oil, plus more for greasing the pie pan
For the filling…
2 cups cauliflower florets, sliced
1 cup tricolor potatoes, sliced
1/2 teaspoon sea salt, plus more for blanching
1/2 cup full-fat coconut milk, skim the top for fat of can
1/4 cup nutritional yeast
1 teaspoon chili powder
2 teaspoons cumin seed
about 5 springs fresh oregano and thyme each
2 small garlic cloves, chopped
freshly ground black pepper
4-6 morel mushrooms, chopped
serve with micro greens or sprouts
Directions:
1. For this first step, you can use your food processor's shredder attachment or shred by hand with a cheese grater. Peel the Yukon gold potatoes, then shred them so you have about about 1 1/2 cups of shredded potatoes. Peel then shred your sweet potato so you have about 1 1/2 cups of shredded sweet potato. Place your shredded potatoes into a colander and mix with salt. Place your colander over a bowl and let sit for 15 minutes or so to drain out any moisture.
2. Preheat your oven to 400 degrees F
3. Shred your yellow onion and place into a large bowl. Squeeze out any remaining moisture you can out of your shredded potatoes and transfer them into your large bowl with your shredded onion.
4. Create and add your flax egg to your large bowl. Add some black pepper and mix thoroughly to combine.
5. Oil your nonstick 9-inch pie plate or tart pan. Transfer your potato and onion mixture into the pan and build your crust. Distribute evenly and extend your mixtures up the sides of the pan and press into the pan. Bake your crust for 20 minutes. Remove from the oven, brush with olive oil and bake for 10 more minutes. Remove your crust from the oven and turn down oven temperature to 375 degrees F.
6. While your crust is baking, blanch your sliced potatoes and sliced cauliflower florets in a pot of salted water for 2 minutes. Drain and place onto a few layers of paper towels to help drain some moisture.
7. In a large bowl combine, coconut milk, nutritional yeast, chili powder, cumin seed, oregano, thyme, garlic and black pepper and mix well. Add chopped morel mushrooms and your blanched sliced potatoes and cauliflower florets and toss to coat. Gently pour mixture into crust when crust is ready.
8. Bake your pie for 35-40 minutes until the filling is set and top is slightly golden. Let cool before serving and top with micro greens and sprouts.