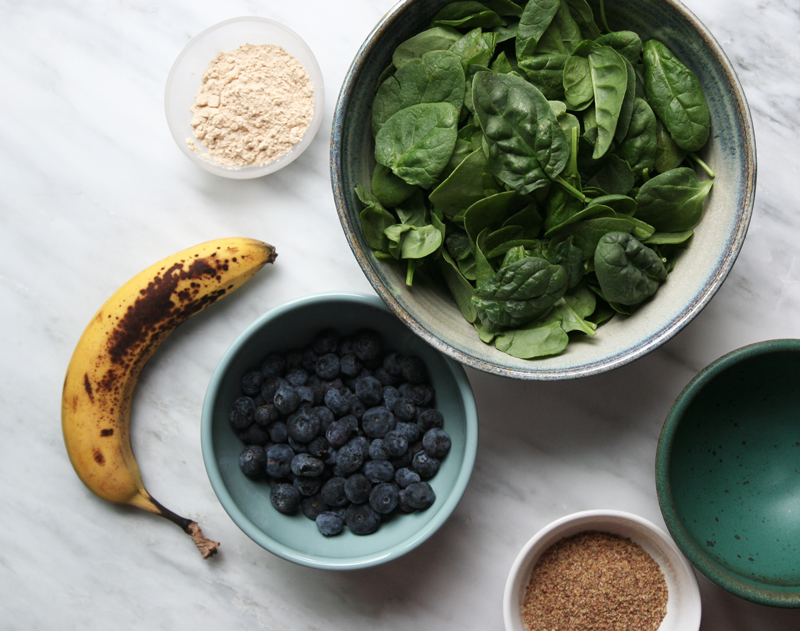 This is one of our favorite smoothies lately, we seem to just keep making it and making it. This is great for busy weekday mornings. It can even be taken on the go with you. All you have to do is put all of these wonderful ingredients into a blender, blend it up and enjoy!
This green smoothie is made with spinach, blueberries and banana. A nice addition to the flavor of this smoothie is the maca powder. Maca powder to me tastes like toasted coconut, it is nutty and delicious. Maca powder comes from a root vegetable and is used as a superfood supplement. Maca is recommended to be used in moderation, a few days on and a few days off. We rotate using maca powder and goji berry powder in this smoothie. Both Maca and Goji Berry powders have their own unique amazing health benefits. Maca powder has been used to treat chronic feeling of fatigue and when used in your morning routine helps boost energy levels and promote a healthy mood balance. Maca may help to alleviate anxiety, stress or other mood swings and some people discuss an increase in mental energy and focus.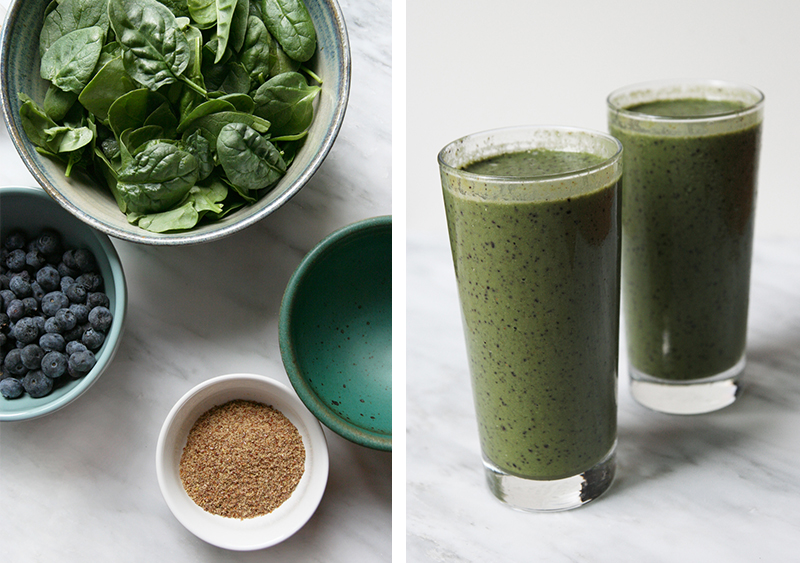 Smoothies for breakfast are a great way to kick start your day! They leave you feeling full all morning long and if designed right can be high in nutritional content and a great way to work in more fruits and vegetables into your daily routine. I know a lot of people think that eating healthy takes a lot of time. Well, enjoying smoothies only takes a few minutes, this is a great way to kick-start a healthy day.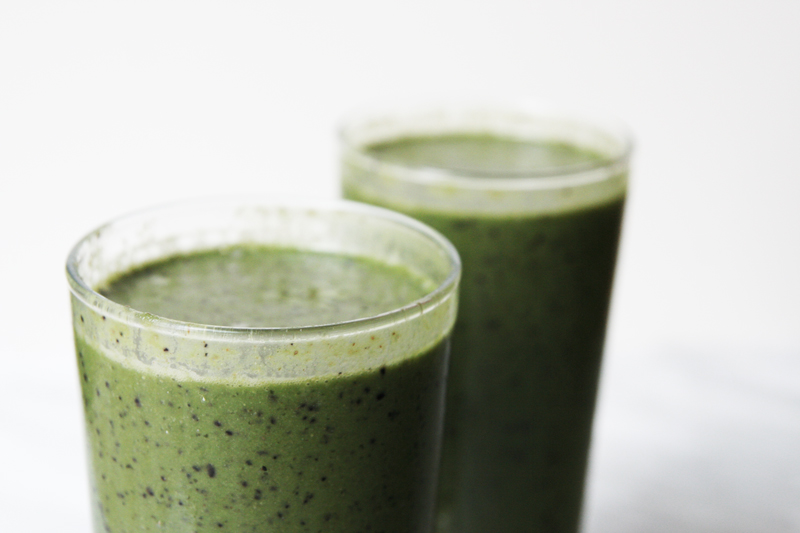 Graham's Blueberry + Banana Green Smoothie // Serves 2
(vegan + gluten-free + nut-free)
Ingredients:
5-6 cups spinach (loosely fill your blender)
1/2 – 3/4 cup blueberries
1 banana, peeled
2 tablespoons maca powder or goji berry powder
1/4 cup vegan protein powder (optional: we use Natural Factors Vegan Protein from Pea, Rice, Hemp and Chia)
2 tablespoons aloe vera juice
2 tablespoons ground flax seed
1/4 cup cold water
6-10 ice cubes
Directions:
Loosely fill your blender with spinach, about 5-6 cups. Add blueberries, banana, maca powder, protein powder, aloe vera juice, ground flax seed. Add cold water and ice cubes and blend until smooth. If blender gets stuck and your mixture is too thick, add more cold water a little bit at a time.
Notes: We have come to like using ripe bananas because they have more flavor. If you like creamy smoothies, a great option instead of using water, use coconut milk, it tastes great with the maca powder.