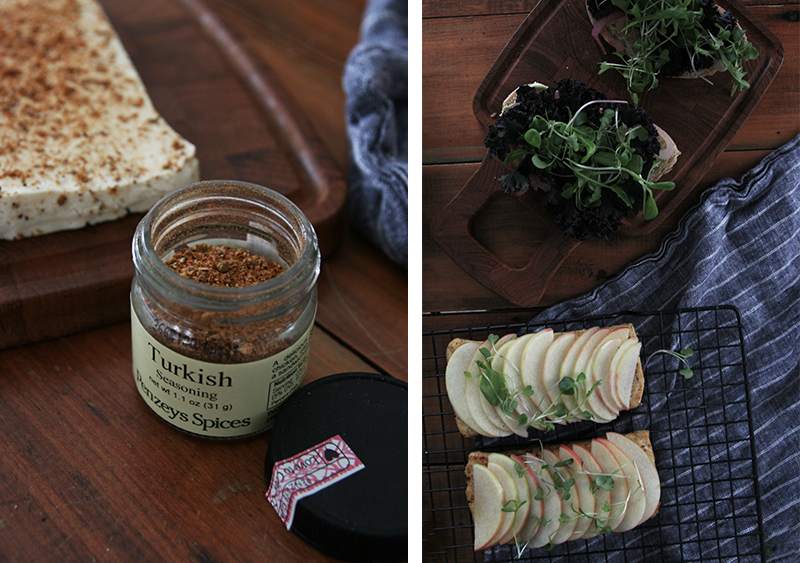 Over the holiday we visited family in Nevada, who are vegetarian like us, and they inspired us back into making vegetarian and vegan sandwiches. All weekend it was a sandwich extravaganza! Which is in all honesty, pretty difficult for a vegetable eating human to enjoy sandwiches. I have been inspired, I set out to create a vegan sandwich that well, kicks butt!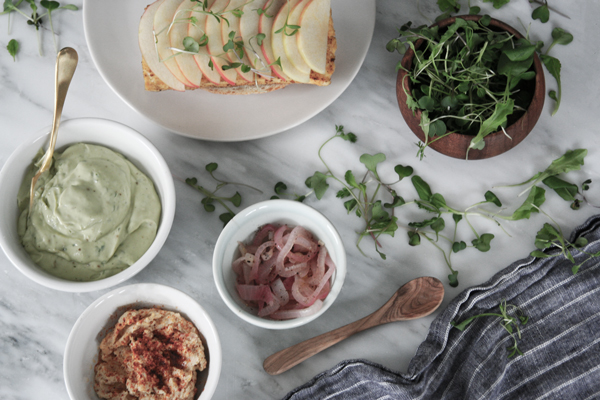 Here in Minnesota we have had some warmer temperatures so I talked Graham into starting up the grill and help me give justice to this grilled tofu & apple sandwich. If you have a grill skillet or panini press or a fancy stove top, that works too of course.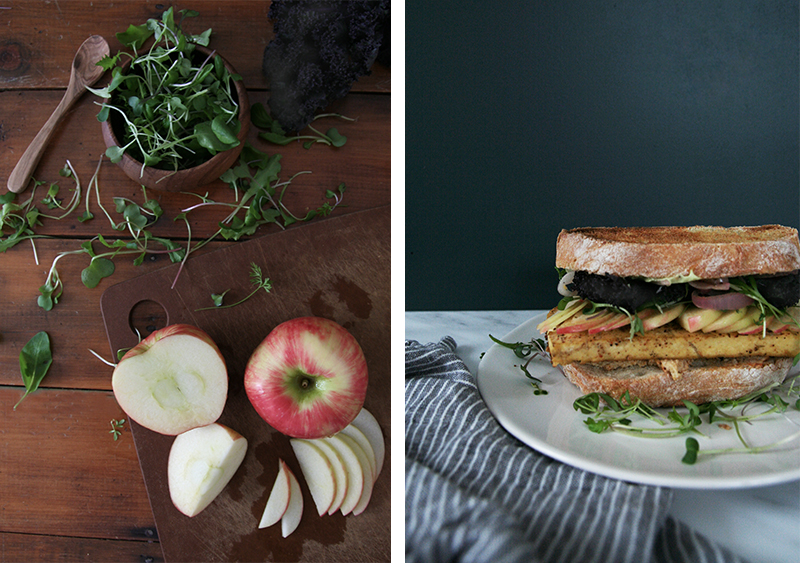 Vegan Grilled Tofu & Apple Sandwiches // Serves 4 sandwiches
Ingredients:
20 oz. Super Firm tofu
Penzey's Spices Turkish seasoning: salt, garlic, cumin, black pepper, oregano, paprika, sumac, cayenne pepper and cilantro
1 apple (pick one with a good crunch)
Bunch of Red Kale
Mississippi Mixed Sprouts
Mustard
Bread, I used a local baker's
Vegan Butter (optional)
Fixings:
Quick pickled shallots:
1 small shallot
½ cup red wine vinegar
3 tablespoons sugar
2/3 cup water
dash of black pepper
Cilantro & Avocado Aioli:
¼ cup vegan mayonnaises
1 avocado, remove pit and peel from skin
2 tablespoons Cilantro, chopped
2 tablespoons fresh lemon juice
Salt and pepper
Spicy Cumin Seed Hummus:
1 15 oz. can chickpeas/ garbanzo beans, rinsed
fresh juice of l large lemon
¼ cup tahini
1 garlic clove, peeled
2 tablespoons olive or avocado oil
1 teaspoon salt
½ teaspoon ground cumin seed
red pepper flakes to taste
sriracha or choice of hot sauce (optional)
Instructions:
1. Heat grill or set up and heat your skillet grill.
2. Cut tofu into 4 slices and rub the Penzey's seasoning onto tofu on a cutting board or plate, try not to dry out tofu (keep as much moisture in as you can) and then set aside.
3. Slice apple thinly.
4. Remove the core or vein of the red kale; the vein can be tough to chew.
5. Quick pickled shallots: Peel and slice shallots thinly and add to a small saucepan. Add red wine vinegar, sugar and water and a dash of black pepper. Bring to a boil and let simmer for 5-10 minutes.
6. Cilantro & Avocado Aioli: In a blender combined ingredients and blend until smooth and creamy. Add salt and pepper to taste (may not need any)
7. Spicy Cumin Seed Hummus: Combined ingredients in a blender and blend until thick and textured. Add more seasoning or your choice of heat to add more spice.
8. Grill tofu for 5 minutes on each side or until you get a nice grill mark on each side. Slice 8 pieces of bread and butter (optional) bread, then grill for 1 minute on each side or toast in the oven on high broil.
9. Assemble your sandwich; Bread, hummus, slice of tofu, sliced apples, sprouts, red kale, pickled shallots, cilantro & avocado aioli, bread.
This post is not sponsored by Penzey's Spices. All opinions and thoughts are my own.