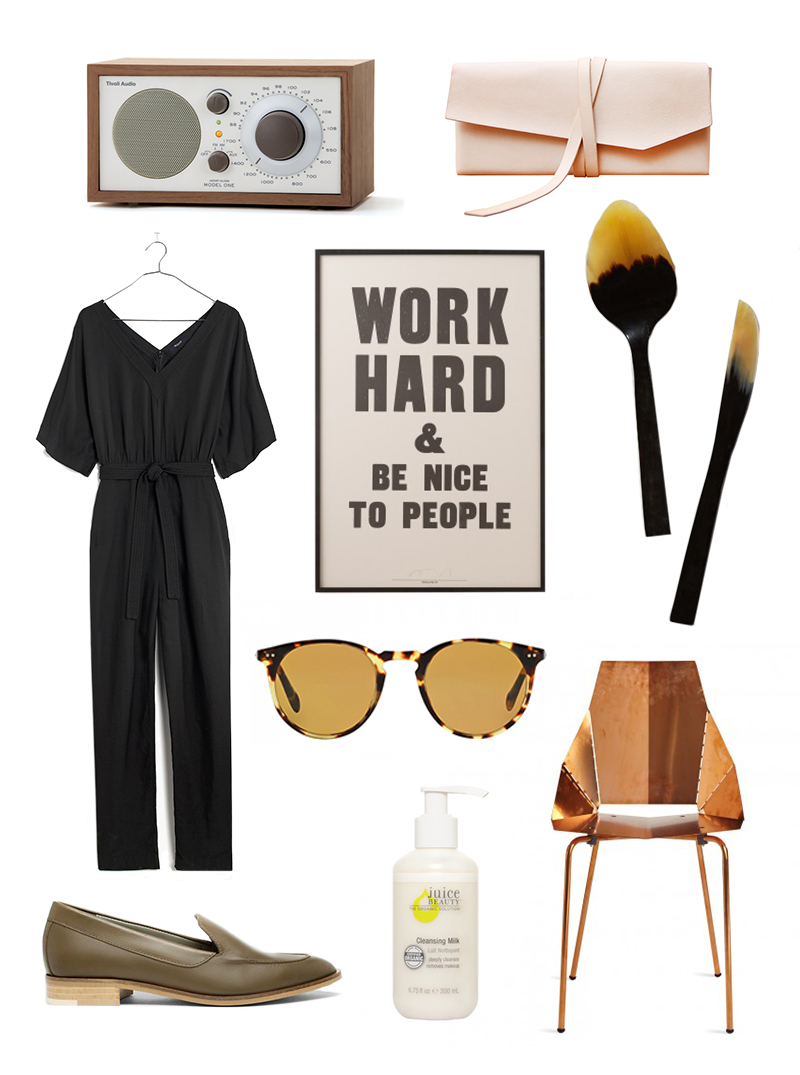 Hint, hint Graham… my Birthday is coming up this month and all of these totally luxurious goodies would make my heart melt.
Tivoli Audio® Model One® Radio // I have been eyeing up this beautiful radio for a few years now down the street at one of my favorite local shops called Forage Modern Workshop. It would look so nice in my kitchen.
Busk & Bask Loess | wrap clutch-case // This may be just the most beautiful little clutch I have ever seen. This may be one of those birthday presents to myself. Each one is designed and handmade in America. My favorite parts are it's functional but beautiful teak wood floor and solid brass screws.
Kimono Jumpsuit by Madewell // I see this and all I think is, ahhhh… look at how comfortable this looks, way better then tight yoga clothes! So simple too, all you need is shoes. Ever since I have become a yoga instructor, I have just been craving big baggy simple elegant clothes.
Work Hard & Be Nice To People Print // I am crazy in love with this trend of do good, good energy loud energetic prints that help inspire you to be the best version of yourself.
Fika Serving Set from Anthropologie // I have a thing for every day objects that are out of the ordinary and a little special, like works of art. The objects that I use every day, touch, feel, patina, use and loose… be beautiful, not only functional.
Oliver Peoples Sir O'Malley Sun // Talk about luxury. Not sure if I will be wearing these ones out on the golf course.
Everlane The Modern Loafer // I tell all of my friends, spend money on high quality shoes, jackets, wallets and eyewear. All of the bits that you wear every day, and really use. Those bright red heels you had to have, that you pull out once a year (guilty) should not have been so expensive! While these adorable loafers, you will wear all of the time.
Juice Beauty Organic Cleansing Milk // "This creamy formula deeply cleanses and removes makeup with organic grape seed and sunflower oils, while soothing normal, aging, or sensitive skin with organic chamomile and calendula. A Daily Essential perfect for cleansing and removing makeup." -Juice Beauty, The Organic Solution
Copper Real Good Chair by Bludot // I hate to say, "coveting" but, this chair has sure been on my mind these last few years. Gaining more and more popularity too.. I think if I were to buy it, I would just have it sit in my office and look adorable. Oh boy.