I have had the pleasure to get to know the lovely Gretchen from New Movement Pilates in Minneapolis. She has such a strong passion, natural talent with movement and the human body. We spent the morning together, she gave me my own little private lesson and run down on what the world of Pilates is like. I was challenged, supported, inspired and left feeling so much better than when I showed up for class. The movements that we did were similar to what I do in my yoga practice, but she still had me quivering and challenging my breath. After just a few exercises and movements I felt grounded, stronger and taller. How I held myself changed, it was an amazing feeling. Now, let me introduce you to this amazing woman, Gretchen Hoehn.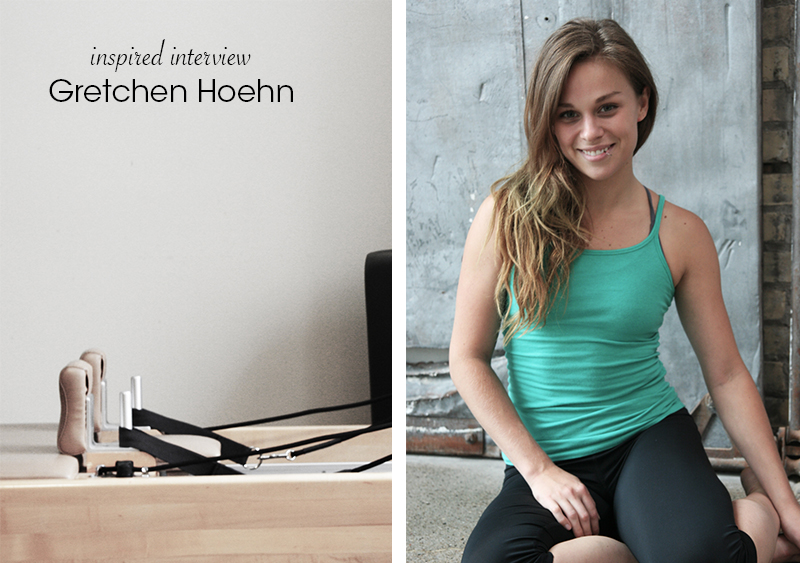 What is Pilates?
This one is a doozy. People casually ask this question all the time and Pilates instructors everywhere, myself included, struggle to deliver an easy, succinct response that doesn't end up turning into an impromptu presentation on kinesthetics… So bare with me here as I try to do the word justice without scaring you away
Pilates teaches your body to move in the way it was designed to move. Joseph Pilates created it on the notion that if we aren't moving the way we're supposed to move, we won't function the way were supposed to function. Makes sense, right? So, he created these exercises with the vision of reconnecting us to the way we were moving around as humans to begin with, before it was normal to sit at a desks all day (and especially in our case, look at screens!) It improves strength, stability, and flexibility in the body while promoting good posture and body awareness. No matter what's going on (sore low back, curled in shoulders, pigeon toes, inflexible hamstrings, etc) Pilates to helps you to 'reform' those things, for real, through mindful exercises that anyone can do. It will radically transform the the way you look, feel, and think. And as much as I know I sound like a Pilates Infomercial right now, I'm just being real. It's a life changer. And for all of you out there who are already fierce and healthy movers, do not be mistaken… just as there are modifications for grandma, there plenty for you, too
How would you describe what you "do" as a Pilates instructor?
I will admit, teaching Pilates was very intimidating at first, because it's about so much more than providing people with a good work out. Yes, the work out piece is essential, but it is also about educating people about their bodies so that they can experience each work out (and their daily lives, for that matter) in a more complete way. I really strive to try know each one of my students and what they're seeking in my class so that I can not only help them reach their goals in an efficient way, but also help them to let go of patterns that are no longer serving them. To do that, I do my best to stay tuned-in to everyone's movement during class, giving each of them lots of specific feedback and hands on correction. It takes practice and I have my students to thank for SO much of what I know about teaching. We learn a lot from one another
What are some of the benefits of Pilates?
Oh boy. Are you comfy? I may not be able to restrain my enthusiasm… I have so much to say about how Pilates can benefit every one's body. Regardless of your age, your build, or your condition, Pilates is your friend. It is designed to catalyze improvement in any and all areas of the body while taking into account everyone's unique quirks and needs. Instructors know plenty of modifications to accommodate people with osteoporosis, scoliosis, arthritis, and MS, among other physical ailments. Whether you're a runner, carpenter, bus driver, Pilates will help you to do it more efficiently…really.
Another key benefactor is Pilates' connection to physical therapy as well as other therapeutic practices, such as chiropractic or massage. It not only pairs really well with them, but also serves as a preventative practice by encouraging the maintenance of ideal posture and alignment. It is also very popular amongst pre/post natal women, who want to retain or rebuild healthy abdominal strength.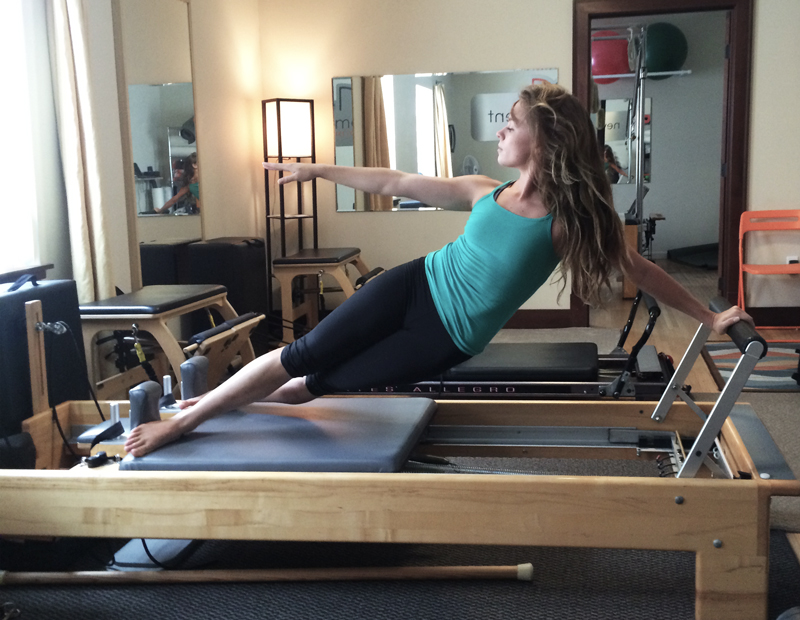 What is the difference between Mat Pilates & Reformer?
The biggest difference between the two is that you're using only your own body weight on the mat as opposed to additional weight and resistance on the reformer. It's awesome, because you can do the same movement sequence on the mat as the reformer, but experience two very different work outs. Traditionally, new students would start on the mat and eventually start expanding onto other equipment, like the reformer. Although I still think that is solid way to start (because you only need to focus on you, rather than new equipment, too) mat exercises are certainly not any 'easier.' In fact, (and many forget this fact) Joseph Pilates designed the reformer with the goal that it would build the strength and stability required to improve the mat work! Nowadays, there are lots of beginning reformer classes, so newbies have the freedom to start wherever their heart desires!
What advice do you have for someone that is new to Pilates? This is a great question… I think the best advice I can offer for new students is the same advice I'd offer to anyone trying anything new: no worries! It can be so easy to compare ourselves to others or worry about doing everything 'right.' I say phooey to all of that. Leave those worries at the door and know that as long as your doing your best, you're doing perfectly
OH- and be prepared for hands-on corrections. We give a lot of physical cues, which many find more helpful than verbal ones. That said, your comfort is essential, so never hesitate to say "Thank you, but no thank you."
Why did you start practicing Pilates?
I took Pilates only because it was required for my dance degree. And honestly, after the first couple classes, I could take it or leave it. I missed the more 'zen' atmosphere of my yoga classes and felt alienated by all of the anatomical jargon that I didn't quite understand yet. The teacher was always saying things like 'soften your ribs' or 'find your heel-sits bone connection' And I'm thinking… But, aren't my ribs hard? And you want my heels where?
But soon, little things naturally started to click. My posture suddenly looked…different. My whole core looked more elongated and suddenly it felt like I was truly experiencing my body for the first time. I had made this incredible discovery about body that I hadn't even recognized I was missing. That is why I continue to practice and I am inspired to teach… I really believe that if everyone were to make these discoveries within their own bodies, that everyone would be doing Pilates!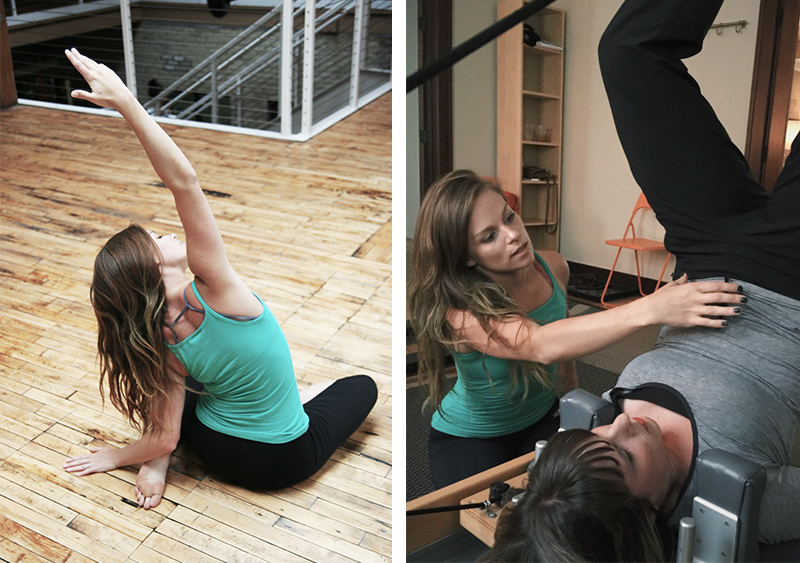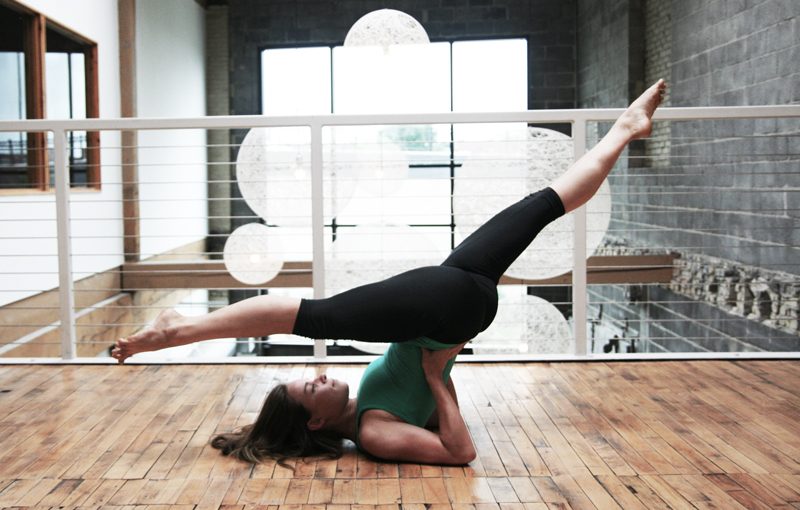 Is Pilates similar to Yoga?
I am asked this question ALL the time. There are many similarities, but also one pretty significant difference. They both share the intent of deepening the connection of the body to the mind, build lean muscles, and tend to leave you feeling tall, fresh and clear. Joseph Pilates incorporated yoga poses into some of his exercises, so there is some definite choreography overlap. Philosophically, however, they are quite different. Yoga is based around the idea of energy flow and has close ties to spirituality and meditation, whereas Pilates is primarily about conditioning. In other words, they have two very different approaches to the mind-body connection. This happens to make them extremely complimentary to one another.
How would you describe your philosophy behind food and what you put in your body?
There is so much to be said about the power of nutrients … holy guacamole. I was fortunate to grow up in a holistic environment that taught me, early on, a lot about good nutrition. (Thanks, Mom <3) Our bodies are so incredibly smart and efficient when they're given the right fuel, which is why it's a beautiful thing that were finally amidst a food movement! Especially, because it's NOT just about our responsibilities to our own bodies, but also our responsibility to the earth and animals we share it with. Happy chickens = happy eggs = happy you
What is your favorite quote or mantra you love right now?
Be silly. Be honest. Be kind. – Ralph Waldo Emerson
What is one item you always have on your market list?
Yogurt! Always, always, yogurt. Probiotics, baby.
Fueling your body for teaching all day takes work, what is your typical day of food look like…
After you wake up? (just water until breakfast)
Morning? Usually a couple of fried eggs or a bowl of fruit and yogurt
Lunch? Tabbouleh salad: a simple vegetable and herb salad made with bulgar wheat- I swear this stuff is super-fuel! It gives me real energy and a little goes a long way.
Dinner? Marinated chicken and fresh veggies on the grill has been a staple this summer. Commonly with a beer or glass of wine.
Snacks? Kombucha tea is a much-loved part of my diet and is always a good pick-me-up if I need a snack. (so much that I brew my own) I also love fruit leather and luna bars.
Hydrate? I try to drink one big glass of water before every meal and, as a general rule, have my water bottle with me.
Where do your other passions fall?
My passions are and have always been thoroughly scattered throughout the arts. Amongst many things, I am very passionate dance and most of all, painting. I've always had a massive desire to express myself and both of these art forms have had long-term resonance in helping me do that. This year, my focus has been less on dance and more on paint. In July, I finished a series of 5 murals at the Hudson Hospital Infusiton's Center (in my home town). On my own, I've been making an experimental abstract series that is all about capturing an energy or mood… it's kooky and messy and so much fun!
Where do you find inspiration?
Oh gosh. In all of the things, really. People and nature are especially big for me. (I know.. that really narrows it down) Some of the most basic, every day human behaviors are simply enchanting to me … we are such interesting creatures, each occupying completely different perceptions of the world. I am also fascinated by how things work: our bodies, the weather, concepts in chemistry and physics. It's strange, I am both right-brained and completely infatuated with science.
What makes you laugh, smile and happy? My family and friends, Regina (my cat), the right song at the right time, spontaneity, Disney movies, lilacs, Monty Python's Ministry of Silly Walks, bickering elderly couples and to this day, some of the happiest moments in my life have been while I was dancing.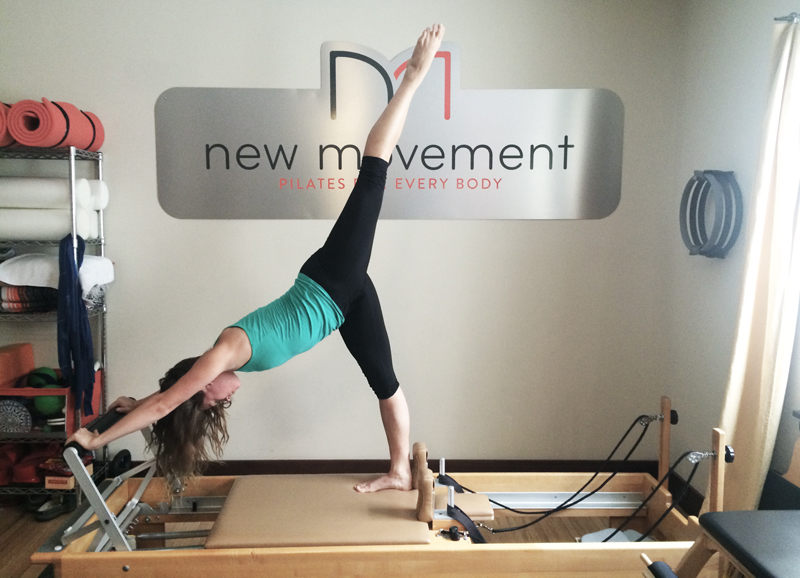 What is your favorite part about being a Pilates teacher?
Helping people! It is a real privilege to work with people of all different ages and backgrounds, each with their own unique set of goals, and to witness them reaching and commonly surpassing those goals. It happens all the time, and yet every time I see that look on someone's face when something 'clicks' and they recognize their own progress, my day is made. That could never get old.. and that's why I teach.
How can locals find your classes or contact you for private lessons? When do you teach?
Currently, I teach at New Movement Pilates on the corner of Nicollet and 38th St. For group classes, I teach Intermediate Reformer as well as Pilates for Athletes. I encourage you to reserve a spot for yourself online, because each class is only 3 people and they can fill quickly. (It's pretty quick and easy, but if technology is not your friend, just send me an email stating which class you'd like to take, and I would be happy to reserve a spot for you)
For private sessions, you can contact me through the New Movement Pilates' website or email at gretchenhoehn@gmail.com and we can set something up! Buy your first three solos and get the fourth free.