I love when Ataulfo mangoes are in season. It is my favorite variety of mango, sweeter than most, no stringy stuff and a thin pit which makes it easier to harvest more juicy mango for this salad. When this mango hits the stores, like Whole Foods you will see it out front and center, mango extravaganza! Typically at an incredible price, do not pass them up. Peak season for these babies is from March to June, pick the ones that are soft to the touch, almost too soft.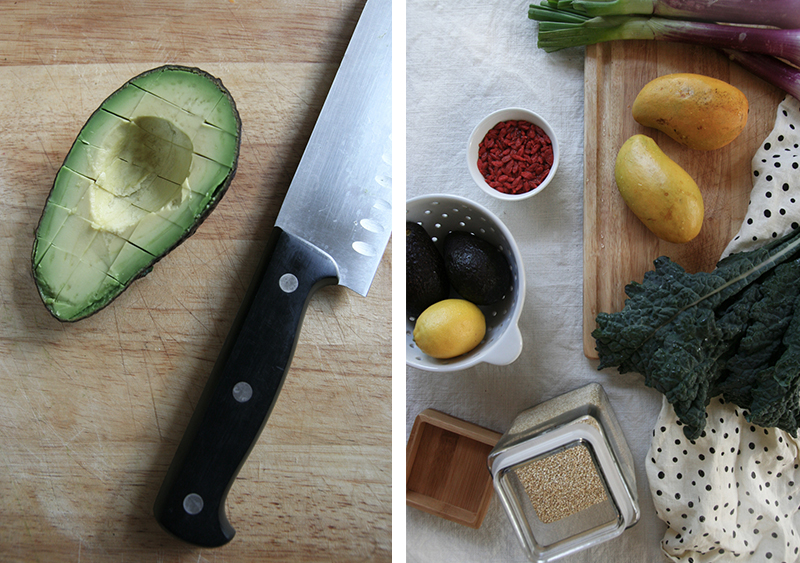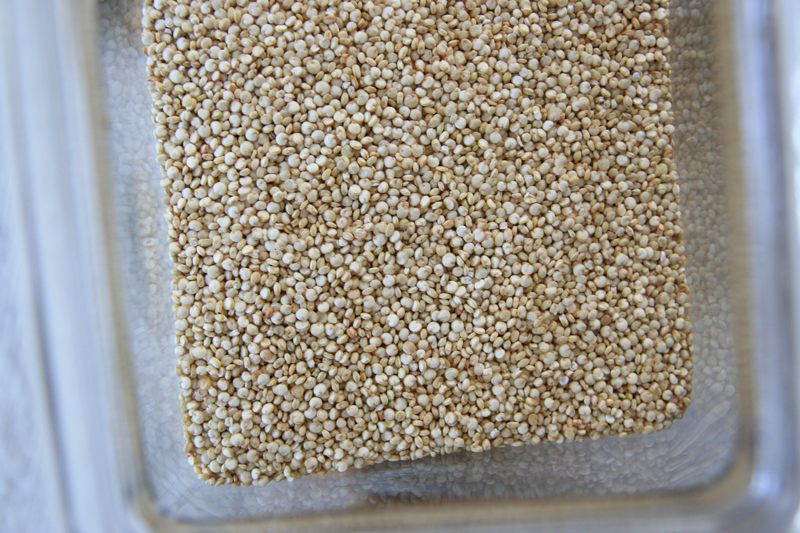 For the longest time, I knew I loved mangoes, but never thought I was savvy enough with a knife to cut them so I would never buy them! Cutting mangoes can be very easy, you just have to practice a few times and it helps to have a nice sharp knife, because they can get kind of slippery and slimy. Here is an awesome video with step by step instructions if you've never cut a mango before.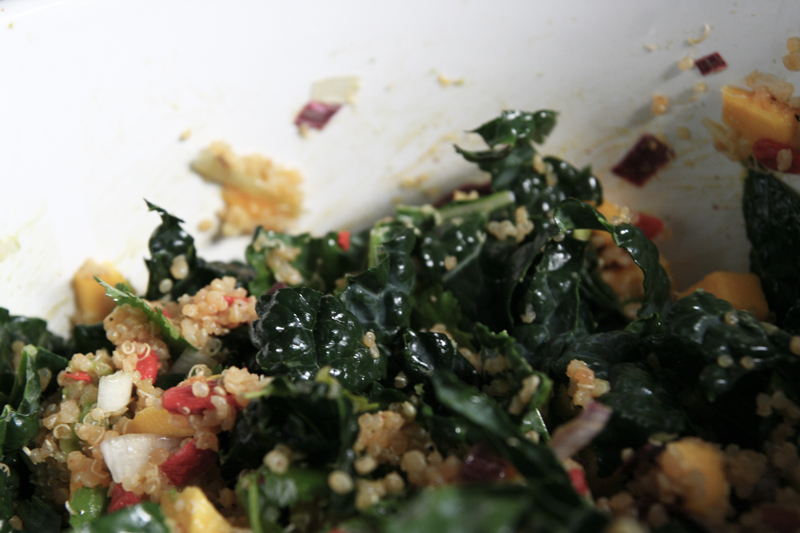 This salad is amazing, it was inspired from Love & Lemons Mango Goji Guacamole which is incredible. I wanted to create something that was more filling, for a lunch or dinner that could be also without chips. A nice crunch from the shredded dino kale and protein from the quinoa this salad is divine. If you love spice like us, sometimes we add sliced jalapeño or hot sauce. Easy to make ahead of time too for lunches and quick meals. I hope you enjoy this delicious salad as much as we do.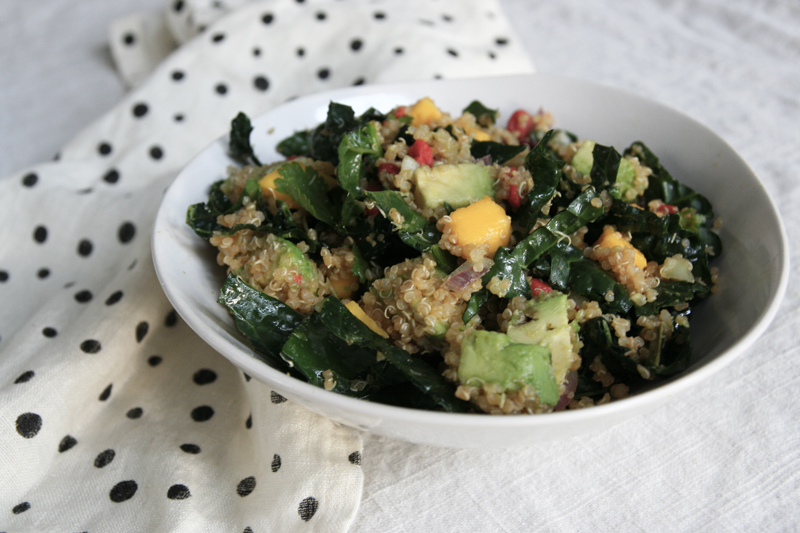 Mango, Goji, Avocado, Kale & Quinoa Salad // Serves 4
(Vegan + Gluten-Free + Nut-free)
Ingredients:
2 mangos, diced
2 avocados, diced
1/4 cup goji berries, soaked and drained
6-8 leaves dino kale, sliced
1/2 cup spring onion or red onion, diced
1/4 cup cilantro, chopped
1 cup quinoa, cooked
1 teaspoon chili powder
4 tablespoons olive oil
fresh juice from 1 lemon
salt & pepper
Directions:
1. Cook your quinoa with 2 cups water, 1 teaspoon chili powder, 1 tablespoon olive oil and 1/4 teaspoon salt in a covered medium saucepan. Bring to a boil. Cover, reduce heat to low and simmer until quinoa is tender, about 15 minutes. After cooking, transfer cooked quinoa to a bowl and allow to cool.
2. While you quinoa is cooking, prep your mangos, avocado, goji berries, kale, onion, and cilantro. Combine together in a large bowl. Add avocado last so it does not get too mashed.
3. Add fresh lemon juice, 3 tablespoons oil and salt and pepper to taste and stir mixture.
4. Add cooled quinoa and avocado to your lovely mixture and stir.
5. Serve room temperature or cooled with optional additional salt, pepper and cilantro and lemon wedge.