These meal prep breakfast burritos saved my life. Life has been really demanding lately and nothing like starting your day with a breakfast burrito to start the day off well. I have slowed down a bit, but the demands of motherhood continue. Motherhood has been the greatest joy and challenge. One of the most challenging tasks of day-to-day is knowing what is for breakfast. Not what was for breakfast for Noah.. that kid has been spoiled rotten with delicious meals. What was for breakfast, FOR ME (MAMA!). No way I could count all of the mornings I would put Noah down for a nap around 10:00am, I would hop in the shower, drink my cold coffee and think "Oh Crap, What am I going to eat?". Anyone else with me?
Or maybe you work full time and know you should be eating a solid, healthy and filling breakfast to kick start your busy day but just can not find the time in the morning? Feeling guilty you got to get in before everyone else to prep for that meeting. So you make a coffee to go and grab a "bar" while you run out the door. Then, you find yourself starving by 10:00am only to be hovering over those pastries a client brought in (yesterday!).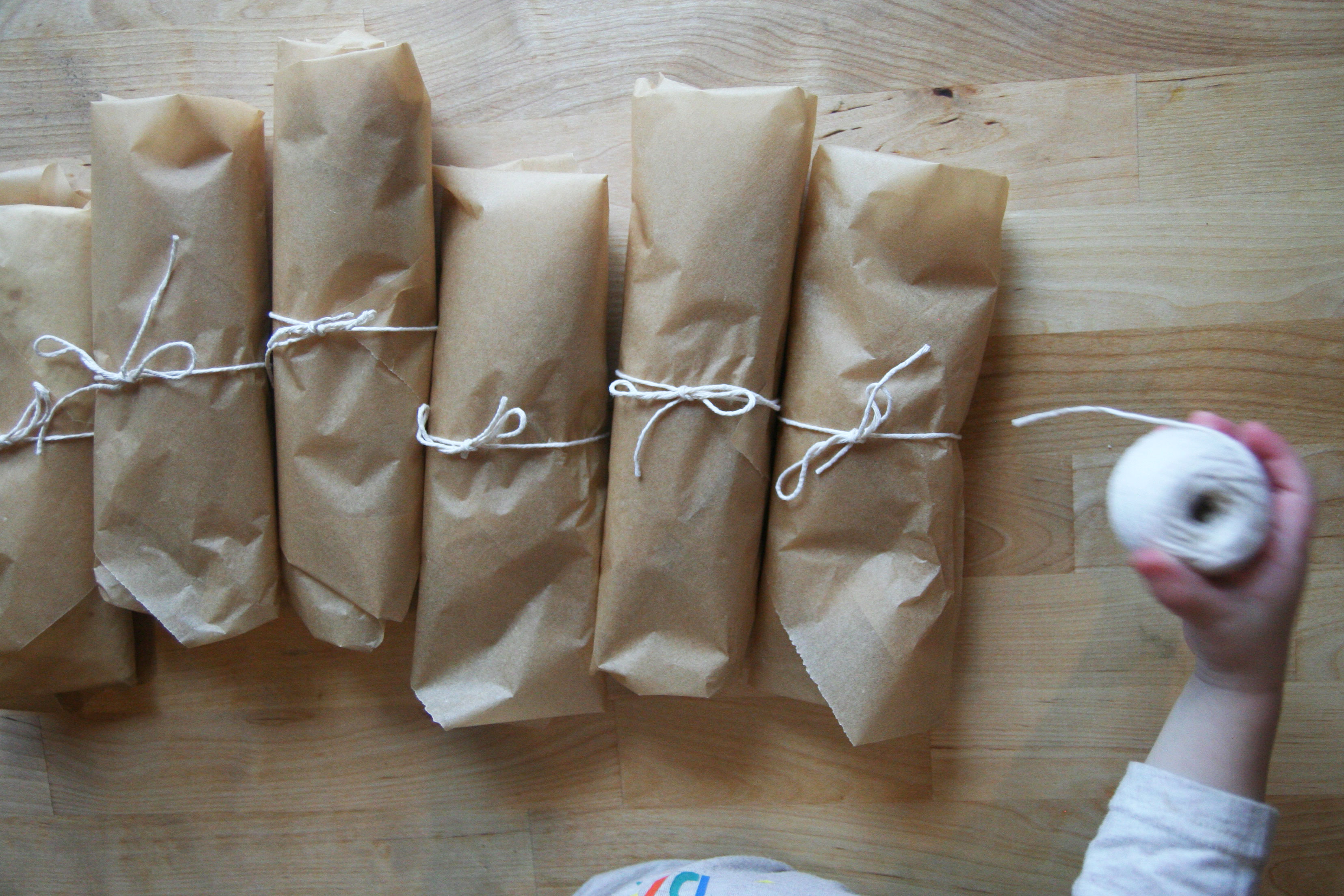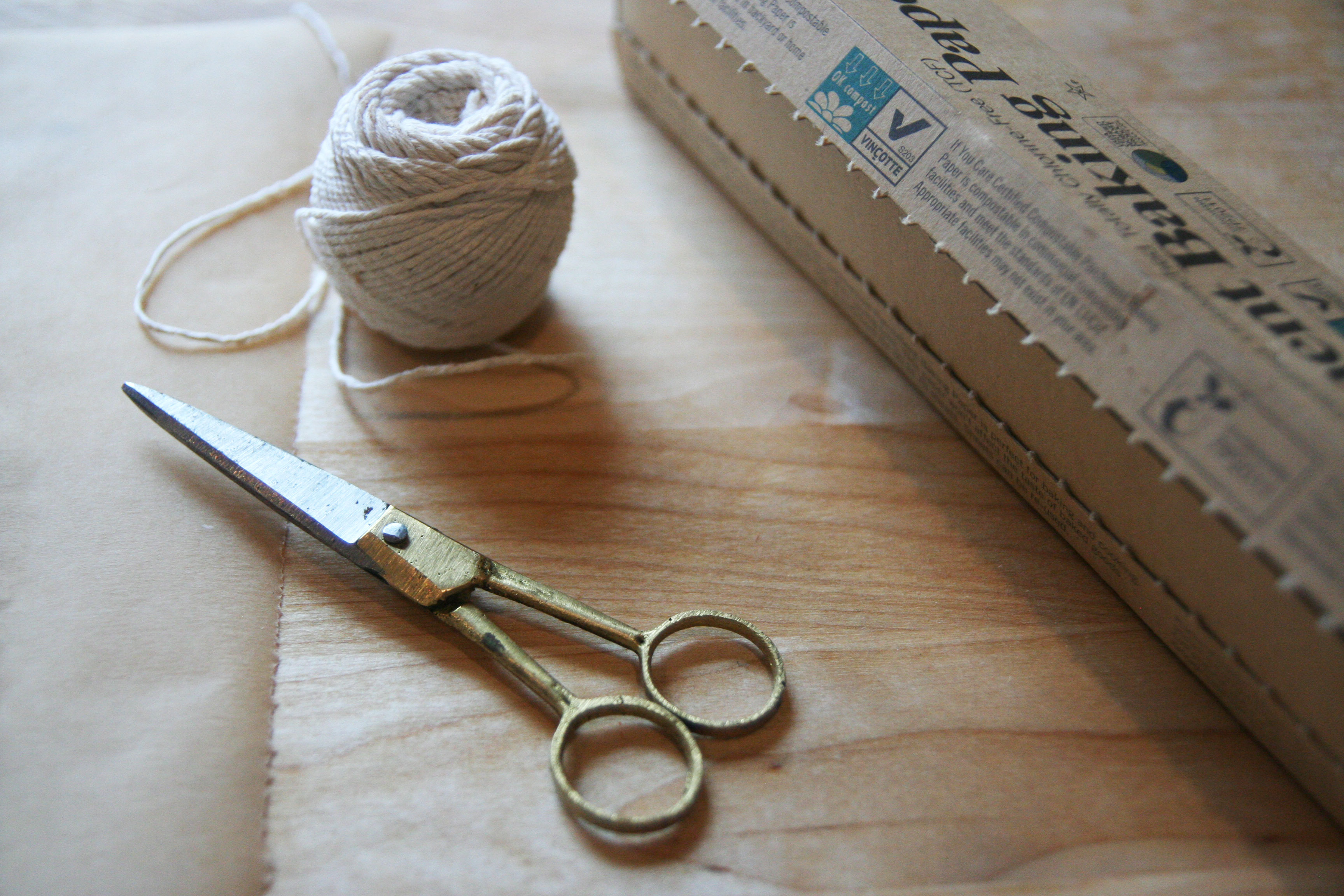 The demands of the week are real, and whether you work full-time or are at home with the kids the morning struggle is there and these breakfast burritos will help.
I can not believe I am saying this, but I love "leftovers", made ahead or meal prepped food for breakfast and lunch. It saves me time, energy and keeps me doing more of what I love during the week. This is coming from a girl who use to refuse to eat leftovers. Meal prepping and I were not friends; Every meal in my mind was suppose to be spontanously, effortlessly thrown together and look like the cover of a cookbook. Not that I hate cooking, thoughtfulness and mindful meal planning.. I just didn't see the point of it if when Wednesday rolls around I'm craving tacos vs. pasta. But now? I love having extra time in the day, saving money on carry-out and eating healthy homemade meals.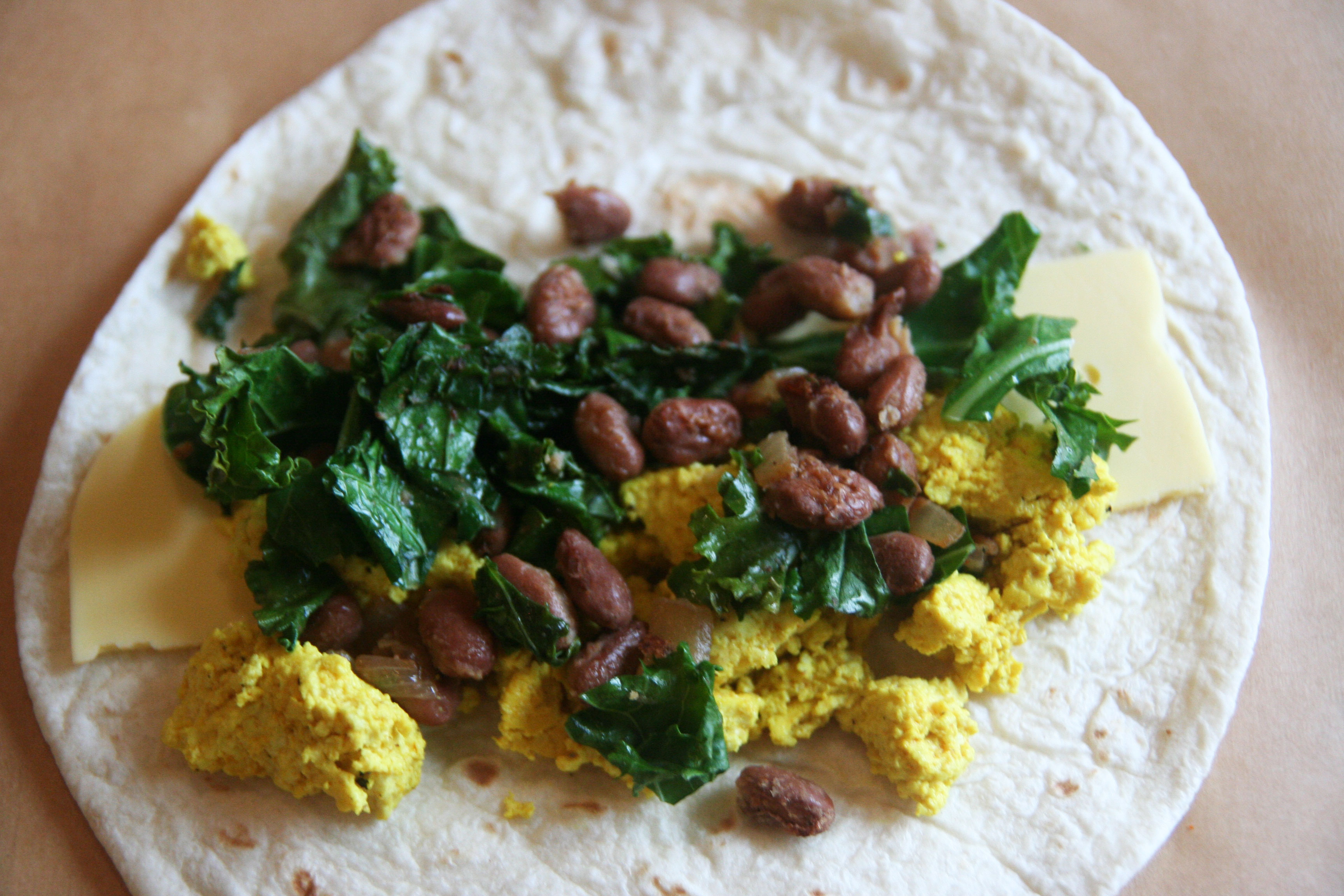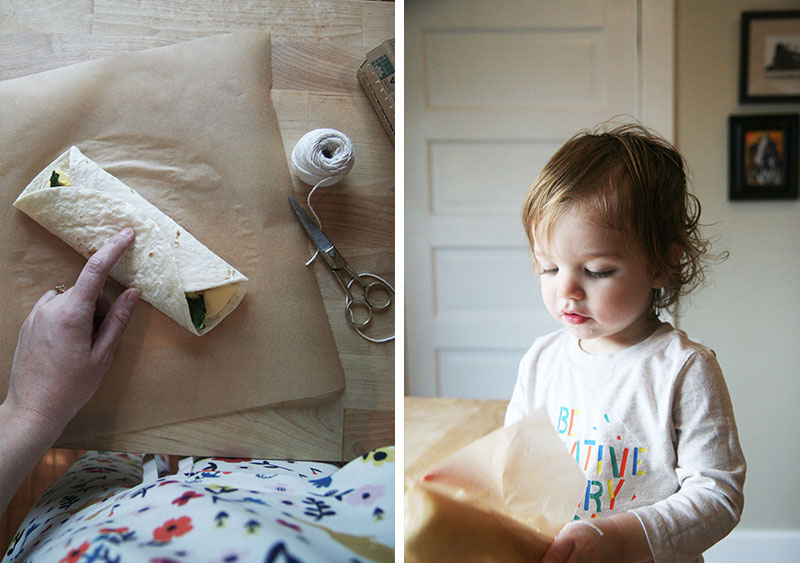 These burritos did really save my life. Being a sleep deprived new mama, breastfeeding and struggling with postpartum depression. Having these burritos ready to go and warm in the morning in minutes was an incredible way to start my day. I was fed and that simple thing turned my day around and slowly but surely gave me life again. I have stayed up at night to make these with my husband on a Sunday before the week kicks off. Which sounds so silly but can be really fun. Put on some "Yacht Rock Radio", double the recipe, make an assembly line and have fun with it. Other weeks I have made this for breakfast one morning and it yields breakfast for the rest of the week too.
Please adapt, modify and make these burritos your own. We have made these burritos several different ways by adding bell peppers, mushrooms, vegan sausage and different greens like spinach. I think I even tried adding mango one time.. I wouldn't recommend it. (HA!) Enjoy!
Freezer Meal
Meal Prep
Ready to Go
Breakfast On the Go
Family friendly
Quick
Easy
Adaptable
Breakfast Burttios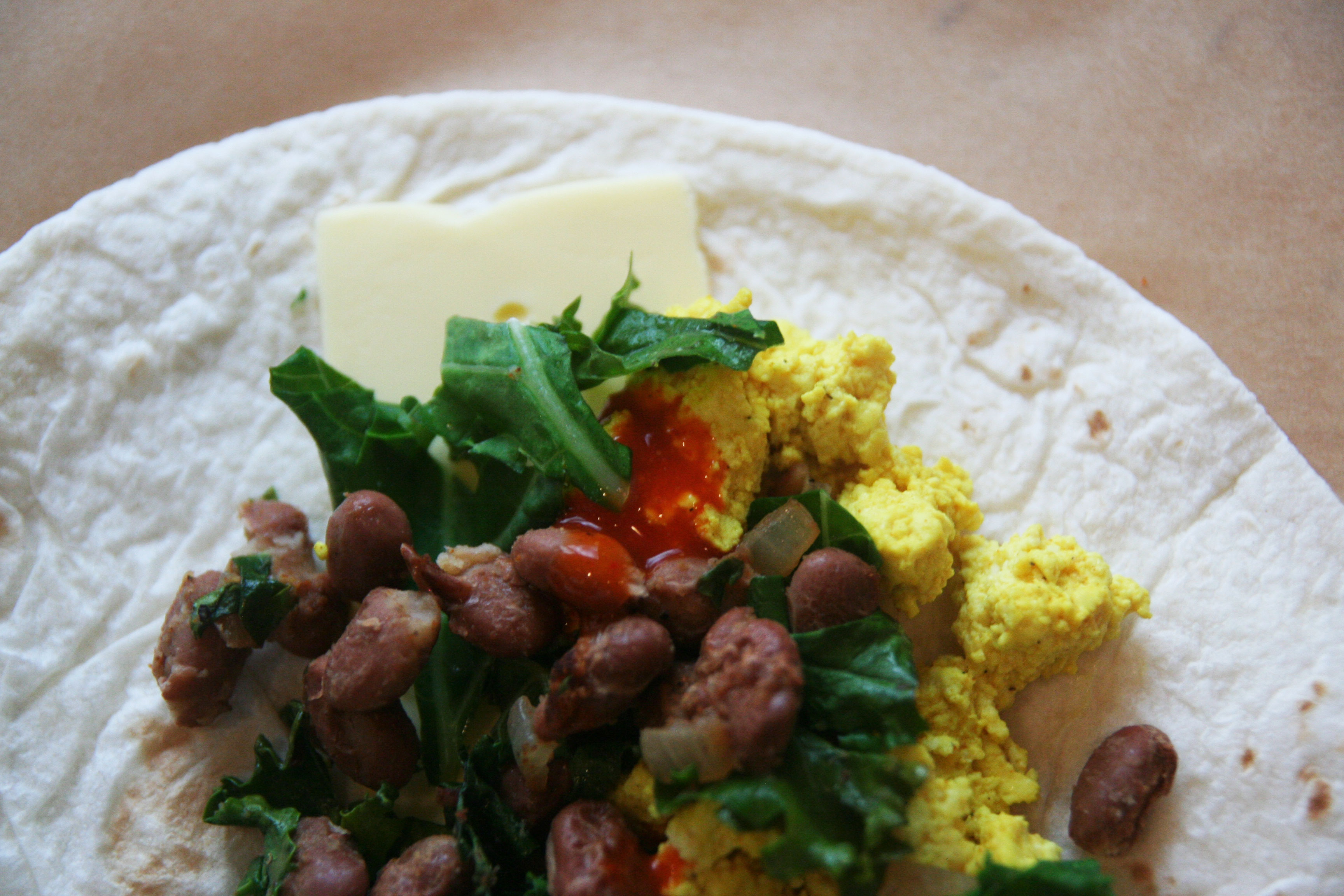 Meal Prep Breakfast Burritos // Makes 6 Burritos
(Vegetarian + Vegan + Gluten-free + Adaptable)
Total Time: Less than 30 minutes
Print Recipe
Meal Prep Breakfast Burritos
Meal Prep Breakfast Burritos // Makes 6 Burritos (Vegetarian + Vegan + Gluten-free + Adaptable) Total Time: Less than 30 minutes
Ingredients
Pinto Beans & Kale
1

Large

Yellow Onion

1

Bunch

Chopped Kale

1

Tsp

Chili Powder

1

Can

Pinto Beans

2

Tbsp

Olive Oil or Butter
Vegan Option: Turmeric Tofu Scramble
1

Block

Tofu

1

Tbsp

Turmeric

1

Tbsp

Olive Oil
Vegetarian Option: Scrambled Eggs
6

Large

Eggs

1

Splash

Milk (Your Choice)

Optional

1

Tbsp

Butter
Final Touches & Assembly
6

Slices

Cheese (Vegan or Real)

6

Tortillas

Hot Sauce

Optional

Salt & Pepper

To taste

Parchment Paper

Twine
Instructions
Chop your yellow onion and add it to a large skillet with lid with olive oil. Cook onions on medium heat until translucent or about 3-5 minutes. Rinse the pinto beans under water and add beans to the onions. Add the chili powder to the beans. Turn down the heat and warm/cook beans for 3 minutes. While your beans and onion are simmering wash, remove the stems and chop your kale. Add kale, give it a good stir and cover your large skillet to steam kale for 3 minutes. Salt & Pepper to taste. Turn off and set aside when done.

If making it vegan, Turmeric Tofu Scramble… Heat your frying pan (I like to use cast-iron) over medium-high heat and add your olive oil. Drain the tofu from the water. Naturally break up the block of tofu with your hands and add it to your frying pan. Add Turmeric, Salt and pepper to taste. Sauté tofu for 5 minutes. Turn off heat and set aside.

If you're making it vegetarian, Scrambled Eggs… Please scramble and cook the eggs to your liking. If you need a little guidance, this is how we like to cook our scrambled eggs. Turn off heat and set aside.

Before assembling your meal prep breakfast burritos, get all of your supplies and ingredients out and ready to go. Cut a sheet of parchment paper just slightly larger than your tortilla. Lay out the piece of parchment paper out on a clean surface and add one tortilla to the center of it. Lay or spread your choice of cheese. Add 1/6th of the beans & kale mixture. Add 1/6th of the turmeric tofu scramble or scrambled eggs. Top with hot sauce (optional). Fold in sides of burrito and then wrap burrito with parchment like a present. Turn the breakfast burrito so it is diagonal on the square parchment piece you cut. Fold in the corners of the parchment piece near the ends of the breakfast burrito. Fold in one side and then tightly roll. Tie with twine. Repeat this 5 more times until all of your burritos are wrapped.

Store in reusable storage containers or ziplock bags. Meal prep breakfast burritos with eggs, can be stored in the refrigerator (40 degrees Fahrenheit or below) for up to 4 days and in the freezer for 3-6 months. Breakfast burritos without eggs, can be stored in the refrigerator for 4-5 days and in the freezer for 6-12 months.