Today kicks off an exciting week to celebrate our friends, bees! Look out for fun interviews, recipes and giveaways! I am learning more and more about these amazing little guys, and have really grown to appreciate them for all that they do for us. I am excited to share with you some of what I have learned and introduce you to the people I have met in the process.

We can learn a lot from our beautiful golden friends, bees. The honey bee collects pollen from flowers and trees in such a way to do the least amount of damage or destruction, then leaves them undamaged and alive, just the way the bee found them. We can thank our honey bee friends for their delicate kind approach to pollination, which helps to provide fruits and vegetables we love to consume. Without these mindful friends we would be without a lot of amazing fruits, vegetables, nuts and not to forget honey.
These beautiful creatures have so many amazing qualities and help to better our earth, so I could not imagine trying to fit them in just one post. There is a great conversation happening in our world about the important roles bees play in our lives, here are some of the articles and videos I found informative and inspiring. Below is a nice little graphic on the roles of different honey bees and the different materials the bees create. We will highlight different qualities and benefits bees bring to our lives and planet this week.
Additional Reading & Videos: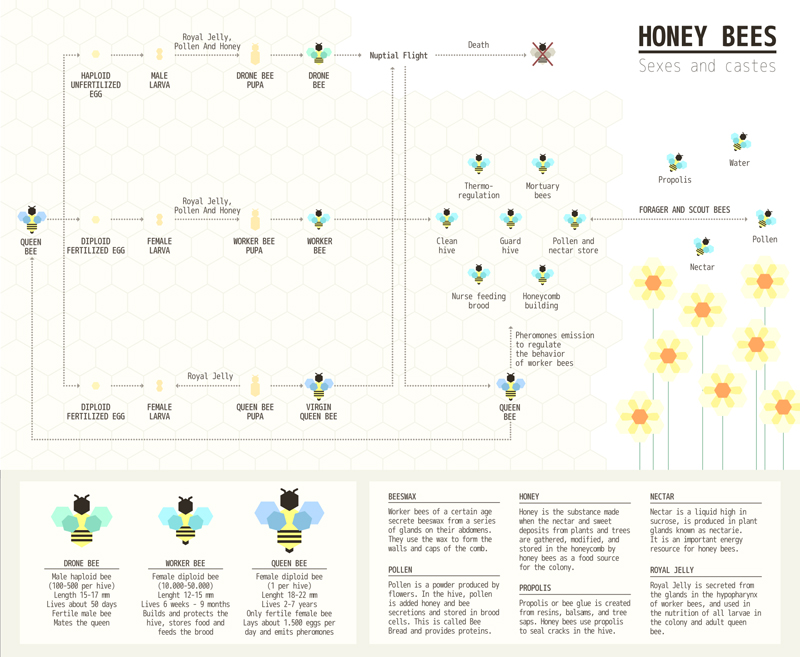 "Honey Bees – Sexes and castes" by This image has been created during "DensityDesign Integrated Course Final Synthesis Studio" at Polytechnic University of Milan, organized by DensityDesign Research Lab. Image is released under CC-BY-SA licence. Attribution goes to "Cecilia Andrea Nuñez, DensityDesign Research Lab". – Own work. Licensed under CC BY-SA 4.0 via Commons – https://commons.wikimedia.org/wiki/File:Honey_Bees_-_Sexes_and_castes.svg#/media/File:Honey_Bees_-_Sexes_and_castes.svg
Saving the Bees Video by Brian Dawson // The Atlantic, December 2014
Natural Resources Defense Council // Bee Facts, March 2011
"Pollination is the fertilization of a flowering plant. Pollination occurs when pollen is transferred from the anthers of a flower to the ovules of that or another flower. Honey bees are responsible for pollinating a variety of fruits, vegetables, legumes, and nuts such as almonds."
What will happen if the bees disappear? // CNN article by Marla Spivak, March 2015
"Bees visit flowers because they need to eat. They derive all of the protein they need in their diet from floral pollen, and all of the carbohydrates they need from floral nectar. As they fly from flower to flower, collecting pollen on their fuzzy bodies to take home as food, they end up transferring pollen from one blossom to another of the same floral species, and pollination just happens.
We need good, clean food, and so do our pollinators. If bees do not have enough to eat, we won't have enough to eat. Dying bees scream a message to us that they cannot survive in our current agricultural and urban environments."
Healthy Bees, Healthy Lives Campaign // The Beez Kneez, Minneapolis MN
"When I started The Beez Kneez over four years ago I could have never imagined that it would lead me here. When I started all I knew is that I wanted to make a living as a beekeeper. What I didn't know when I started was that in order to be a beekeeper these days you need more than books, uncles with 35 years of experience, clever marketing ideas, or a supportive community to be successful; you need to ask your government to help protect you from pesticides." -Kristy Lynn Allen, Founder
You're Worrying About The Wrong Bees // Wired by Gwen Pearson, April 2015
"Part of the problem for our native bees is our human desire for neatness and uniformity. Pretty lawns with no bare spots. Non-flowering grass, or pollen-less flowers. Paved spots where a sand bank or brush pile may have been before. All places where a native bee might have made her home or found a snack.
I asked Aimee Code, Pesticide Program Coordinator of the Xerces Society, a group focusing on conservation of native bees and insects, for her recommendations. "Our native bees, so vitally important in our ecosystems, are more sensitive to pesticides. Any person who has even a postage stamp yard can stop using pesticides, put in more native plants, …and leave some wild areas for bees to to nest in the ground. It is that easy to help make a difference.""
TED Talk with Noah Wilson-Rich: Every city need healthy honey bees // June 2012