This is one of my favorite recipes that my mom use to make when I was growing up. I remember every time I would come home from college I would ask her to make "moroccan chicken". She found the recipe from Martha Stewart Living from Everyday Food in July/August 2005. I've had a print out of an online copy for years, I can hardly read it any more it has been used so much. Modified now, I use almost twice as much spice than called for and I no longer use chicken thighs but tempeh to make it vegan and gluten-free. Other great options instead of tempeh are lentils or beans, otherwise a nice white fish like chilean sea bass would be nice too. You can find the original recipe and video here and below in the recipe.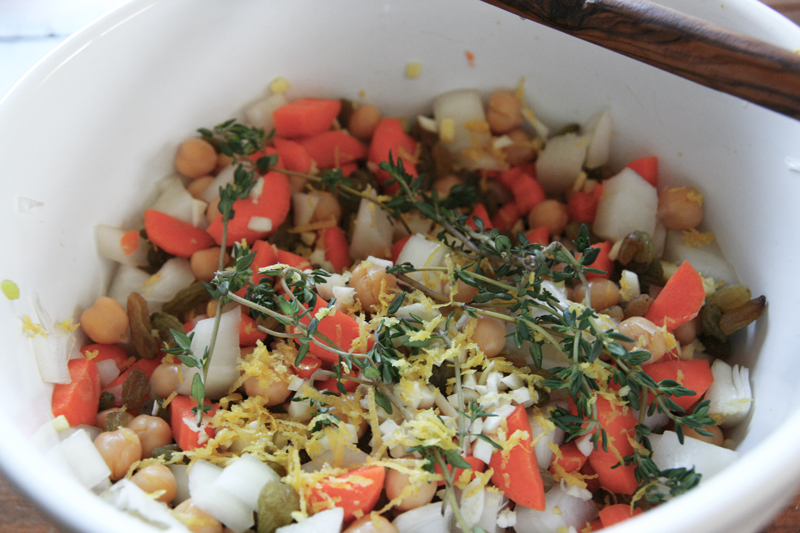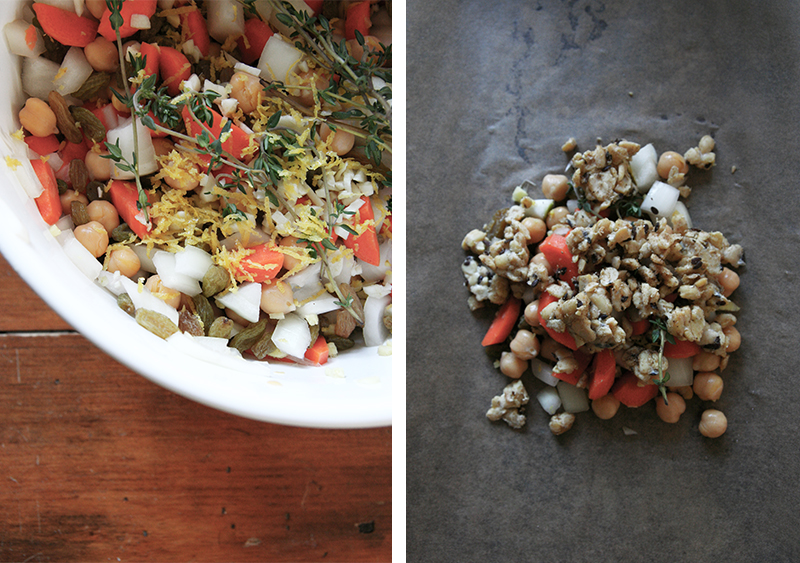 The recipe is a modern take on moroccan style cooking in a tajine which is a clay pot with a lid that was cooked over coals, the tajine would keep moisture in and add an additional flavor to the food being prepared. These parchment packets are nothing like a tajine, but are there to mimic that moisture and steam the vegetables and infuse the spices into everything inside. These packets do not need to be folded fancy or special, just so that they are sealed about your broth does not come out right away. If you follow Martha Stewarts video, it is hard to see but she explains her folds in great detail. My packets are quite messy and casual.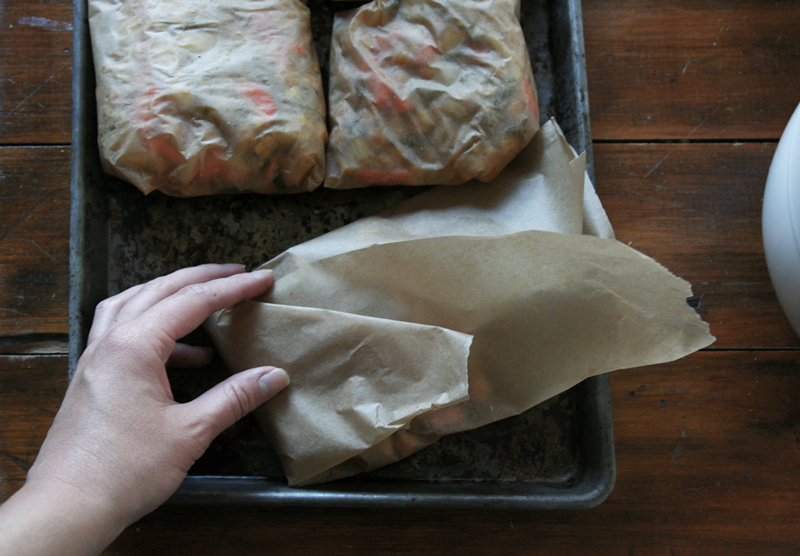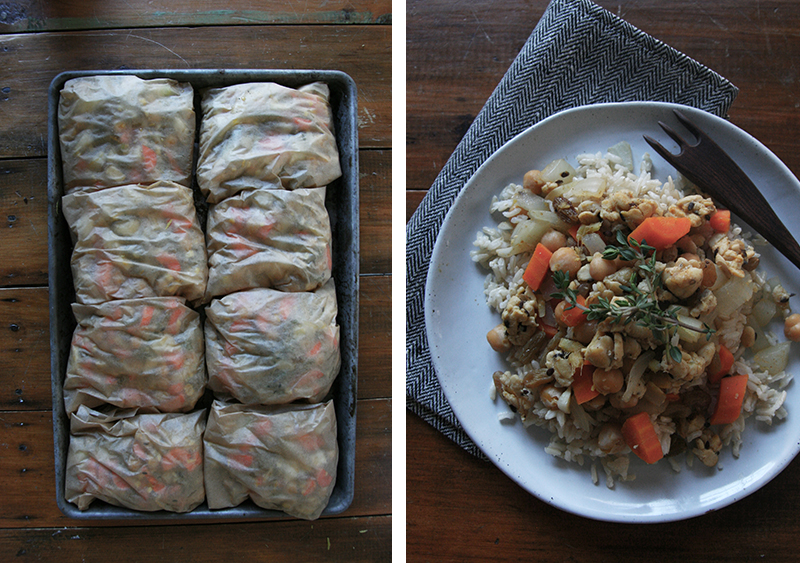 This is a great meal to pull together for dinner parties too. You can do everything ahead of time, and leave your wrapped packets on your backing sheet in your refrigerator until you are ready to bake. Everyone just loves this simple meal, it packs so much amazing flavor into those packets and everyone will be able to enjoy it since it is both vegan and gluten-free.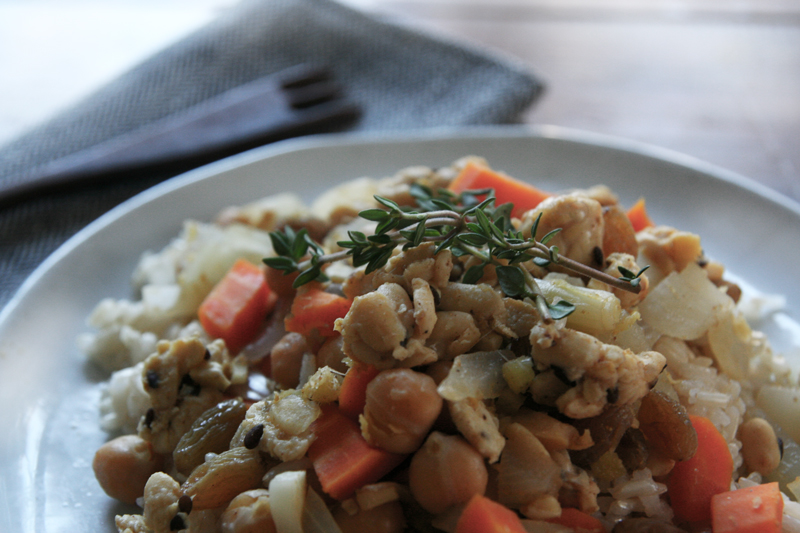 Moroccan Spiced Tempeh with Rice
(vegan + gluten-free)
Adapted from
Martha Stewart Living
from Everyday Food July/August 2005
Serves: 4
Ingredients:
2 carrots, peel, halved lengthwise and cut into 1/2-inch slices
1 cup chickpeas, rinsed and drained
1 small yellow onion, cut into 1/4-inch pieces
1/2 cup golden raisins
2 tablespoon fresh ginger root, peeled and finely chopped
2 cloves garlic, finely chopped
6 – 8 springs fresh thyme
zest of 1 lemon
1 tablespoon extra-virgin olive oil
3 teaspoons coarse salt, plus more as needed
2 teaspoons freshly cracked black pepper, plus more as needed
1/4 teaspoon ground coriander
1/4 teaspoon ground cumin
1 pinch of ground cinnamon
1 package of tempeh, I used Organic Flax Tempeh by Lightlife if you live in Minneapolis, try Tempeh Tantrum
1/2 – 1 cup vegetable broth
cooked brown rice for serving
Directions:
1. Preheat your oven to 375 degrees.
2. In a large bowl combine carrots, chickpeas, onion, golden raisins, ginger, garlic, thyme, lemon zest, and olive oil and toss.
3. In a separate bowl, stir together salt, pepper, coriander, cumin and cinnamon and gently crumbled tempeh and toss to coat all of your bits of tempeh in your spice rub.
4. Lay down a sheet of parchment paper, about 12 x 12 does not have to be pretty or exact. Place some veggie mixture on to your parchment and then your spiced tempeh and about 2 tablespoons of broth and again, does not need to be fancy wrap your parchment up like a present and place onto a lipped baking sheet. Repeat until both mixtures are gone.
5. Bake packets in your oven for about 20-30 minutes. To serve, be careful, your packets are hot, open up packets and place onto a bed of rice and top with an extra spring of thyme.