It is not ideal – obviously! If you're going to move across the country I highly recommend doing it when you're not pregnant. But sometimes, you have to work with what you got. Life doesn't stop when you are pregnant and when an opportunity comes up sometimes you have to take it even though you already have a lot on your plate. Moving across the country without growing your family is already a lot but adding pregnancy into the mix does add some new challenges and dare I say benefits! In this blog post I hope to share with you my personal experience with moving across the country in my third trimester and offer up some bff advice and laughs along the way. This is the blog post I wish I had when I was going through this craziness!
Life doesn't stop when you are pregnant and when an opportunity comes up sometimes you have to take it even though you already have a lot on your plate.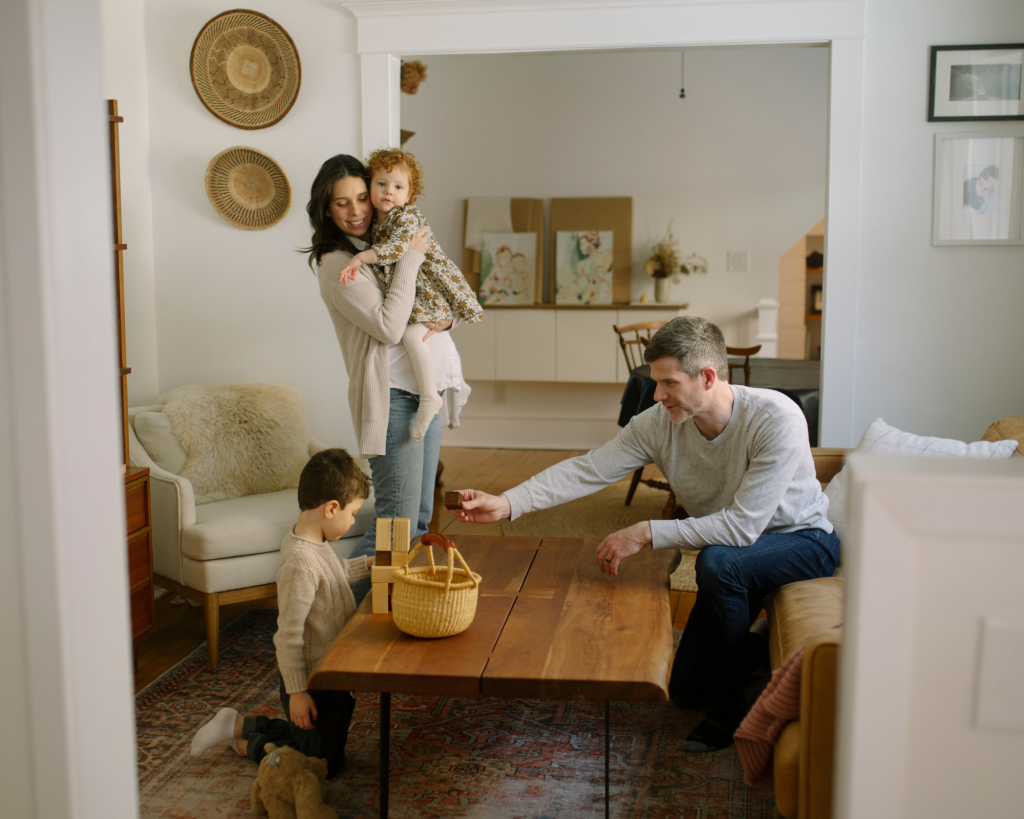 It all started many years ago when I had an unpaid internship in Seattle right after graduating college. I slept on a friend of a friend's sofa for a couple months while I networked and looked for jobs. It was my dream to live out here in the PNW. It reminded me of my two favorite places: London and Minneapolis. It felt like the lifestyle out here would be the perfect fit for me. Eventually I had my dream job pop up in Minneapolis, applied and they offered me a job. I worked at the job for about six months and then I met Graham (my now husband!) Obviously, I couldn't leave Minneapolis now! We dated for a couple years, got married and had two babies! Time was flying by and we kept returning back to that goal. We both wanted to live somewhere other than Minnesota for a little bit, we individually saw ourselves living out in the mountains in a little bit warmer climate that still had all of the seasons. We found out we were expecting our third baby and it felt like it was now or never. Postpartum and having young kids makes time fly by and we knew we would always live with "what if" if we didn't just go for it now!
We found out we were expecting our third baby and it felt like it was now or never.
My husband Graham got a job here in Seattle and within a couple months we were getting relocated across the country. It was great that he was able to work remotely while we looked for homes, neighborhoods, schools, birth centers… all of the above! It takes time to rebuild your life somewhere new, sell your home and gather yourself and your belongings in your current space. Here is all of the advice I wish I had and the things I have learned from moving across the country while pregnant.
Organize your life. I mean like literally Marie Kondo organizing your entire life. Why in the heck would you move stuff across the country into your new life that you do not want there. Go through everything! Clothes, books, toys, home decor, cabinets, games, the scary closets, storage rooms and yes the garage. Every space gets a complete overhaul and donate and throw away things you do not need, want and forget you had. Get rid of it. This new life you are building will be full of abundance and joy and trust me you do not want to feel heavy.
Sell your home. We started by finishing any last projects we had on the house. The house never looked so good when we moved out. We got her all shiny and ready to be sold. This took so much time and energy if I am being honest. Outsource what you can and let things go if necessary. Hire a good realtor that can help you prioritize projects and get you the help you need.
Hire movers. Have a team come in and do the pack and load and move for you. You are pregnant! Just trust me on this one, it is 100% worth the investment and movers are incredible at what they do. I swear they packed up our dining room in like an hour or less. Magicians.
Hire cleaners or be prepared for the cleaning and painting after you move completely out. You'll want to do two cleans too most likely. A clean after you move out and a clean after the stagers move things out and before the new homeowners take over. You will not want to be on your hands and knees cleaning that house.
Start building your new birthing team right away. Most birth centers, midwives and even doctors can take you on as a patient before you move. It is nice to meet with your new team virtually and have appointments with them and an in person clinic or birth center at the same time. This will help you to build a strong relationship with your birthing team prior to moving. After my move I was due in 12 weeks which is a short amount of time to build strong relationships and prepare for my dream birth. I am so grateful I started that relationship before I moved.
Build out your entire birthing team prior to moving. Find a prenatal chiropractor, pelvic floor physical therapist, mental health therapist, massage therapist, birth doula, postpartum doula, childcare for the birth and any other team members you need! This all takes a lot of time and energy and it is nice to do this ahead of time. This will also help you to find the neighborhood you want to be in. If you can see where your like minded tribe is, this will give you insight on neighborhoods that might be a good fit for you.
Find a new home. We personally decided to rent first before buying a new home again. We did not want to buy at the peak market and in a neighborhood that we really didn't have the chance to get to know yet. I don't know the ins and outs and personalities of all of the neighborhoods and I didn't want to marry something before trying it on. Also buying a house sight unseen gave me too much anxiety. When you are looking at neighborhoods I came up with a short list of must-haves that my suburb, neighborhood or city absolutely needed and then that helped me narrow it down. (Example: Close to my preferred birth center/team, Health food store/Co-Op or access to fresh organic food, good school district and preschools, yoga/barre or workout spaces nearby and outdoors in our backyard and easy access to walks, hikes, the mountains and the PNW!) Having this list dialed in made it easy then to research which neighborhoods would be a good fit for us.
Apply for schools & hire childcare. You'll need to apply for schools, childcare and preschool ASAP after you get your house. In America at least early childhood education and daycare has long waitlists and it can be challenging to get into places all over the country. Usually you apply in Jan-Feb for September start. We got very lucky and got the only spot available in a preschool because that student also relocated in the middle of the year. It'll all work out but be mindful to not save this step for last.
Hire a nanny, postpartum doula and help for postpartum. If you are in the position of moving across the country while postpartum the likelihood you are moving somewhere with "a village" to help you postpartum is pretty slim. I honestly waited too long to coordinate this pivotal piece to the puzzle. Considering this was our third baby, we really needed a lot of help those first couple weeks postpartum. We ended up solo for the first 5-7 days and then my mom flew in from Minnesota and stayed with us for about 2.5 weeks which was perfect. We had a postpartum doula come for a handful of days and then our nanny started about 2 months postpartum. Now we are 5 months postpartum, we still have our nanny support and the two big kids are in school. It truly takes a village and if you do not have friends and family in your new location it is necessary to hire help in my opinion.
If people offer to help, take them up on it and tell them exactly what they can do that will be helpful. This is A LOT OF WORK and you do need help. Get specific and lean into your tribe's strengths. No shame in asking for help too. We didn't end up hiring cleaners or painters on the final move out and Graham ended up doing it all himself while I watched two kids while pregnant alone for days on end. We both needed help on either end. He ended up calling some friends and his mom and my parents and friends helped me with the big kids.
Remember, this is temporary and a lot of work. Lean into your nesting energy and don't overexert yourself. It is a marathon not a sprint. You are very capable of doing hard things, lifting and unpacking but you are also pregnant and need to take care of you and baby along the way. Take breaks, hydrate, ask for help, outsource, eat well and let some stuff go! If you don't get to that scary closet you can deal with it on the other side during the unpacking. It'll all work out in the end.
Moving has been a great decision for our family. We have been so incredibly happy here in our new home and we are grateful that we made it happen when we did. Some things in life just never have the "right" timing and there will never be the perfect time to move. There are so many things that I am still doing now after the move like finding a new hair stylist! Miss you Marriah. I wouldn't let being pregnant be something that holds you back from following your heart on a move.