Finally! I have put together a little tour of our son's nursery. When designing Noah's nursery I wanted it to have a lot of style but keep it gender neutral and simple. This warm white paint gives the room a dreamy and relaxing feeling. Having the room be white allows us to let all of the colorful toys and books be where the style comes from. Embracing the clutter was hard at first, but I really wanted this room to be an open invitation to create, play and be joyful.
The room is a small rectangular room with windows on two walls. The lay out of the room made it a little challenging on where to put the crib. We decided to put the crib in its current position to allow for more open play area. When Noah will be sleeping in this room we will be taking down the long window treatments so he doesn't use them as an escape route. We made these open shelves out of a nice piece of pine and some black L-brackets from Home Depot. It was a super easy DIY project that allows us to have lots of open storage for toys and books. We have a fourth shelf, and I might add it to the bottom so he has one he can reach… still have not decided.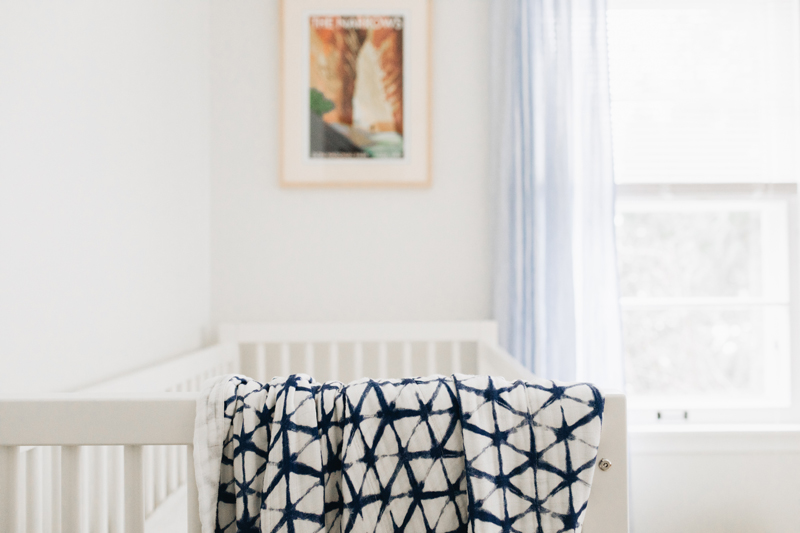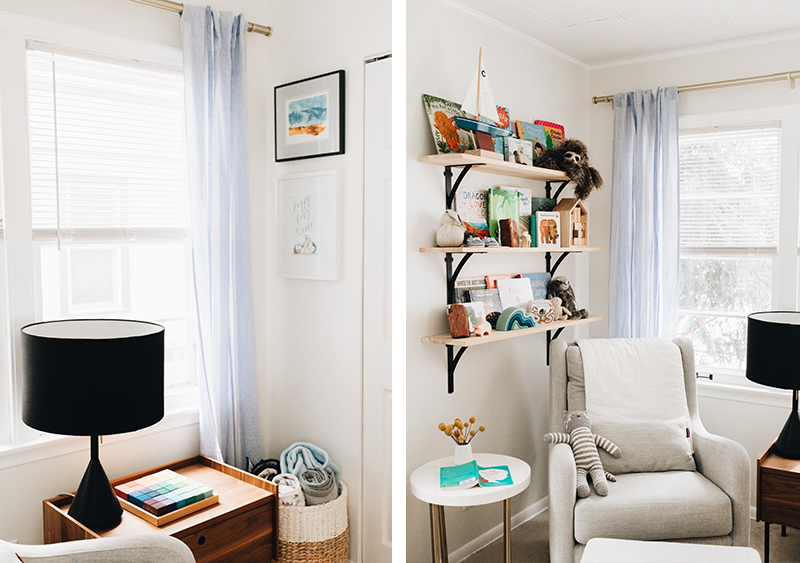 One of my favorite parts of Noah's nursery is his dresser and side table from local furniture designer Blu Dot. We found it at the Minneapolis Outlet for a killer deal. It is made of walnut, has soft close drawers and is the perfect size. It is really large with six drawers and the top drawers are the perfect size for diapers! We got even luckier and the top of the dresser fits perfectly with The Land Of Nod's changing station tray and pad.
Originally I had selected a different glider and crib. The glider that I wanted originally was a non-refundable special order chair that we wouldn't have had the chance to sit in prior to ordering it. This is very common when purchasing furniture, but I just couldn't pull myself to do it. Graham came up with the idea of visiting family in Chicago and visiting The Land Of Nod store to "test drive" the glider. Classic new parents… But, I am so glad that we did this! The glider I originally had selected was much smaller and not has comfortable. The height of the back didn't allow me to rest my head back and the ottoman did not glide as well. I would say now after nursing and using our glider for 8 months, I am so happy that I got this one because of those two things!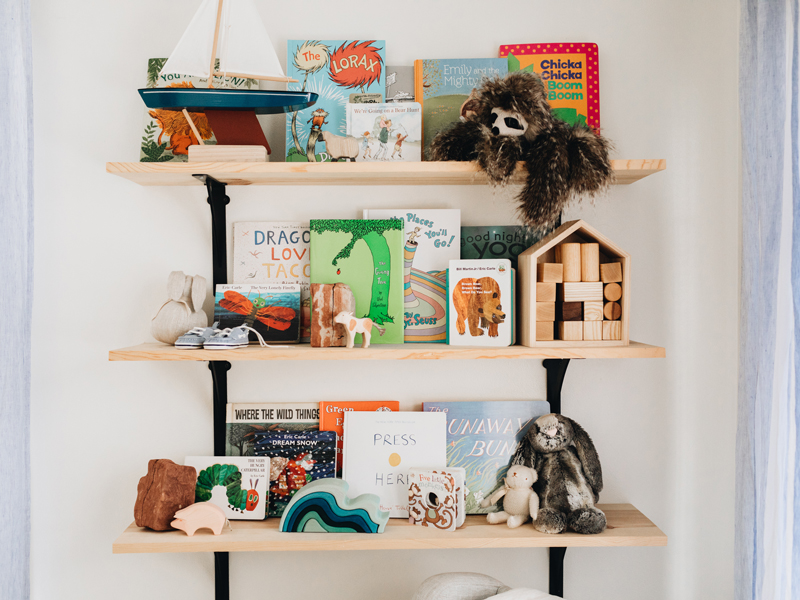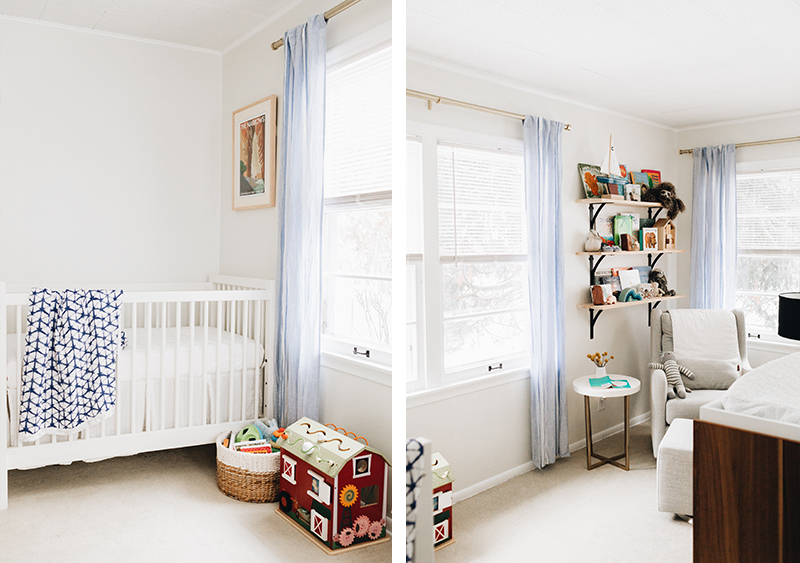 We included a lot of nostalgic artwork in Noah's nursery that gives me all the warm fuzzy feelings. Above the dresser are the matching Vintage Beatrix Potter posters from my nursery growing up. By the closet are two pieces of artwork and one of them is a sketch of Noah "Happy Baby Waite" prior to his birth given to us from a friend who hosted us a shower. While I was pregnant we went on a "Baby Moon" to Zion National Park and purchased The Narrows poster hanging over Noah's crib. I have some really cool pictures of us hiking together with a pretty nice looking bump. We also incorporated two bookend stones we sneaked back with us. A lot of the books on display on the open shelves are some of our favorites from growing up.
After putting this room to the test over the last 8 months I have learned a lot about nurseries. Here are some of my tips and things I've learned.
1. Glider & ottoman should both glide – When selecting a glider and ottoman opt for one that the ottoman glides as well. When selecting a fabric, pick a lighter shade to avoid spit up marks from showing. I like to drape a blanket across the back too just in case!
2. Use nostalgic artwork or photos – Hang up memories from your pregnancy, ultra sound photos or inspirational quotes. Add artwork from your childhood or things that are special to your family.
3. Embrace the colorful clutter – We wanted this space to be full of opportunities to explore, create, play and learn. We prioritized the minimal aesthetic so that the colorful books and toys could stand out.
4. Add task lighting for late night feedings – This chic Blu Dot lamp is great for nighttime feedings and story time.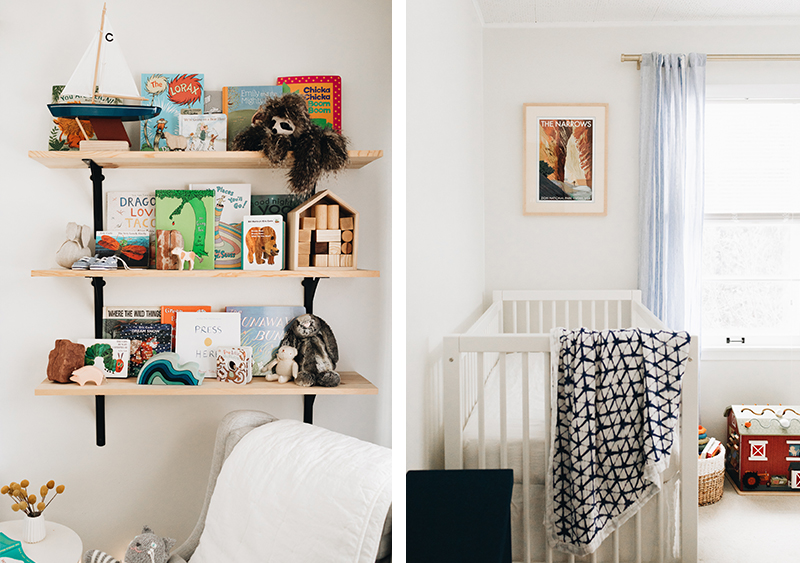 5. Baskets for books & toys – Now that Noah can crawl around and grab his toys it is fun to see him use these baskets. It is so sweet seeing him kneel and dig through the basket pulling out all of his toys. A basket also makes for a really easy pick up.
6. Style your open shelves – Open shelves are a really fun way to show off toys and books. I enjoy styling them while he plays!
7. Get a nice size dresser that doubles as a changing station – My first instinct was, "he is just a baby he will not have a lot of stuff" well I could not be any more wrong. Babies have tons of blankets, towels, burp cloths, onsies, swaddles, diapers, wipes , socks, shoes… (the list goes on and on!) Get the big dresser to store all of their stuff in their room.
8. Diaper pail that locks – Not every diaper pail locks, and well that is a mess you never want to clean up. I really like our ubbi diaper pail!
9. Motion sensor night light for late night diaper changes – It is really nice to have a motion sensor night light in the nursery room so you do not have to turn on and off a light when you go into the nursery or bring baby in their to change a diaper or soothe. We like this one a lot!
10. Invest in a convertible crib – We purchased two different cribs and still use both. We have a mini crib from Baby Letto in our room and than this normal size crib from The Land of Nod in Noah's nursery. The Land of Nod crib will convert into a toddler bed when he is able to crawl out. This is nice so that we can use this mattress and crib longer – saving us money!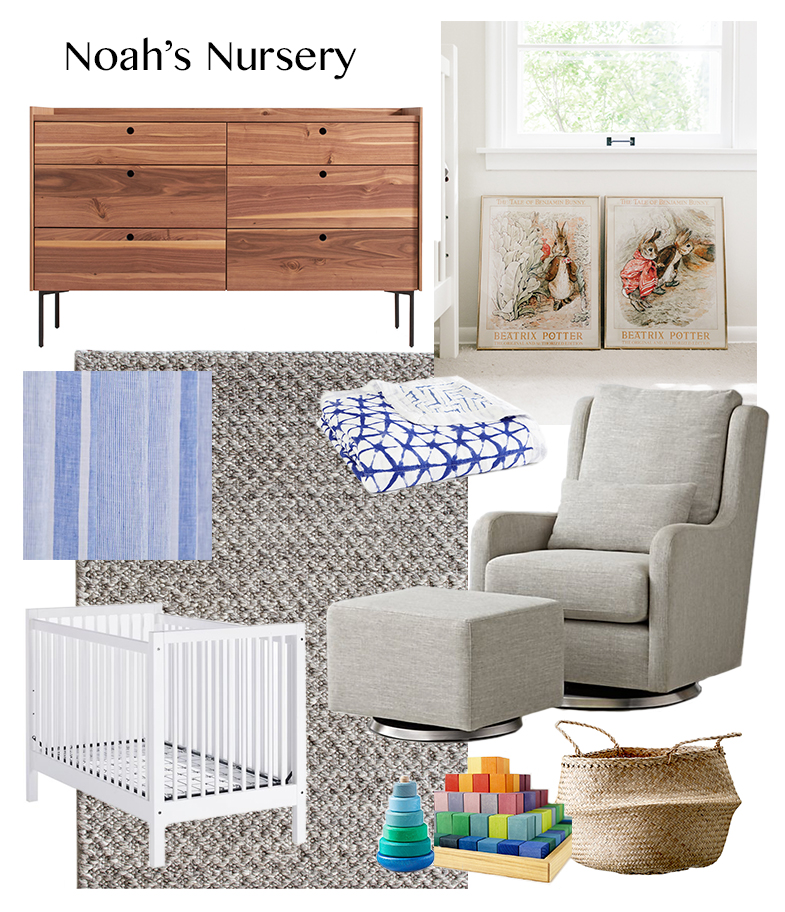 | Crib | Sheets | Dresser | Side Table | Changing Tray & Pad | Glider | Ottoman | Window Treatments | Rug | Lamp | Shelf Brackets | Baskets | Colorful Wooden Blocks & Stackers | Wooden Blocks | Throw Blanket | Sail Boat |