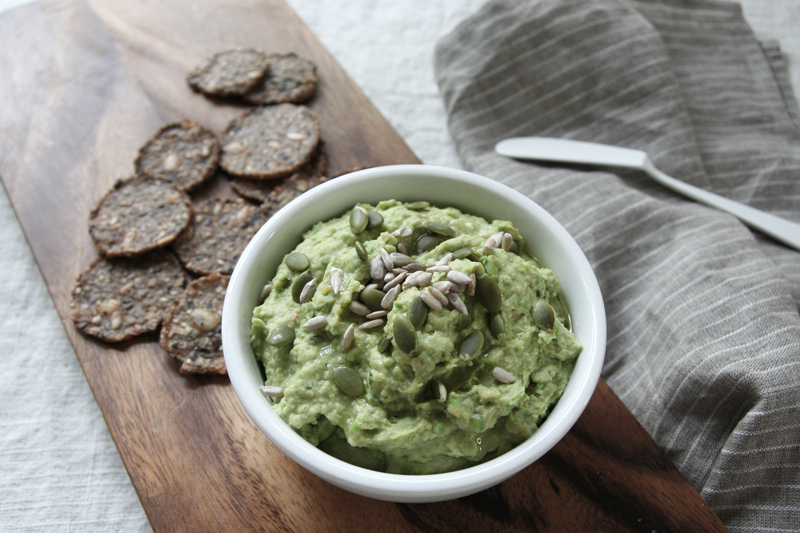 I am so excited to share this really easy recipe for pea + cilantro hummus. One of my all time favorite snacks is hummus, I can eat bowls and bowls of this stuff. I try to always have a homemade hummus on hand for when I get hungry and need a substantial snack. This is a tasty take on a basic hummus recipe, by simply adding fresh peas and cilantro. Chickpeas are so good for us, they are very high in fiber and great for our energy levels which makes hummus such a fantastic snack. After you have all of your ingredients, all you have to do is just blend everything up to your thickness liking and you are done – hummus!
Pea + Cilantro Hummus // serves 6-8
(vegan + gluten-free + nut-free)
Ingredients:
2 cups shelled fresh peas (about 2 pounds in pods or about 1 bag frozen)
1/2 cup dry chickpeas, soaked and cooked or about 1 can cooked chickpeas, rinsed (total: 1.5 cups cooked chickpeas)
1 teaspoon cumin seed
1/2 cup fresh cilantro
2 cloves garlic
1/2 cup tahini
2 tablespoons lemon juice
2 tablespoons flaxseed oil
1 teaspoon salt
1/4 teaspoon black pepper or 1/4 teaspoon red pepper flakes
topping: pumpkin seeds, sunflower seeds and flaxseed oil
Directions:
1. Prepare your chickpeas. If you are cooking dry beans… Soak beans in a bowl of water and discard any beans that float to the top. Rinse beans well and place them in a large pot. Cover with 2-3 inches of water and a dash of salt; place over high heat and bring water to a boil; lower heat and simmer, covered for about 1 1/2 hours. No time for that? No worries, all you need to do is rinse your can of chickpeas.
2. Blanch shelled or frozen peas in a saucepan of boiling water until tender about 3-5 minutes; Drain, cool and set your peas aside.
3. Combine ingredients into a food processor or dry blender and blend until a thick and chunky purée.
4. Top your hummus with pumpkin seeds, sunflower seeds and flaxseed oil.