I'm not a huge quote person. Every now and then I do see a quote, and it really sticks with me. I was anticipating something today, in the middle of the afternoon of course… I couldn't focus, and I kept looking at the clock. Oh well, I can't start this because I only have two hours… then, quickly, two hours turned into 15 minutes. "Don't watch the clock; Do what it does. Keep going." -Sam Levenson
If not a specific event, is it all of the information we are consuming in this world that is letting our mind go in every which direction resulting in time literally flying by? Unfortunately, distractions are here to stay. Well, this is embarrassing, while writing this blog post I picked up my cell phone and responded to a call and a few texts. I read this article, The Scientific Benefits of Mind-Wandering from Fast Company and it's title surprised me. How can there be benefits to a wandering mind? The yoga instructor inside was scratching my head.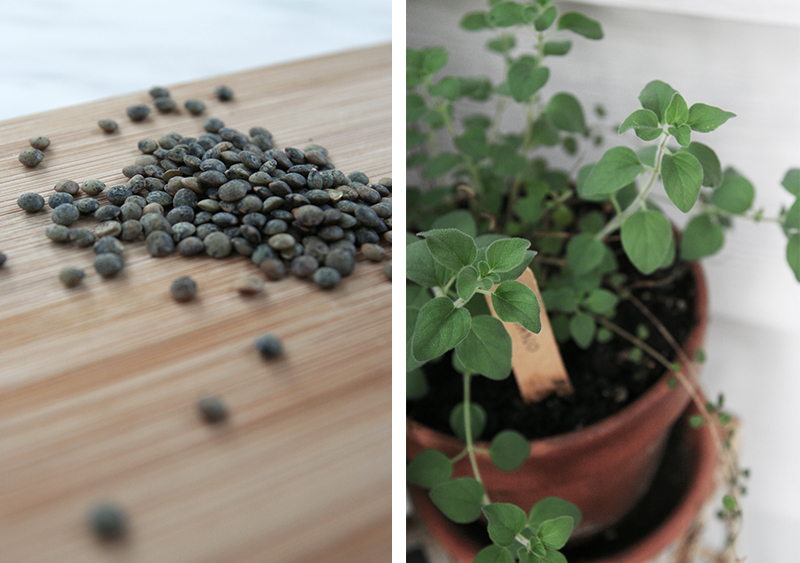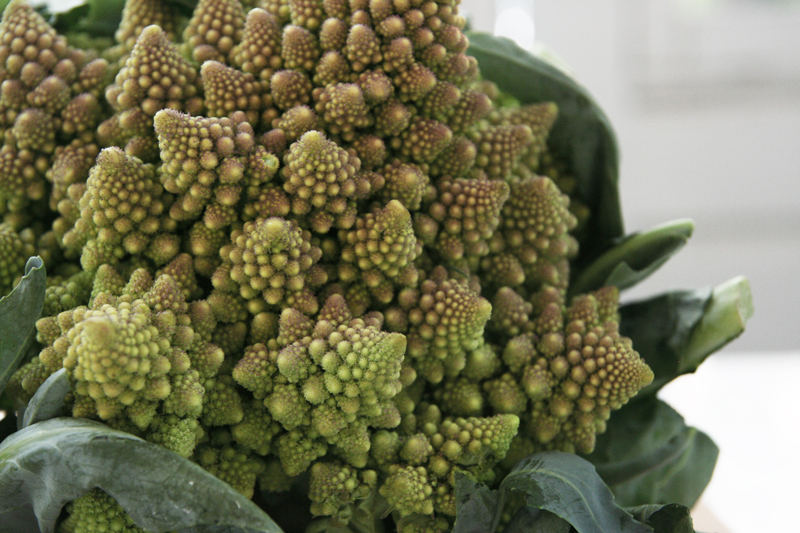 "Chronic mind-wanderers aren't typically as good at filtering out irrelevant information from their surroundings—an ability known as "latent inhibition." But that's actually an advantage when it comes to generating original and innovative ideas. In order to think outside the box, you have to be able to consider unusual thoughts and concepts, not suppress them. After all, the raw ingredients of creativity—from a strictly rational perspective, anyway—are usually wrong and absurd, but logical thinking is rarely a creative gateway." -Fast Company
If I allow myself to wander, am I allowing myself to reach the gateway of creativity? Instead of watching the clock and holding back on my wandering mind in anticipation; telling myself I should be focused or my time for the next two hours should look a certain way… I should instead allow myself to fall down into the depths of this vast internet rabbit hole?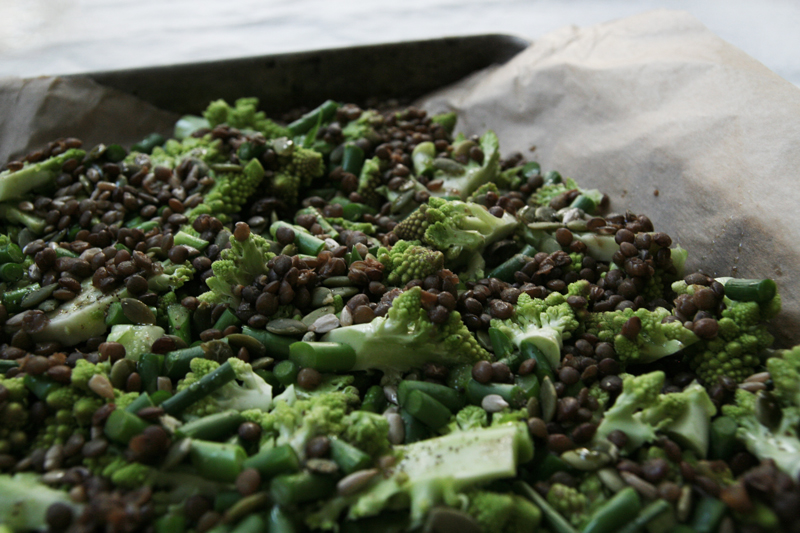 Now, let me tell you about his recipe. This roasted romanesco & french lentil bowl was one of those recipes I had just thrown together one summer night. Then Graham kept asking for it, and I had to some how recreate it. Which is challenging if at the time, you were letting your mind wander and just creatively "throw" something together. After making it a few more times, here she is! This is one of our favorite little side dishes that can be translated well into a meal itself. It has very distinct flavors with the romanesco and peppery fresh radishes. We have a few heads of romanesco growing in our garden and I can not wait to use them for this bowl.
Roasted Romanesco & French Lentil Bowl // Serves 2-6
(vegan + gluten-free + nut-free)
This can be made as a side dish to share with 4-6 people or it makes a nice lunch or dinner for two people. If romanesco is not in season or maybe you can not find it at your local farmers market or health food store, great options are cauliflower and broccoli. If you are not vegan or dairy-free, I think a nice goat cheese would be really nice on top of this or stuffed rainbow trout with lemon.
Ingredients:
1 cup french lentils, cooked to instructions
1 head of romanesco, chopped and sliced into bite size pieces
3-4 garlic scapes, chopped
2-3 springs of fresh oregano, chopped
3 tablespoons olive oil
1/4 cup pumpkin seeds
1/8 cup sunflower seeds
4-6 radishes, sliced
salt & pepper
Preheat your oven to 350 degrees F. Cook your french lentils as the instructions ask in a pot over your stovetop. As your lentils are cooking, cut romanesco, garlic scapes and fresh oregano. Place parchment paper on your baking pan and spread romanesco, garlic scapes and fresh oregano across your pan. Drizzle with olive oil and a generous amount of salt and pepper. Roast in the oven for 12-15 minutes. After your french lentils are done cooking; take out your baking pan and spread lentils across your pan and bake for an additional 2-3 minutes. Remove your pan from the oven and toss in pumpkin seeds and sunflower seeds and mix together on pan. Serve in a bowl with sliced radishes on top and freshly cracked black pepper.