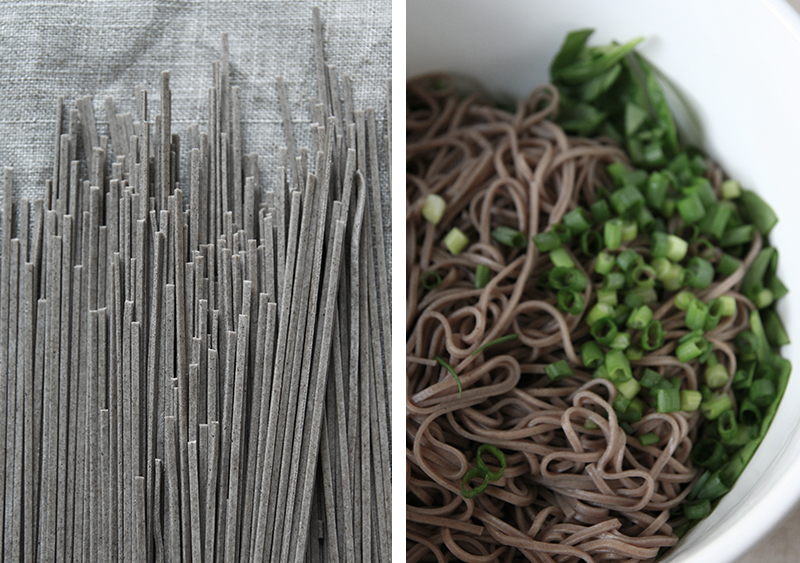 This amazingly filling lunch is so easy to pull together and is incredibly healthful. This bowl of health is naturally gluten-free and vegan and mostly raw. I have a hard time eating light salads for lunch without something of substance with it, since I typically workout during my mornings and spend majority of my days teaching yoga. This bowl is like a hearty filling salad, all of the benefits of a salad but I typically don't feel like eating a second lunch at 2pm after feasting on this bowl. Best enjoyed right after making, can stay in the refrigerator for up to 24 hours, but I if you are making ahead of time, add your dressing before eating.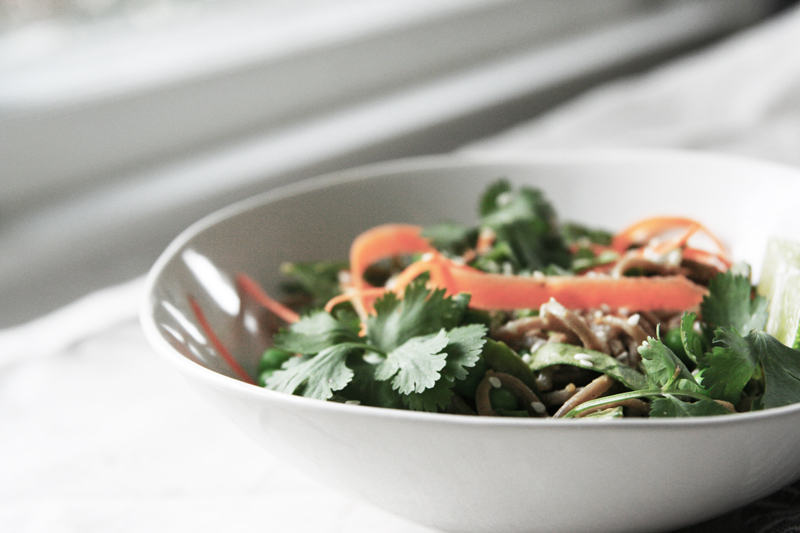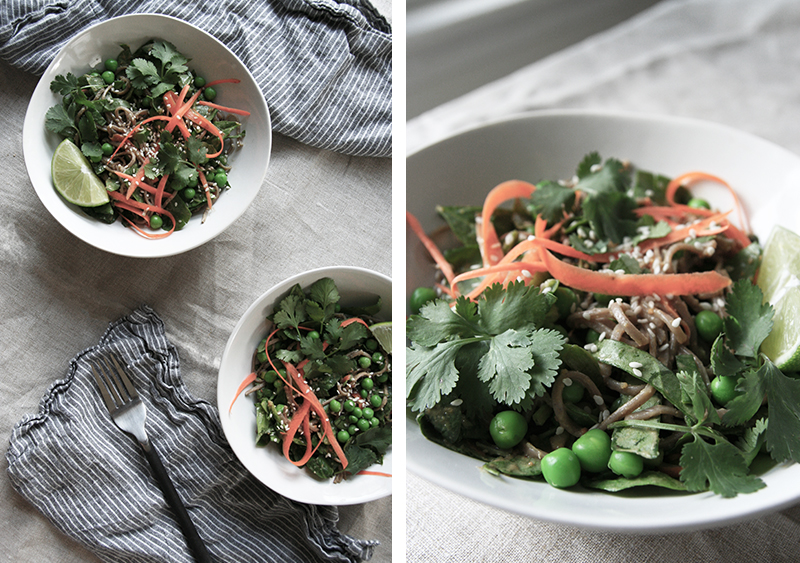 Soba Noodle Bowl with Ginger Peanut Sauce
(vegan + gluten free)
Ingredients:
4 to 6 ounces soba noodles
3-4 cups spinach, chopped or shredded
4 springs scallions, diced
2 carrots, peeled (you can use a potato peeler or a fancy julienne peeler which are amazing)
1 cup sweet peas (blanched for 1 minute, if frozen)
2 tablespoons peanut butter
3 tablespoons soy sauce, tamari or gluten-free tamari
2 tablespoons fresh lime juice
2 tablespoons fresh minced ginger, chunky is okay
1 clove garlic, minced
1 teaspoon honey, or agave to make vegan
1 tablespoon sesame oil
1/2 teaspoon red pepper flakes
2-3 tablespoons cold water if dressing needs to thin
cilantro, topping
sesame seeds, topping
Directions:
1. Cook soba noodles according to package. In a bowl, combine chopped or shredded spinach, diced scallions, carrot and sweet peas. After your noodles are done cooking, drain and place on top of your vegetable business and let sit for a few minutes to soften veggies.
2. In a small bowl, stir together peanut butter, tamari, lime juice, ginger, garlic, honey, sesame oil, red pepper flakes and stir until combined. If you need to thin out your dressing, option to add 2-3 tablespoons cold water. Play around with the measurements of this dressing, like spice? Maybe add Sriracha hot chili sauce!
3. Pour your dressing over your noodles and veggies and stir and toss until combined and your dressing has coated the noodles.
4. Serve room temperature or chilled in a bowl and top with cilantro and sesame seeds.