I'm sitting in my home studio… the windows are open, bees wax burning, sun is shining and Marvyn our cat is belly up in the sunlight. Today, is perfect. Our refrigerator is full of delicious food, our home is some what clean and my schedule is starting to finally feel good. These small moments in life are what make me feel truly grateful and happy. When I take a moment to breathe deeply, listen to the birds chirp, look around and appreciate what I have… when everything moves slowly.. is when I am most at peace.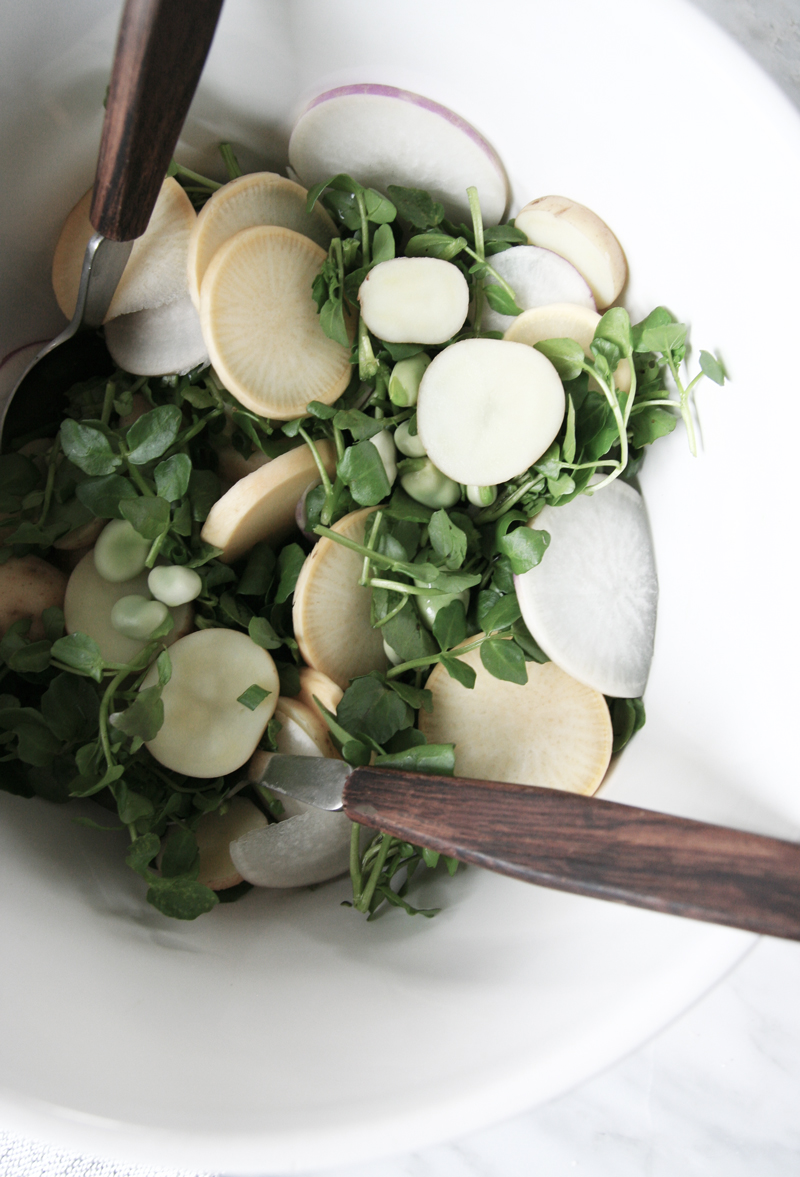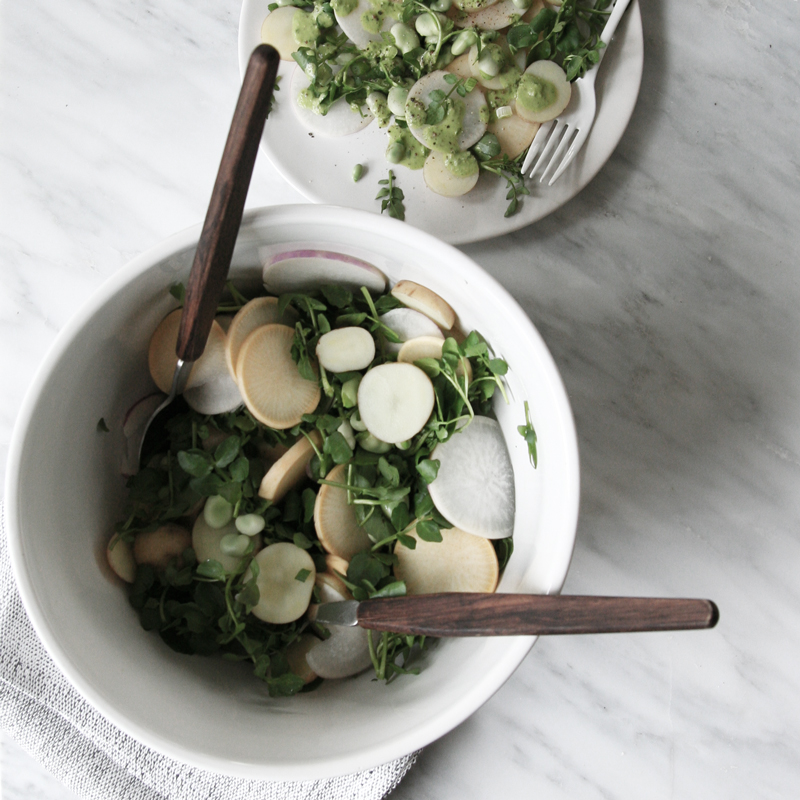 I have never been a huge fan of potato salad. So, this is a very untraditional potato salad, this salad is light, fresh, crisp and vegan. The best part, if you bring this potato salad to a gathering, and it is safe to say majority of people can eat it and it is delicious! It is usually always so hard for me to find something to eat at small gatherings, picnics or dinner parties, and I know I am not alone in this feeling.
This salad can also be great to have in the fridge for lunches. When you make ahead of time, store in a sealed tupperware to try to keep the moisture in the cut vegetables. Be sure to add the dressing only before eating. This salad can keep in your refrigerator for 2-3 days.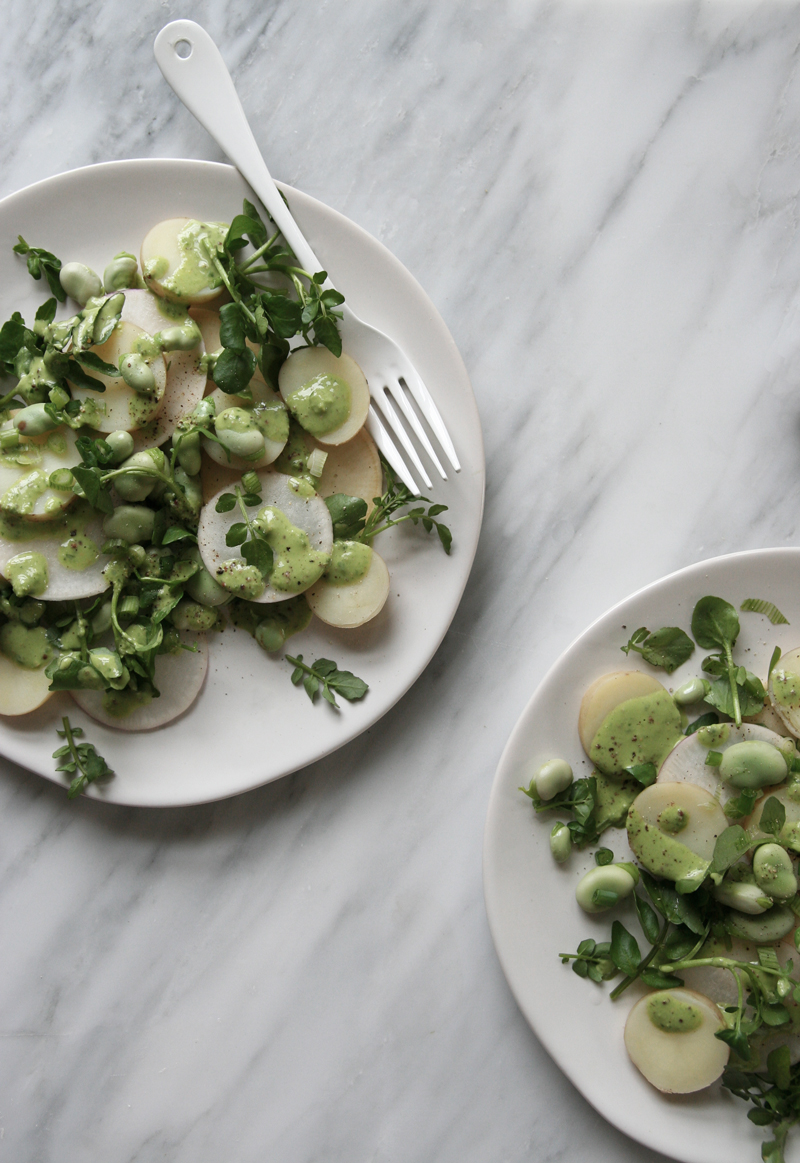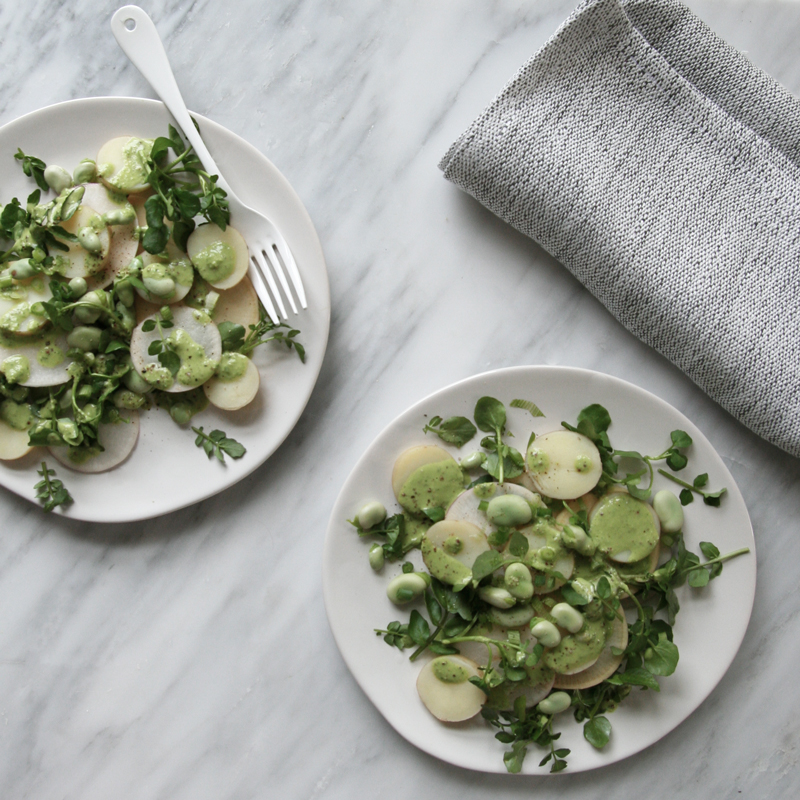 Spring Potato Salad with Spinach Mustard Dressing // Serves 4-6
(vegan + gluten free)
Ingredients:
10-15 fingerling potatoes or small gold potatoes, thinly sliced
4 small turnips, thinly sliced
20-25 fava bean pods, rinsed and peeled
4 cups watercress, rinsed
3 springs green onion, thinly sliced
2 tablespoons tahini
1 lemon, fresh juice
4 tablespoons vinegar
3 tablespoons olive oil
4 tablespoons cold water
1 cup spinach
2 tablespoons coarse dijon mustard
1 teaspoon salt + salt for boiling
black pepper to taste on top
Directions:
1. Boil two medium pots of water with salt.
2. Slice potatoes thinly, about 2-3 centimeters thick and add to one of your boiling pots of water with salt. Cook potatoes for 15-20 minutes, watch and taste test/ poke with a fork closely, you do not want your potatoes to fall apart. Cook al dente. After cooking, set aside to cool.
3. While your potatoes are cooking, rinse and peel your fava beans. After your fava beans are peeled, blanch in your other pot of water for 1 minute and add to an ice bath to cool.
4. Slice turnips, rinse watercress and slice green onions and add to a large bowl. Add your cooled fava beans and cooled potatoes and toss.
5. Time to make your dressing. In a large blender combine tahini, lemon juice, vinegar, olive oil, cold water and spinach and blend until smooth. Add mixture to a small bowl and gently mix in the coarse dijon mustard and 1 teaspoon of salt.
6. Serve room temperature or cooled and add dressing before eating and top with black pepper.