Days are getting longer and the sun seems to be shinning brighter than ever. Grocery stores are filled with gorgeous produce ready to be made into bright, textured and energetic salads. Spring for me is a great time to reconnect with more mindful cooking, trying new things, buying more produce, and not falling into just eating the same three easy meals.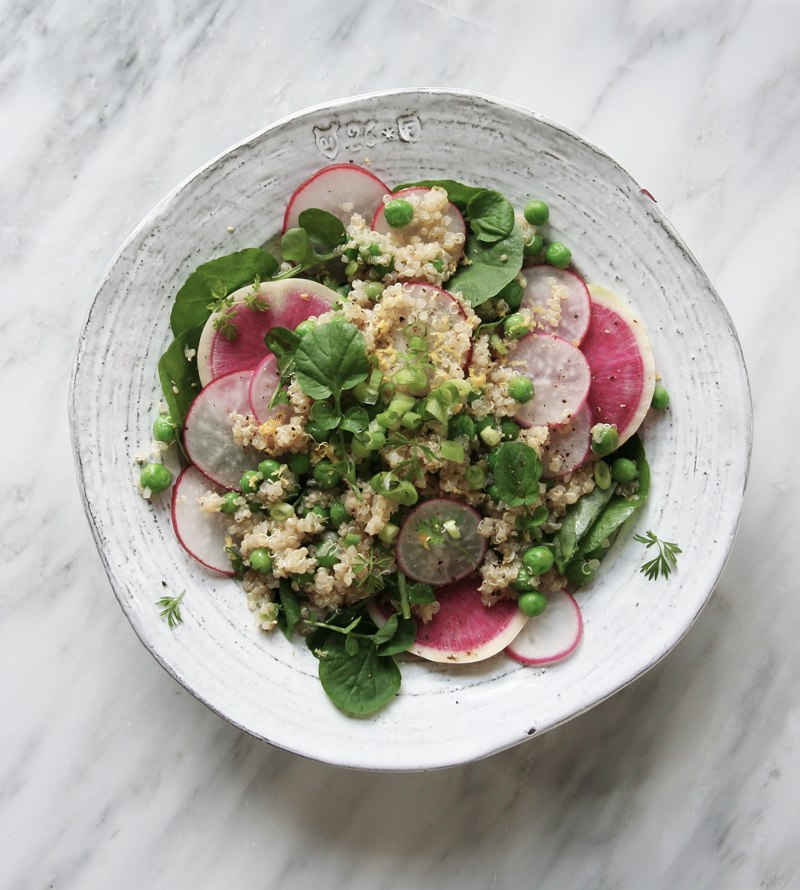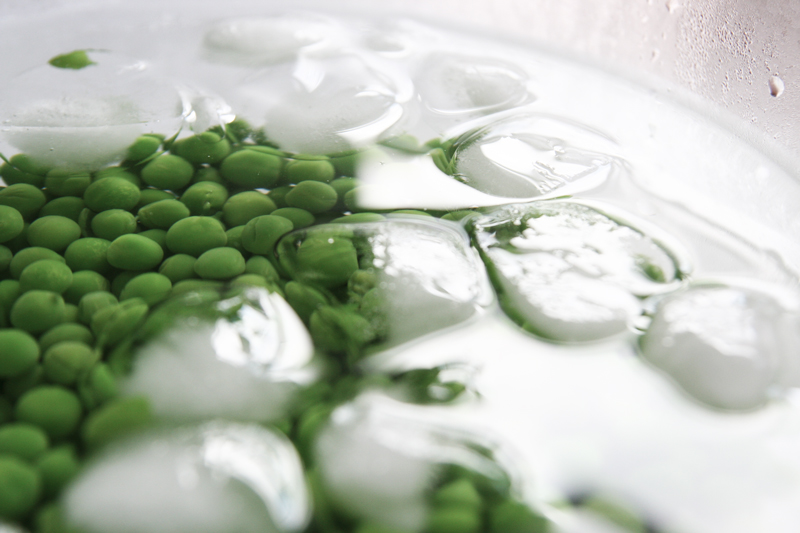 This bowl is filled with spring vegetables, fresh english peas, easter egg radishes, watermelon radishes, upland watercress and green onion. We enjoyed this quinoa salad with some wild caught grilled cedar plank salmon and grilled asparagus and white wine. This would also be great made ahead of time for lunches and you could add the watercress day of so it does not wilt. Salad could stay fresh in the refrigerator for a few days, but will loose its crisp and texture over time.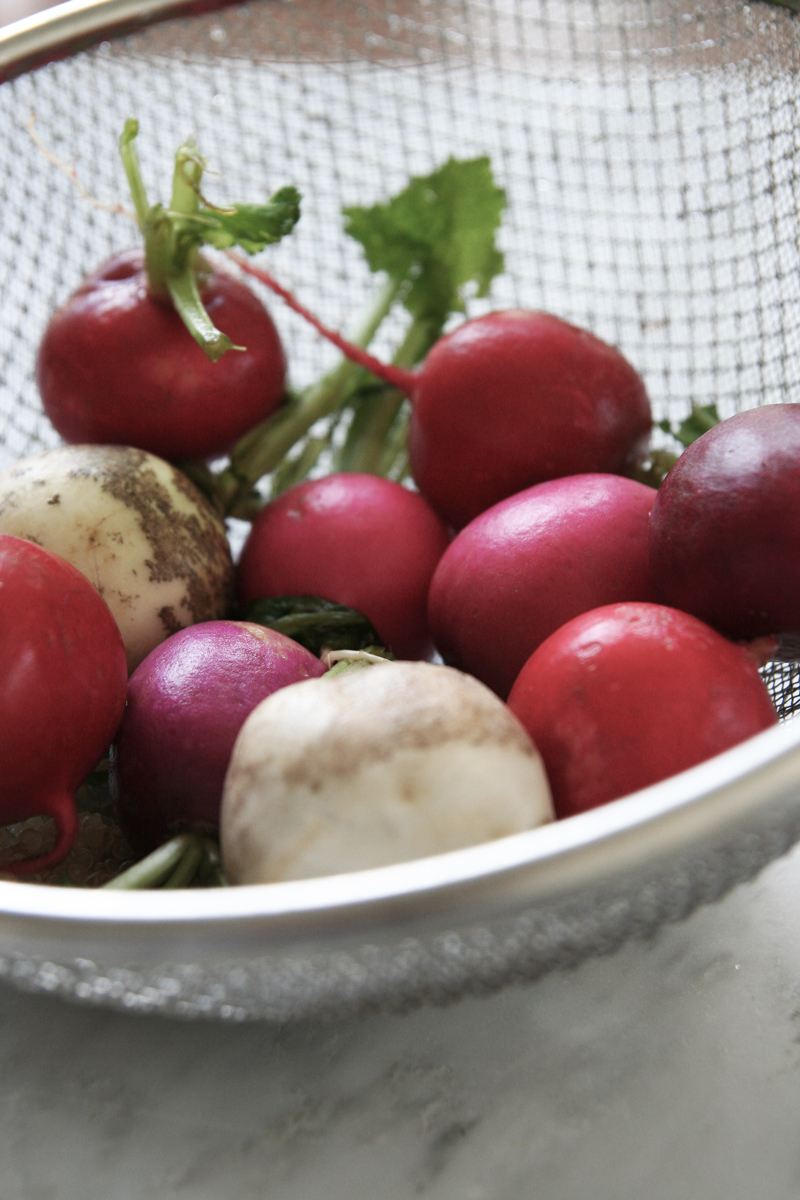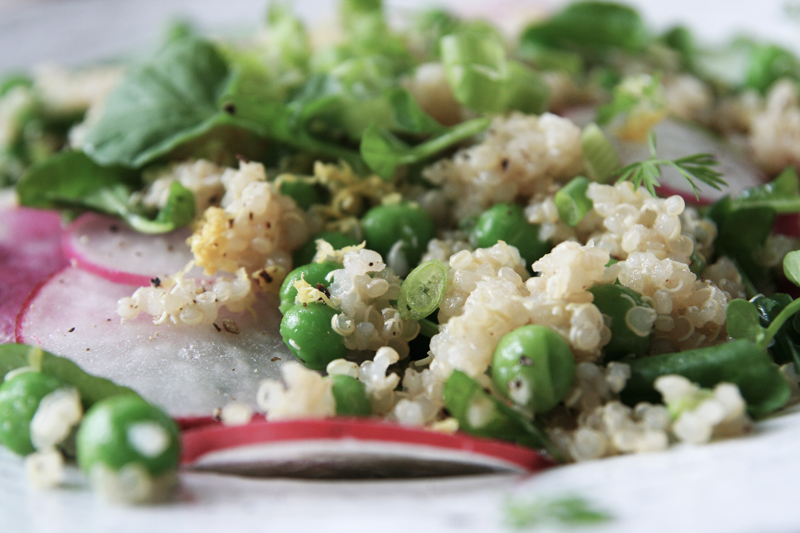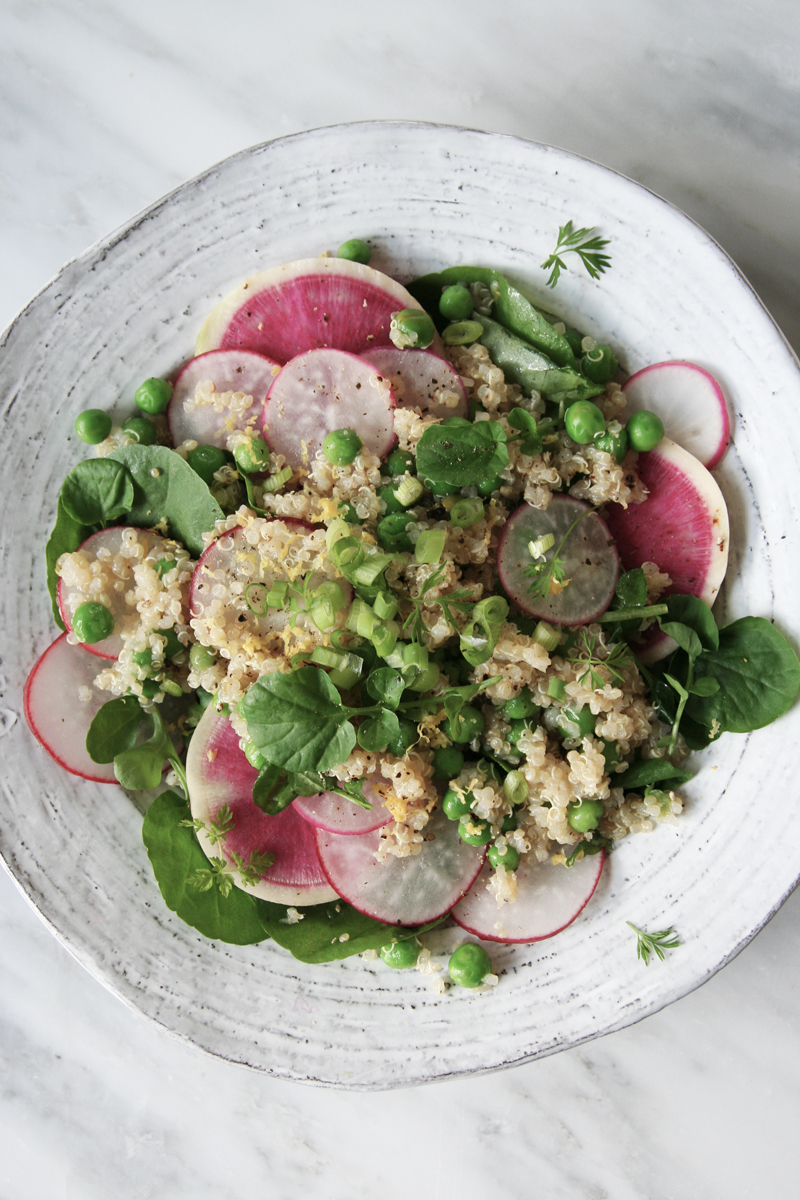 Spring quinoa salad with peas, radishes, watercress and lemon // Serves 4-6
(vegan, gluten-free)
Ingredients:
2 cups vegetable stock or water
2 1/2 teaspoons salt
1 cup quinoa, rinsed
1 cup English peas
1 cup upland watercress
4-6 easter egg radishes, thinly sliced
2 watermelon radishes, thinly sliced
4 springs green onion, sliced
2-4 teaspoons finely grated lemon zest
3 tablespoons fresh lemon juice
1/4 cup olive oil
1/2 teaspoon freshly ground black pepper
Directions:
1. In a saucepan, bring the vegetable stock and 1/2 teaspoon of the salt to a boil. Add the quinoa and lower the heat to a simmer, cover the pan, and cook for 15 minutes until the quinoa absorbs the water. Transfer into a large bowl to cool, about 15 minutes.
2. Meanwhile, in a saucepan, bring about 3 cups water and 2 teaspoons salt to a boil. Blanch the peas in the water for about 1 minute. Drain the water immediately and submerge peas into a bowl of ice water. This will stop the peas from cooking and allow the peas to stay beautifully green.
3. Add to your large bowl of cooled quinoa, peas, watercress, radishes, green onion, lemon zest, lemon juice, olive oil and freshly ground black pepper. Toss and serve chilled or at room temperature.