We have this guest room, and well I can count the amount of guests we have had stay with us in the last two years on one hand. Frustrated with the dead space of a bed in my office, I set out to create an amazing home office. We made lots of cheap shelving using pine and home depot L-brackets for me to set my food blogging bits on so I could see what I have. I have a large wooden slat table that my grandmother gave to me in the middle of the room and a lovely vintage Persian rug. I began by painting the walls white to help clean up and brighten the space. Then, it was to my favorite part about offices, all of the little bits that you use and touch and surround yourself with during majority of your day. Here are a few of my picks…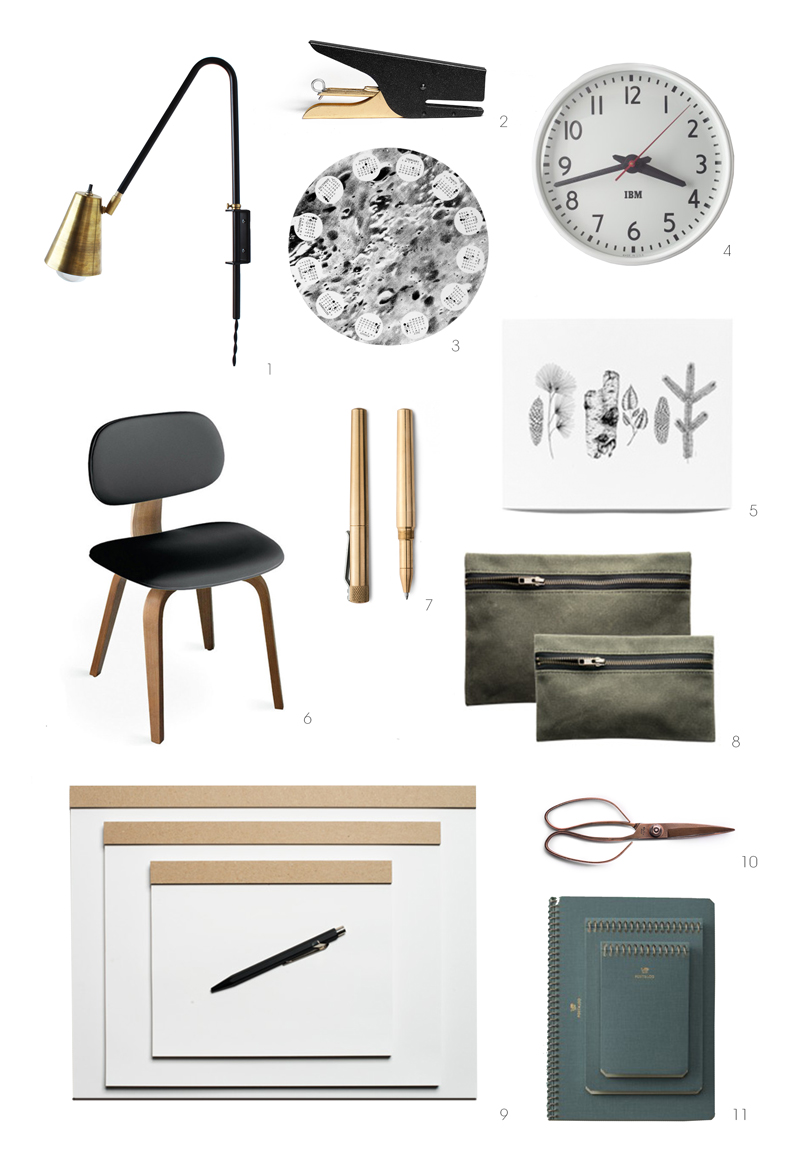 1. One Forty Three, Wallace Lamp // I love this little wall lamp, it's brass finish is perfect and its shape is so minimal. Designer and builder, Logan Hendrickson makes everything by hand and made to order in his shop In Nevada.
2. Kaufmann Mercantile Italian Steel Stapler // Very unique handcrafted stapler made by Oscar Lepre, founder and designer of this Italian stationary brand. "The silhouette of the staple resembles a smiling whale, which is derived from his love for the ocean and its creatures." -KM Adorable!
3. Gibbous Goods Full Moon Calendar // This calendar is not only beautiful and handmade in Minneapolis by Isa Newby Gagarin it also tells you when the moon is going to make you feel funny or potentially not let you sleep very well. Also, knowing when it is a new moon is really handy.
4. Schoolhouse Electric 1960s IBM Standard Issue Clock // The profile of this clock might be my favorite part. It is a clock that wants your attention, which is really good for me, since I am working on my time management skills.
5. Botanical Print by Lucy Engelman // "These prints are based upon an original drawing, done with archival ink pens on paper, by illustrator Lucy Engelman. They are printed on Cold Press Natural paper with ultrachrome HDR (high dynamic range) inks. This type of ink has a wide range of color, creating deeper, denser and richer black tone." -KM
6. Gus Modern Thompson Chair // This chair is the perfect size. It is very elegant in the black leather and walnut finishes and although simplistic it is quite the little chair. Incredibly comfortable but stiff enough for me so I can use my core and sit up right and work my posture. If I have too comfortable of a chair or really ergonomic, I actually do the opposite of engage my body. To each their own.
7. Kaufmann Mercantile Solid Brass Pen // I've found that the most difficult part to blogging is the writing, I find myself having a lot to say, but not sure how to communicate it or if my energy is coming across in my writing. Whenever I am having a really tough time with figuring out what to say and how to say it, I always pull out this sexy brass pen to help make the creative juices flowing! There is just something about a sexy brass pen and a beautiful stationary.
8. Kaufmann Mercantile Zippered Waxed Canvas Pouch // I had originally bought these awesome pouches for Graham for traveling, well that did not last long before I took them back and now use them to store desk bits.
9. Kaufmann Mercantile Japanese Drawing Pad (White) // Having gone to school for interior architecture, I am a very visual learner and enjoy having a huge pad of paper at my side. It is never minimal or organized, but it is my space to let everything flow and just come pouring out of me.
10. Kaufmann Mercantile Japanese Copper Scissors // Unfortunately I do not own this lovely pair of scissors, and that may be a reason why I am just coveting them because I can not have them since they are out of stock. I am on the email list though, I hope that soon they will be back in stock!
11. Kaufmann Mercantile Postalco Notebook // I keep a gratitude journal in one of these beautiful, made in Japan notebooks. "The paper is pH – neutral, meaning that it will not yellow over time and can last up to 1000 years. The pin-graph paper is ecologically made and chlorine free." -KM
**This post is not sponsored. All opinions and thoughts are my own.**