One of our favorite things to do in the summer is make pizza on the grill. It is quick, easy and fun to have your children get involved and build their own. This meal will forever be a family tradition at our house. At least until we get an outdoor pizza oven and we can woodfire our pizzas. This specific recipe is very summery and uses seasonal fresh veggies from our local farmers market and co-op.
Here are some tips to keep this meal accessible and easy for your family. Make a huge batch of pizza dough at a time and toss the dough balls in plastic wrap and in the freezer. Pick a night of the week and get into a routine with it. I like to use leftover veggies and "clean out" my fridge pizzas to avoid food waste. Whatever you have left over from the week is what shows up on the spread "Chopped pizza night". Cut all of your veggies and put the ingredients out into bowls so you can all build your own and grill your own.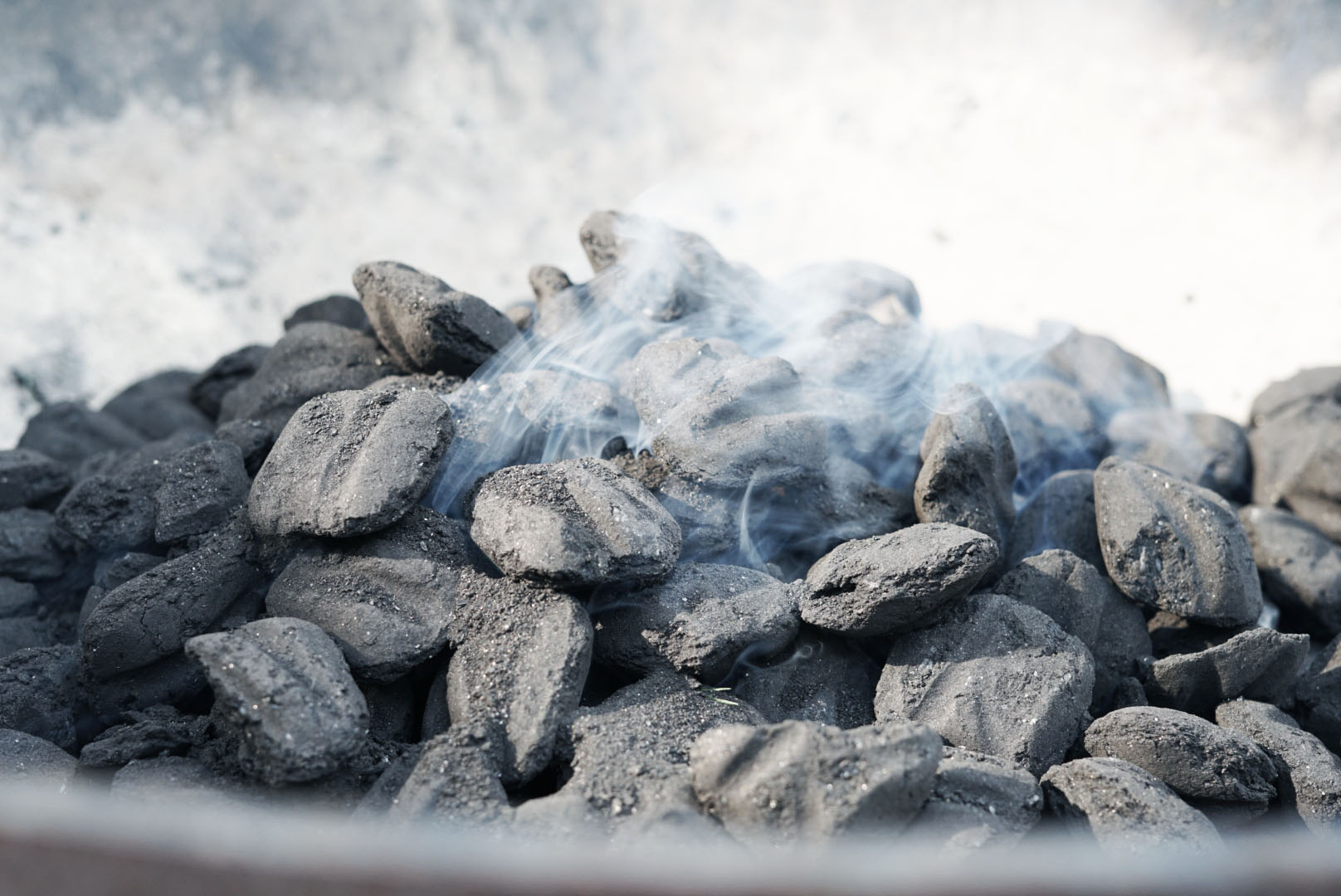 Here are some tips for your pizza on the grill. We always use charcoal when grilling pizzas, we find that the dough absorbs flavors easily and will taste like "propane gas" from a gas grill. It is important to use a chimney when starting your coals versus lighter fluid. Again, the pizza dough takes on flavors like lighter fluid pretty easily. Get your coals really going until they are white and then spread them out evenly. Keep your coals hot and then move quickly and efficiently.
At the bottom of the post I have included two different charcoal grills that we have used. The grill pictured here is a "Texas Pit" which is a large grill. We typically turn the grill into a bonfire after and use this method when we are cooking multiple pizzas at a time. It is perfect for entertaining and having parties! Links for the products are at the bottom of the post.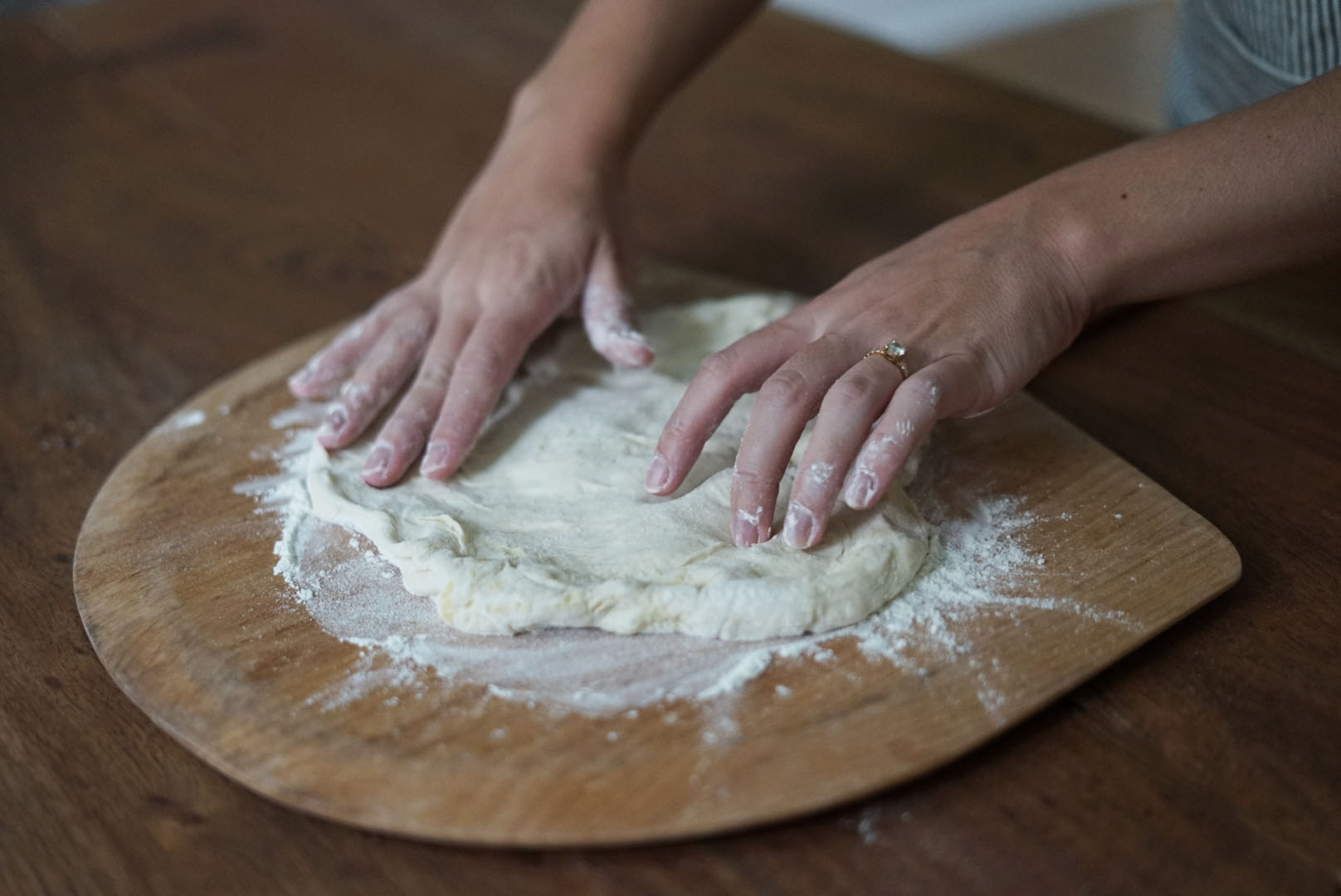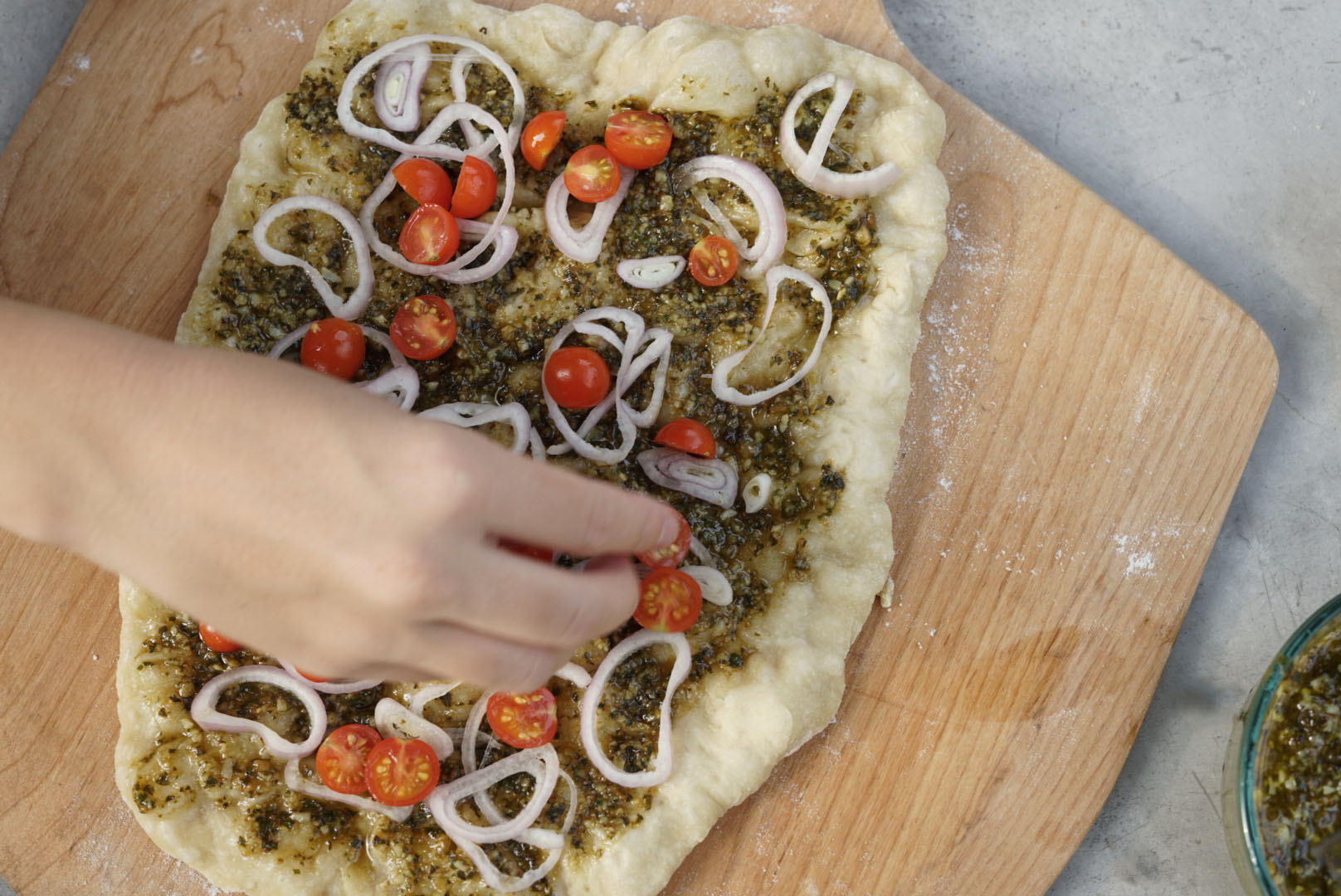 My favorite thing about pizza on the grill night is that you can get the kids easily involved. I typically set Noah up with a little chunk of dough and his small rolling pin. He will kneed, pat and roll out his dough for about thirty minutes and I can pretty much do all of the prep work during this time! After everything is prepped, I let him build his own pizza and I will help as necessary. He has a blast! I love making food a fun part of our life together.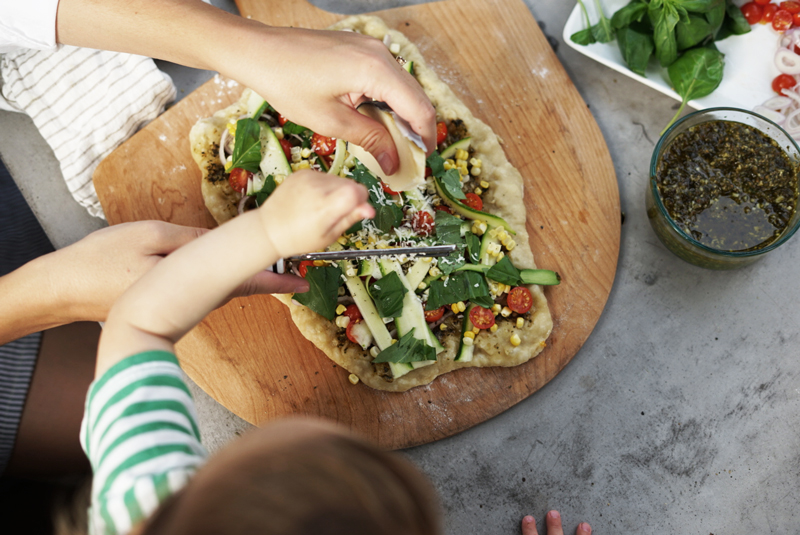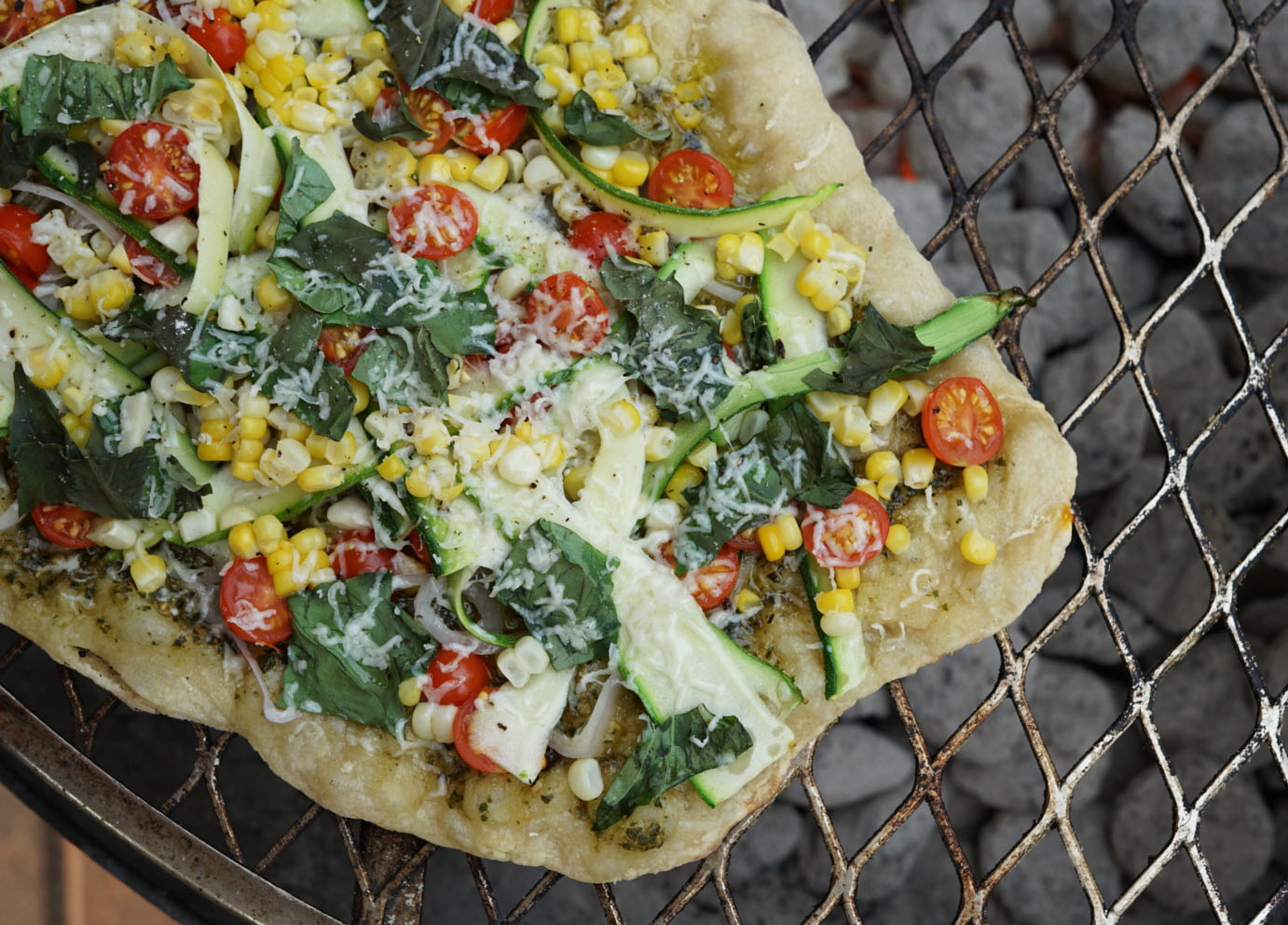 Summer Pizzas on the Grill // Makes two pizzas
(Vegetarian + Vegan + Adaptbale)
Ingredients:
Pizza Dough:
3 1/2 to 4 cups all purpose flour, plus more for rolling
1 teaspoon honey or sugar
1 envelope instant dry yeast
2 teaspoons salt
1 1/2 cups water, 110 degrees F
2 tablespoons olive oil, plus 2 teaspoons
Basil Pesto:
2 cups fresh basil
1/3 cup toasted pinenuts
1/2 cup parmesan cheese (or if vegan, 1/3 cup cashews & 2 tablespoons nutritional yeast)
1/2 cup olive oil
1/4 teaspoon sea salt
freshly cracked black pepper
Toppings:
1 large zucchini
1 cup cherry tomatoes
2 ears of fresh summer corn
1/4 cup fresh basil
1 shallot
parmesan cheese or vegan alternative my favorite is Miyoko's Vegan Mozzarella
Pizza Dough: Make your pizza dough ahead or time or as early as a couple hours before grilling. I like to meal prep a large quantity of my pizza dough and tuck it in the freezer until go time. Combine the flour, honey, yeast and kosher salt in the bowl of a stand mixer and combine. While the mixer is running, add the water and 2 tablespoons of the oil and beat until the dough forms into a ball. If the dough is sticky, add additional flour, slowly or about 1 tablespoon at a time. The dough should start to come together to form a solid ball. If the dough is too dry, slowly add water about 1 tablespoon at a time. Scrape the dough onto a lightly floured surface and gently knead into a smooth and create a firm ball.
Grease a large bowl with 2 teaspoons olive oil, add the dough ball and cover the bowl with plastic wrap. Place it in a warm area to let it double in size. It should take about 1 hour. Turn your dough out onto a lightly floured surface and divide it into 2 equal pieces. Cover each with a clean kitchen towel or plastic wrap and let them rest for 10 minutes.
Pesto: While your dough is rising, you can prep your pesto, toppings and get your grill going. If you like to use a pizza stone, do not forget to preheat your stone. Store bought pesto can work here if you are in a time crunch or make your own homemade. Combine fresh basil, pine nuts, parmesan, olive oil, salt and pepper into a food processor and blend until smooth or your desired consistency.
Toppings: I like to put all of my ingredients into separate bowls or plates for the pizza building station. Ribbon your zucchini with a handheld vegetable peeler to create thin ribbons. Keep turning the zucchini as you ribbon. Slice tomatoes in half. Cut corn off the cob. Chop your fresh basil. Slice your shallot. Shred the cheeses of choice.
Roll out your pizza dough and partially bake or "pre-bake" the crust on the grill. Depending on how hot your coals or stone are, it should take about 2-4 minutes. It is quick. Stay and wait for a couple bubbles then pull it off with your pizza peel. Assemble your pizza. My favorite order is pesto, shallot, tomato, corn, zucchini, basil and cheese. Cook for 5-10 minutes to your preference. Cut pieces, serve, enjoy & repeat!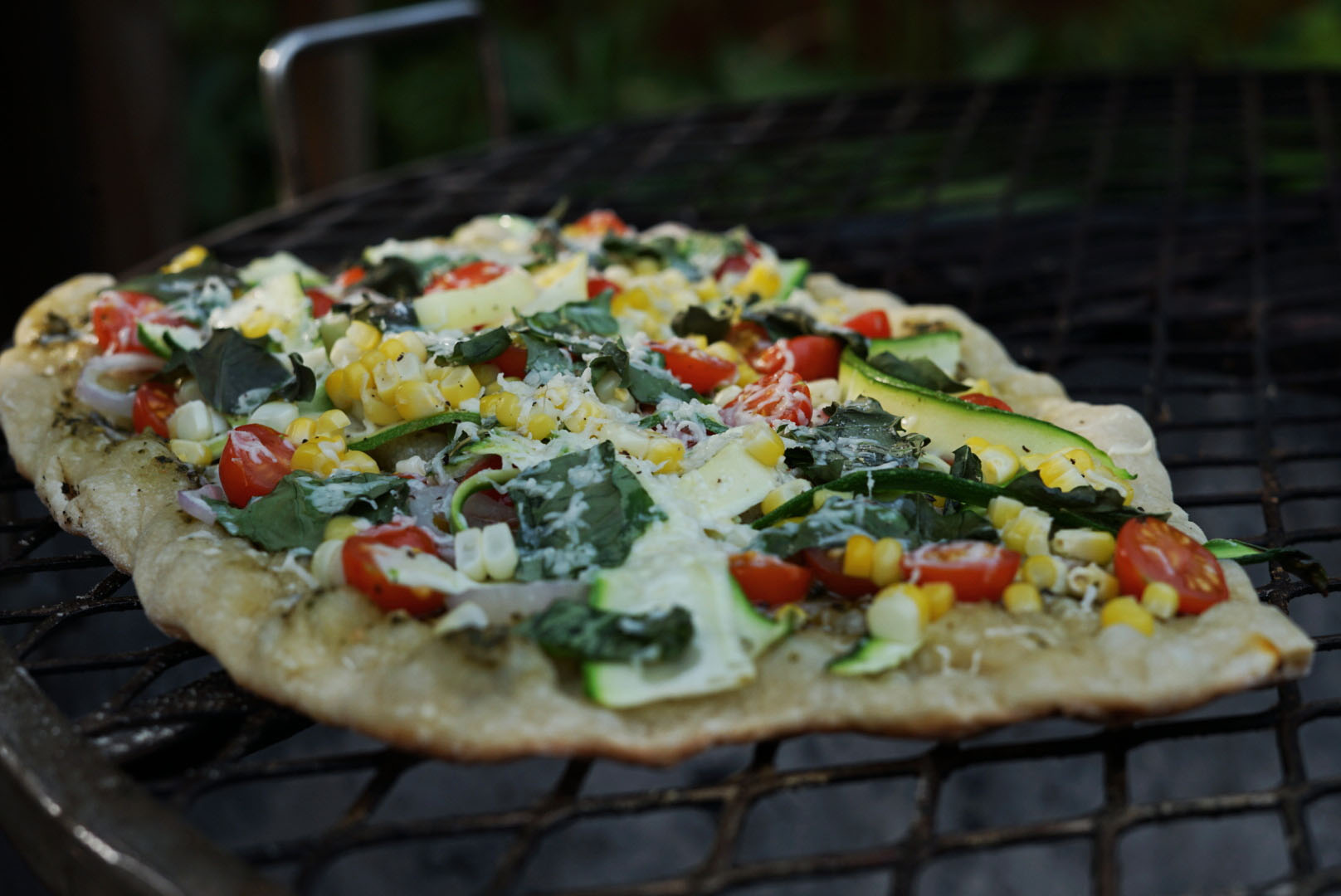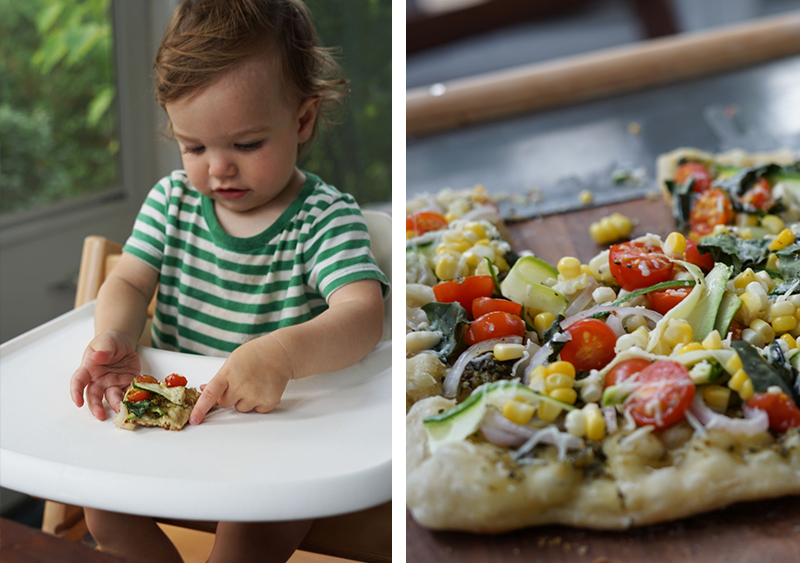 Shop my Favorite Pizza Grilling items

"Texas Pit" style grill and fire pit similar to what you see pictured that we use

The BEST Pizza Stone for grilling
Ella Frances is dedicated to the trust of her readers and she produces creative content that she personally supports that include her own thoughts and opinions. Affiliate links are included and we receive a small percentage commission for the referral as a business. We really appreciate your use of our links.