There is just something special about a simple, delicious, easy lunch. On a busy day or evening when there is just hardly any time to even think about what you are hungry for, yeah you know, that day… you will have this awesome salad ready to go.
One of my new favorite herbs right now is tarragon. This perennial plant grows rapidly in our herb garden and I have been enjoying incorporating it in every recipe I can. It has a very unique flavor and is quite beautiful and light. When enjoyed raw, tarragon can be used as a supplement to any diet because it is high in vitamins, potassium and other nutrients. It is commonly used in french style cuisine, but many do not know of its medicinal properties.
What is so perfect about this salad is that the tarragon is raw, allowing you to enjoy all of its many health benefits. One of my favorite health benefits is how it aids in your digestive health. Tarragon has long been used as a digestive tonic, it aids in the production of bile from your liver which helps to relieve common digestive problems, even a little upset stomach. This salad will make your belly really happy.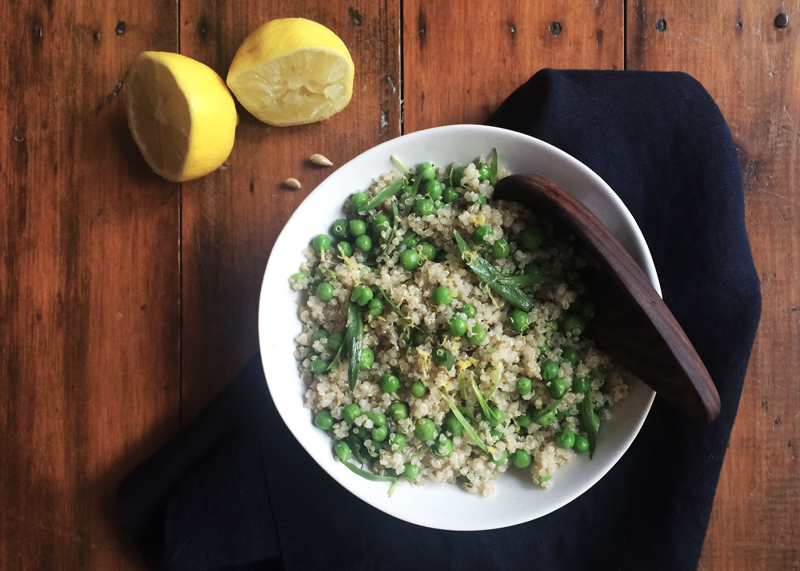 Tarragon, Pea + Lemon Quinoa Salad // Serves 2-4
(vegan + gluten free + nut free + soy free)
Ingredients:
1 cup quinoa
1/4 teaspoon sea salt
1 cup peas, frozen or fresh
1/4 cup tarragon
2 tablespoons olive oil
1 tablespoon fresh lemon juice
lemon zest
freshly cracked black pepper
Directions:
1. In a small pot, add 2 cups of water, 1 cup quinoa and 1/4 teaspoon sea salt. Bring quinoa and liquid to a boil and then reduce heat to low. Keep covered and simmer until tender and most of the liquid is absorbed. It should take about 15-20 minutes. Fluff your quinoa with a fork before mixing into other ingredients.
2. If your peas are frozen, blanch peas in boiling pot of water for 1 minute, drain and then set aside to cool in ice bath.
3. Gently chop tarragon. In a bowl combine, quinoa, peas, tarragon, olive oil, fresh lemon juice and gently mix.
4. Serve room temperature or cooled with lemon zest and freshly cracked black pepper.