One of my favorite places to vacation is Palm Springs, California. The last time and our first time, Graham and I traveled to Palm Springs was for New Years Eve, which was a blast. We loved it so much that we planned a trip for my birthday. Except this time, we knew exactly where we wanted to stay and what we wanted to do. Isn't that funny how traveling works, usually the first time you go somewhere it is very experimental… and the second time, is so much more fun and amazing. I hope this travel guide helps you skip that experimental trip.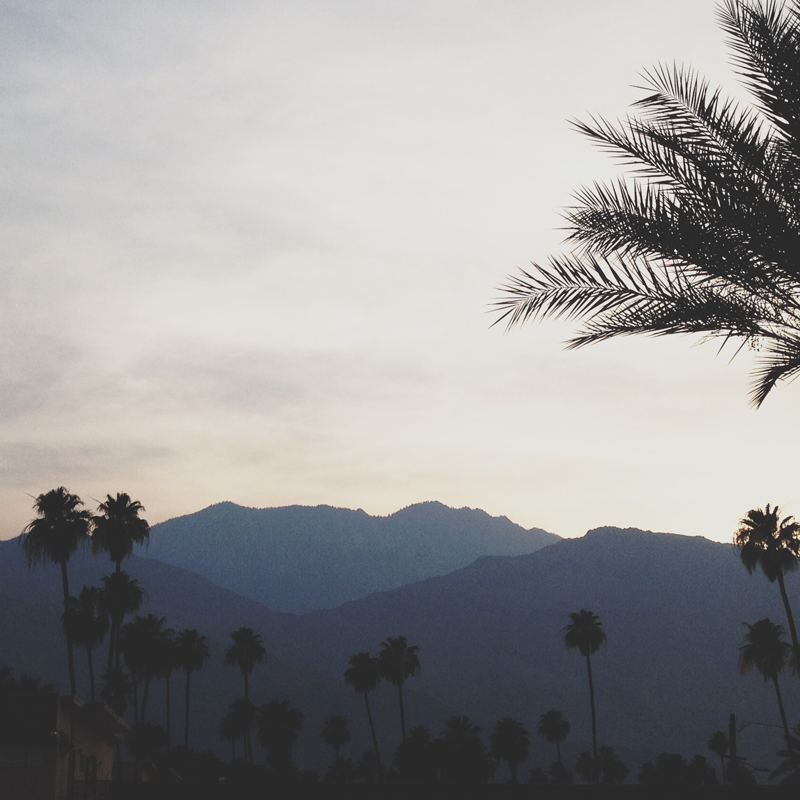 Where to stay…
The Saguaro // 1800 East Palm Canyon Drive
I loved this hotel! It is bright, colorful and incredibly fun. Our room was funky, trendy, colorful and clean – our room had purple carpet (hilarious!). I think each room kind of has a color theme which is really fun. We spent a lot of time by their gorgeous pool looking at the incredible view while eating delicious poolside snacks and drinks. Graham and I made a shade fort underneath their adorable yellow umbrellas. On my birthday, we spent most of the day under the yellow umbrellas reading our books and sleeping, it was heaven.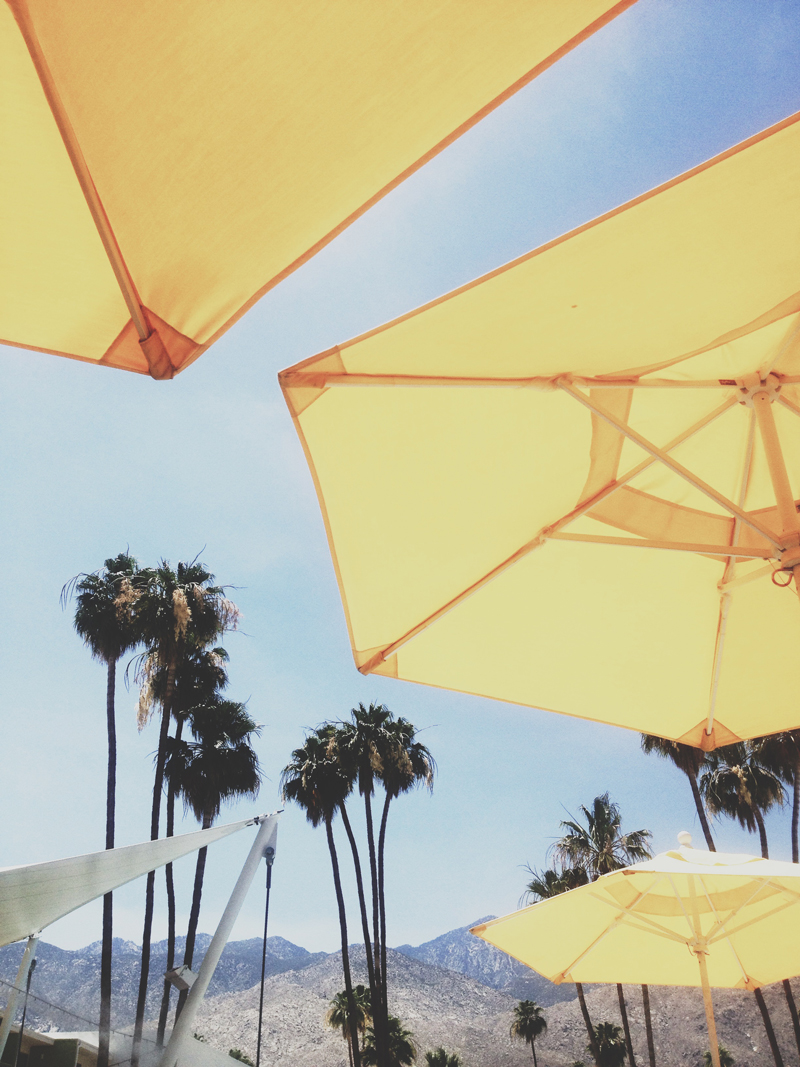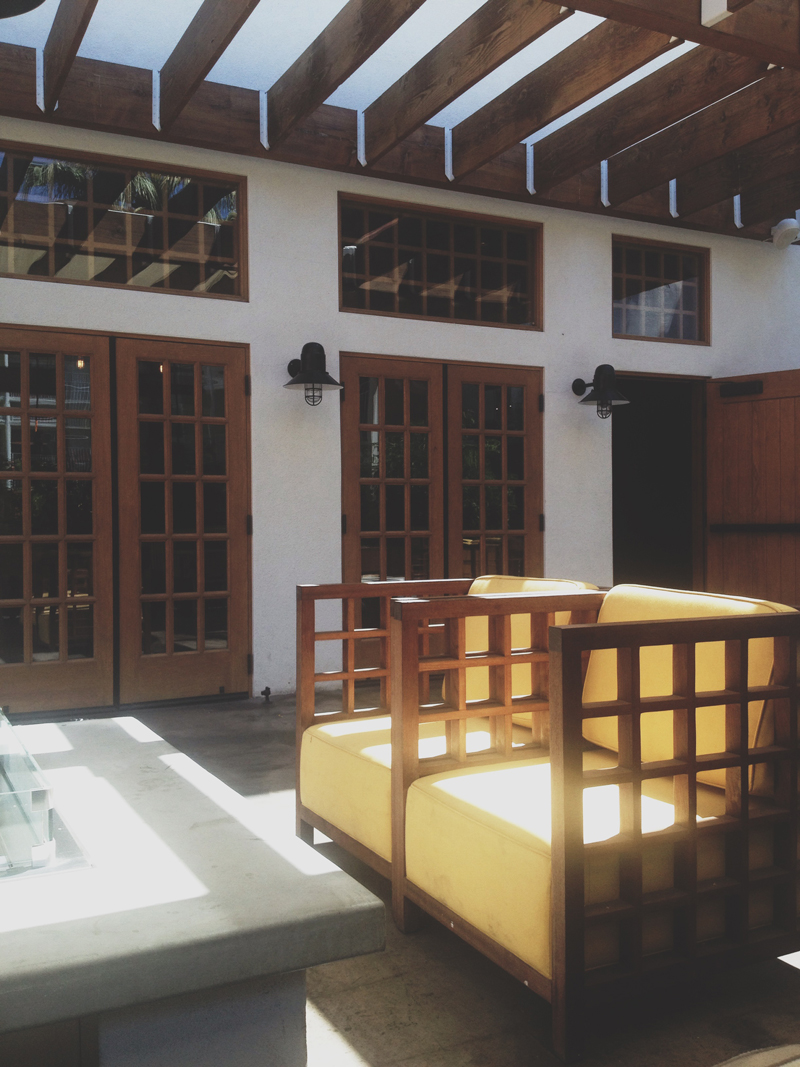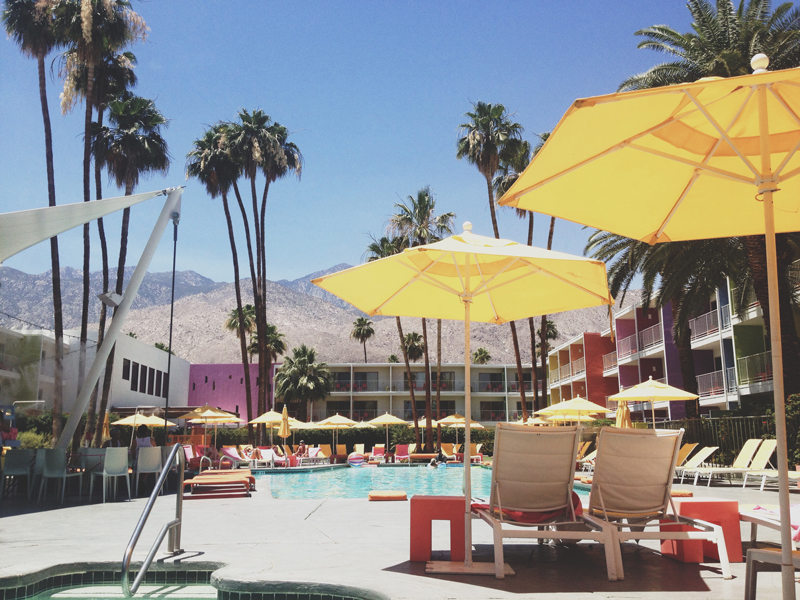 Where to eat…
Native Foods Cafe // 1775 East Palm Canyon Drive
Everything is vegan! You would never guess, with their creamy sauces and innovative vegan food. Everything is so colorful, bright and fresh it just makes me so happy. We sat on their shaded patio with misters and enjoyed our veggie bowls. I would recommend this place to even people that are not vegan – it is just simply delicious food.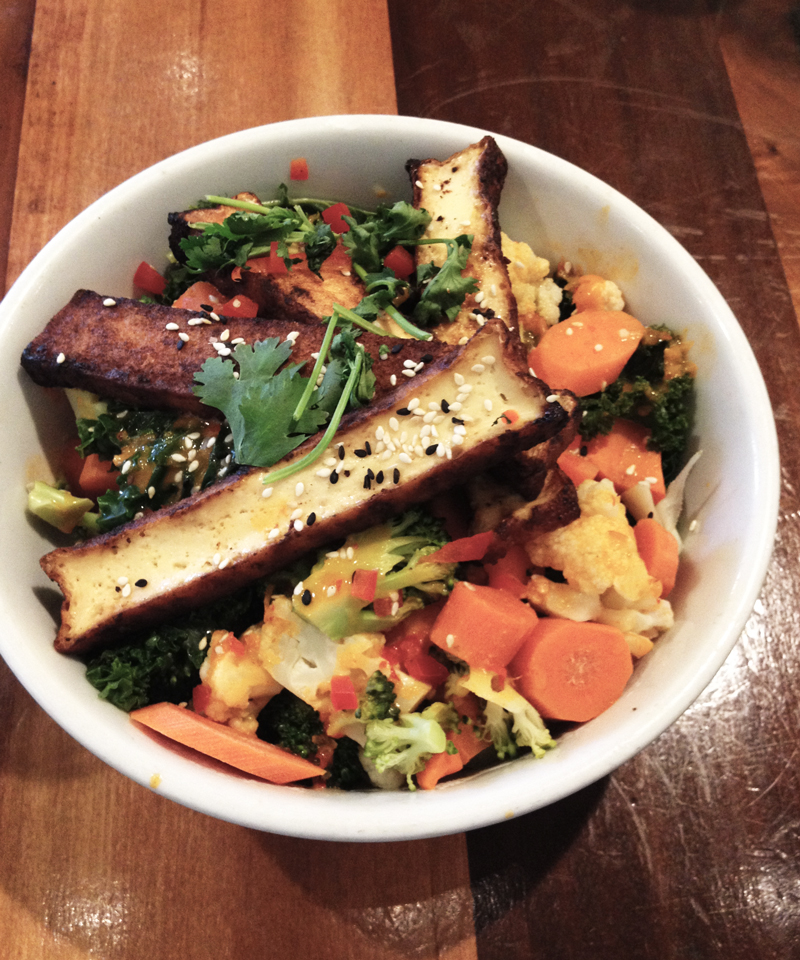 Nature's Health Food & Cafe // 555 South Sunrise Way
Hidden in this health food store is a delicious vegan and vegetarian cafe with organic juices and smoothies made to order. Cheery and bright, filled with health foods you usually have a hard time stocking up on while you are on vacation for your hotel room, so bring a backpack. Graham ordered way better than me, here is a picture of his yummy wrap!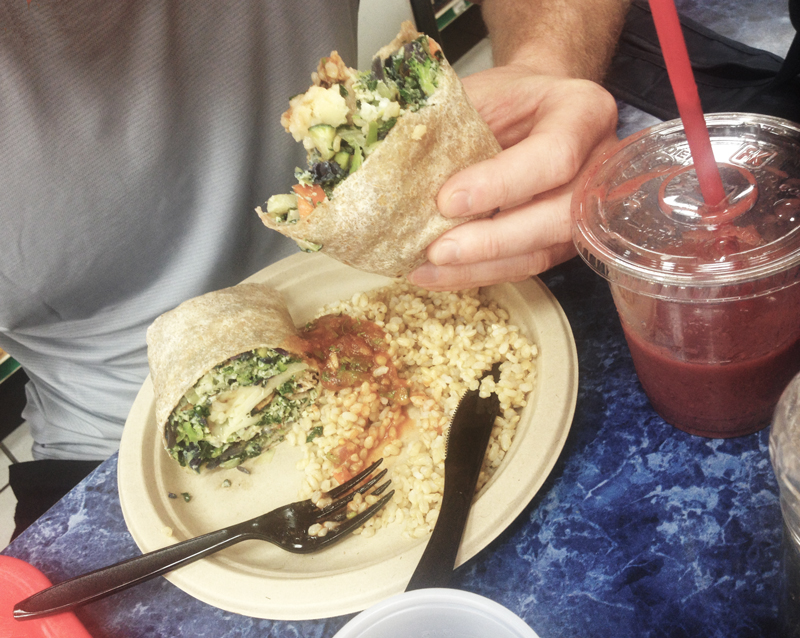 Palm Greens Cafe // 611 S Palm Canyon Drive
El Jefe // At the Saguaro Hotel, 1800 East Palm Canyon Drive
Staying active…
Tahquitz Creek Golf Resort // 1885 Golf Club Drive
It was my first time in my new gear and using my new clubs! I finally got my own set of golf clubs and bag, I am so excited and grateful for the generous present. It is great, Graham gifted me something that allows us to do something healthy and active together, which is my favorite gift! I played really well, I love this course, Tahquitz Creek. It is beginner friendly, but still is challenging enough where Graham enjoyed it too. Hey, I even cleared that patch of water you see below! It must have been the new driver!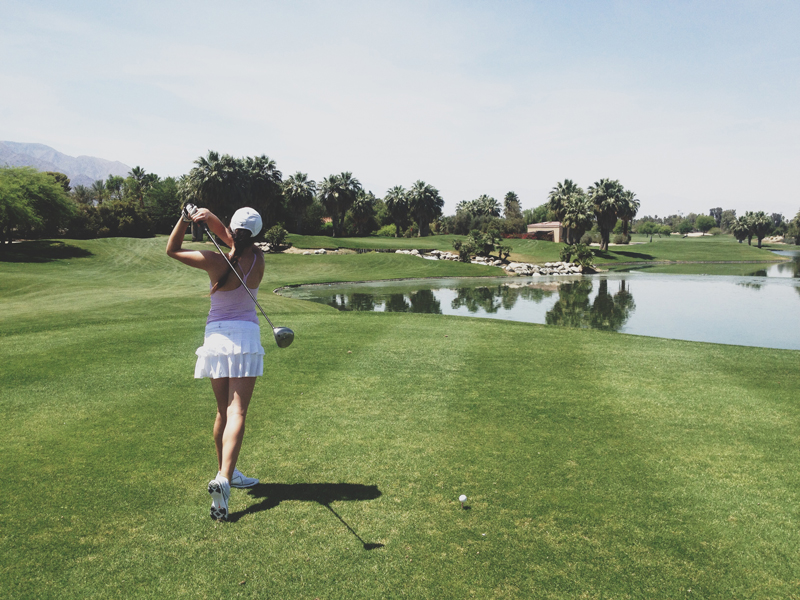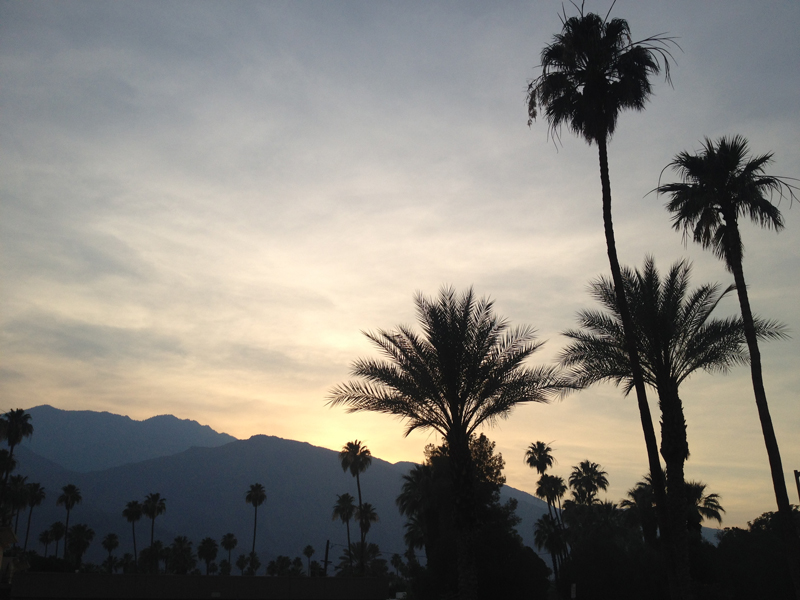 Cruisers & Daily Morning Yoga // at The Saguaro Hotel, 1800 East Palm Canyon Drive
The Saguaro Hotel has some amazing amenities that really made our stay. We didn't rent a car and instead used the rental cruisers every day to go on adventures and explore the city We went on hikes, ate at restaurants and went mid-century modern furniture shopping. Every morning we would start our day with the free outdoor yoga classes that are offered from The Saguaro. It was the perfect way to start our days that we spent there.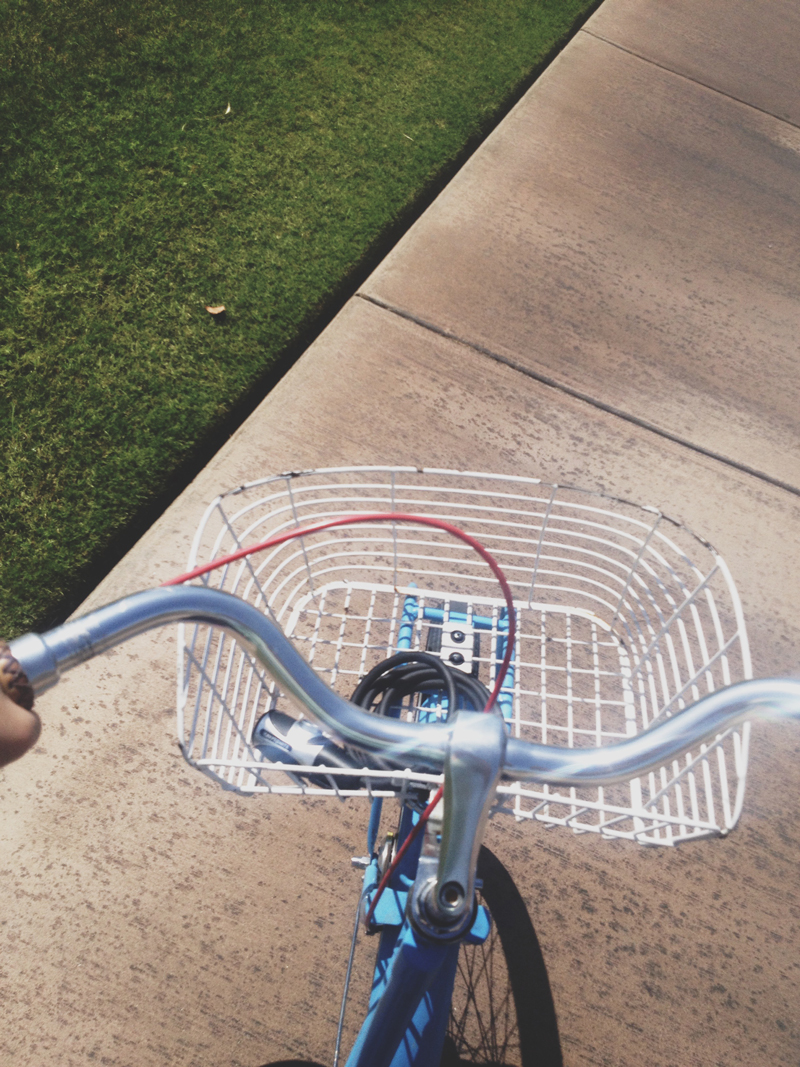 **This post is not sponsored. All opinions and thoughts are my own.**