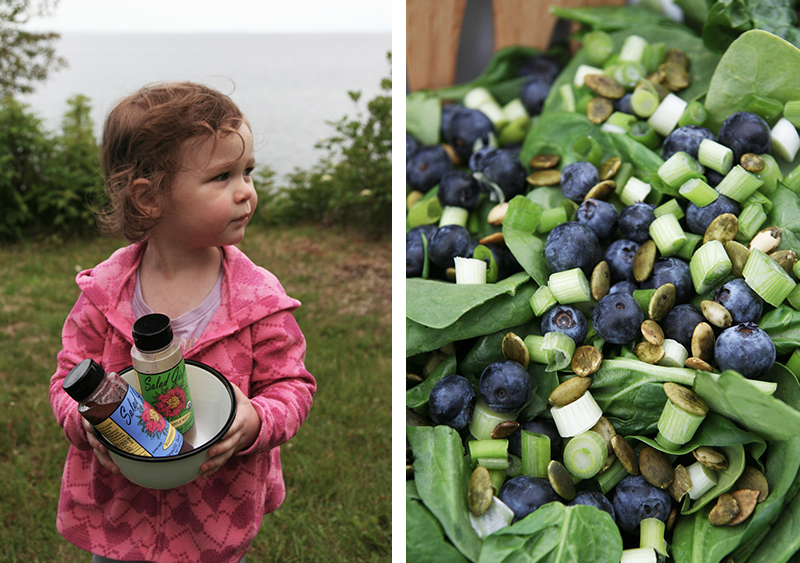 I am so excited to share with you one of my favorite go-to products, Salad Girl Organic Dressings. The closest thing to homemade organic dressing are these amazingly delicious salad dressings made by the local Minneapolis company. They pride themselves on making "fresh organic dressings for fresh organic greens". They were the first certified organic salad dressing in the midwest to start selling at grocery stores in 2007. Salad Girl Organic dressings are vegan, gluten-free, non-GMO, dairy free and soy free. They do not contain cane sugar, high fructose corn syrup or any water. They are just incredible and can be used in a variety of different kinds of recipes. They do sell their dressings locally and around the country at different health food stores. Here is a link to their website where you can find different locations where they sell their product.
During our trip to Grand Marais Minnesota, we spent some time with Graham's family. Everyone stays in a group of small cabins right on Lake Superior and every night a new group of the family cooks dinner for the everyone. We would picnic and grill right by the lake, play yard games and watch the kids run around and skip rocks.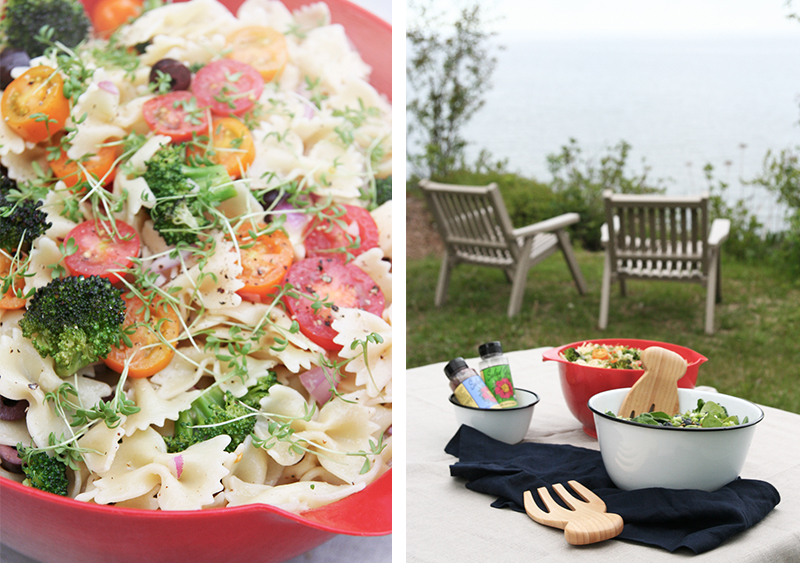 At the lovely co-op in Grand Marais I found Salad Girl dressings and made these two delicious salads to share with the family. These salads would be perfect for small gatherings for the Fourth Of July. They are made so that everyone can enjoy them considering most common food preferences and allergies. Both salads are vegan, gluten-free, nut-free and soy-free.
The first salad, Spinach and Blueberry is very simple and quick to throw together. I like to leave the dressing on the side because everyone prefers a different amount of dressing on their salads and the spinach does not get too wet and wilt. If there happens to be left overs, the left over salad stays better in the fridge if it does not have dressing on it already. The second salad is a pasta salad, it can be made gluten-free by choosing a gluten-free pasta, my favorite variety is brown rice pasta. This salad is very simple and does not take long to prepare but does require a few more ingredients and steps then the first salad.
Spinach and Blueberry Salad with Blueberry Basil Dressing and Tamari Pumpkin Seeds // Serves a crowd
(vegan + gluten-free + nut-free + soy-free)
Ingredients:
8-10 cups spinach
2 cups blueberries
4 springs green onion, chopped
1/4 cup tamari pumpkin seeds
Salad Girl's organic blueberry basil dressing
Directions:
Wash and trim spinach and try and add to a large bowl. Combine ingredients in large bowl and dress to your liking with Salad Girl's blueberry basil dressing. I typically leave the bottle next to the salad at small gatherings and let everyone apply their own amount of dressing.
Broccoli and Tomato Pasta Salad with Crisp Apple Maple Dressing // Serves a crowd
(vegan + gluten-free + nut-free + soy-free)
Ingredients:
5-6 cups bow-tie brown rice pasta
2 small shallots, chopped
2-3 heads broccoli, chopped to bite size pieces
2 cups cherry tomatoes, sliced
1/4 cup olives, sliced
1/4 cup sprouts
Salad Girl's organic crisp apple maple dressing
freshly cracked black pepper
Directions:
1. Start a pot of salted boiling water and cook pasta to directions of box, strain and toss with about 1/4 cup of dressing in a large bowl. Add chopped shallots and set aside to marinate.
2. In a new pot of boiling water, blanch broccoli for 2-3 minutes. Strain and place in a ice bath to stop the cooking process. After about 3-5 minutes in the ice bath add to marinating pasta.
3. Add tomatoes, olives and sprouts to your large bowl of pasta and toss to coat all ingredients with dressing. Taste and add additional dressing if needed. Top with freshly cracked black pepper.