As a kid growing up, I hated pizza. I felt like I was the only kid on the planet that hated pizza, and oh boy did I get looked at weird at pizza parties in school. I disliked the sugary tomato sauce and greasy rubbery mozzarella fast pizza shops would cover their pies in. It wasn't until my mom started homemade pizza night until I realized, pizza could be so much better. For homemade pizza night the sky was the limit, if I could dream it, I could put it on my pizza.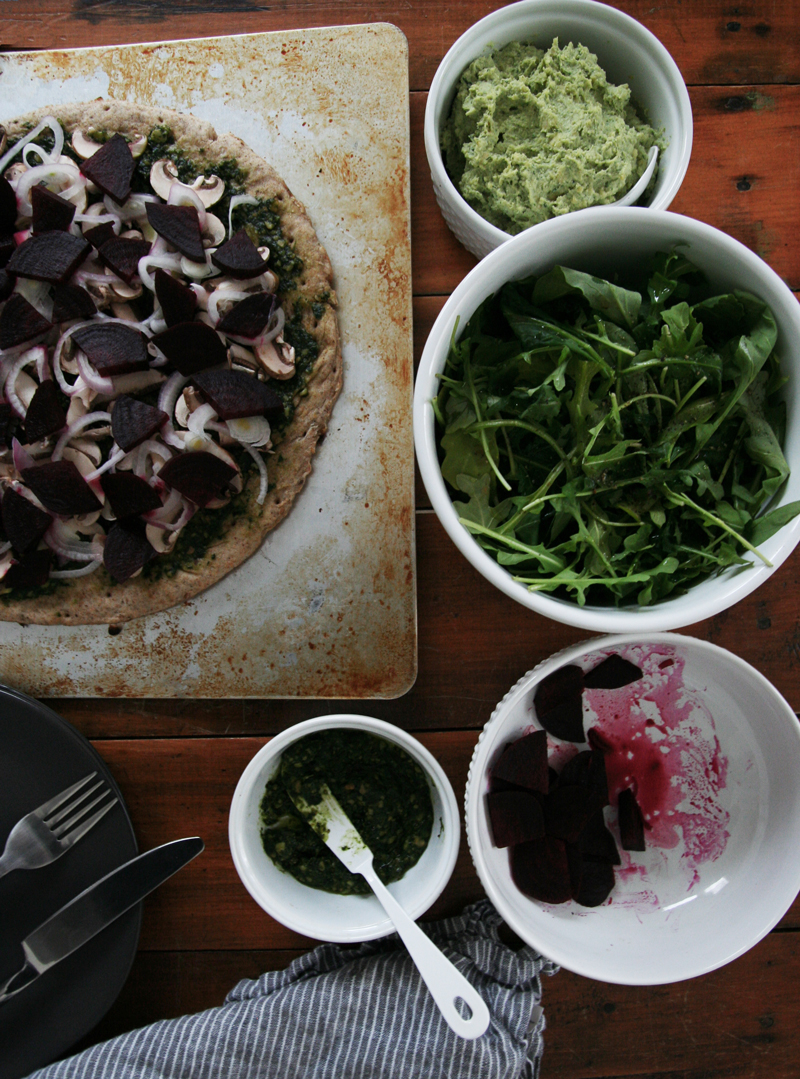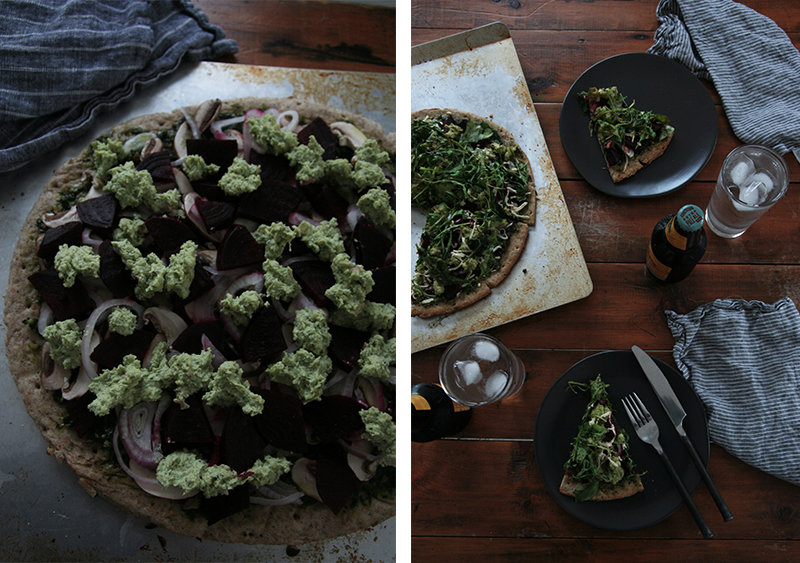 Pizza night lives on strong now in our home. We just purchased our very own pizza peel and stone and our pizza nights around here this winter have got a little out of control. Being lactose intolerant now, I have to get really creative with my creamy toppings. My absolutely favorite pizza to make for homemade pizza night is this vegan cremini mushroom, beet and arugula pizza. Modified from our favorite local pizza shop in town, Pizza Luce's wild mushroom and arugula pizza. Which introduced me to their famous vegan cheese topping,  'rinotta' cheese. Rinotta cheese, is a vegan cheese made to be thick but soft and creamy in texture like a ricotta cheese. (This pizza includes a recipe for rinotta cheese, it is only inspired from the Pizza Luce rinotta cheese.)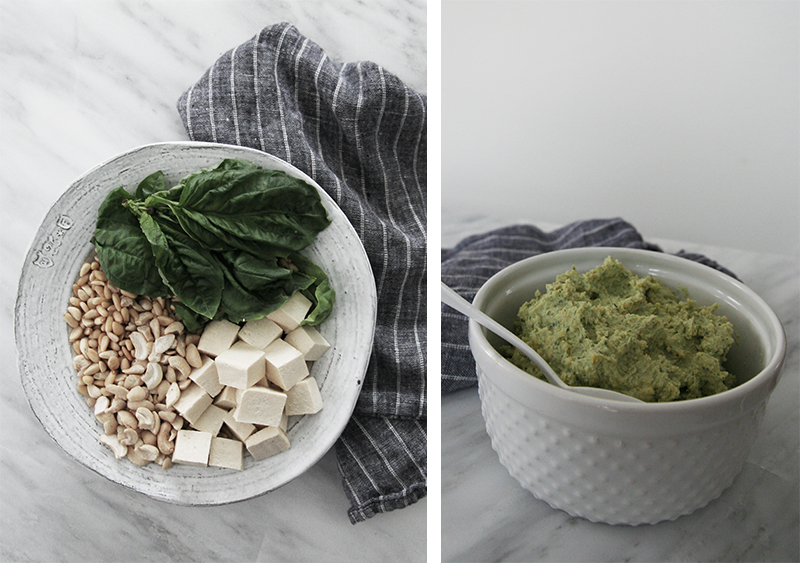 Vegan Cremini Mushroom, Beet & Arugula Pizza
Serves: about 8 slices
Ingredients:
Pizza Crust, store bought or homemade
5-6 cremini mushrooms, sliced
1 Shallot, sliced thinly
1-2 Roasted beets, sliced thin and cut into quarters
6-8 cups or 1 small bag of arugula
1 tablespoon apple cider vinegar
1 teaspoon olive oil
Rinotta
3/4 cup fresh basil, tightly packed
4 tablespoons fresh parsley, chopped
4 tablespoons olive oil
6 oz. extra firm tofu
1/2 cup cashews
1/4 cup pine nuts
salt and pepper
Vegan Cashew & Basil Pesto
2 cups tightly packed fresh basil
1/2 cup cashews
1-2 cloves garlic
1/2 cup extra virgin olive oil
dash of red pepper flakes (optional)
salt and pepper
Instructions:
1. Preheat oven to 375 degrees (For a minimum of 30 minutes if you are using a pizza stone)
2. Make your vegan cashew and basil pesto: In a dry blender or food processor, combine ingredients in order and blend until smooth, yet coarse in texture. Transfer your pesto into your choice of container, you will have left overs.
3. Make your rinotta: You do not have to clean your dry blender or food processor, simply add your ingredients into your machine and blend. The rinotta is thicker then the pesto, so it may need some nursing, do not get discouraged.
4. Place your dough onto your pizza peel or a baking sheet. Spread your pesto generously onto the dough. Add cremini mushrooms, sliced shallot and beets.
5. Spoon chunks of the rinotta onto the top of your pizza. It does not need to look pretty or be fancy here.
6. Put your pizza into the oven on your pizza stone or baking sheet for 10-12 minutes. It may need longer if you are not baking on a pizza stone.
7. While your pizza is in the oven, wash your arugula and place in a large bowl. Dress your arugula in apple cider vinegar and olive oil. After pizza has been in the oven for 10-12 minutes, place arugula on the top of your pizza and bake for an additional 2 minutes.