Every Sunday without fail, football is on all day. Graham is slightly obsessed. So, every Sunday I fill my day with trying on new recipes that are "man food" for Graham. I have been working on this vegan burger recipe for a while now and I am very excited to share it with you!
This burger is not like the average burger, it has no eggs, no cheese and yes, no meat… strictly vegan so that everyone can enjoy it. (and maybe have seconds)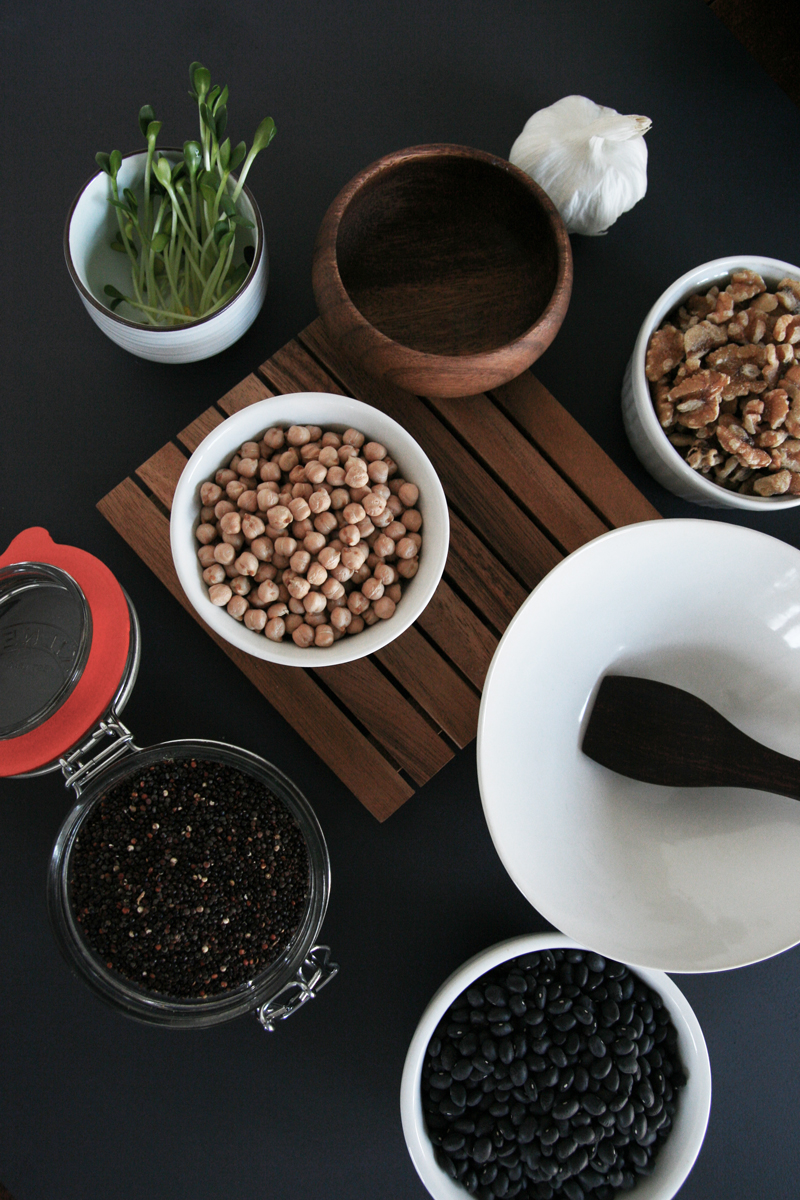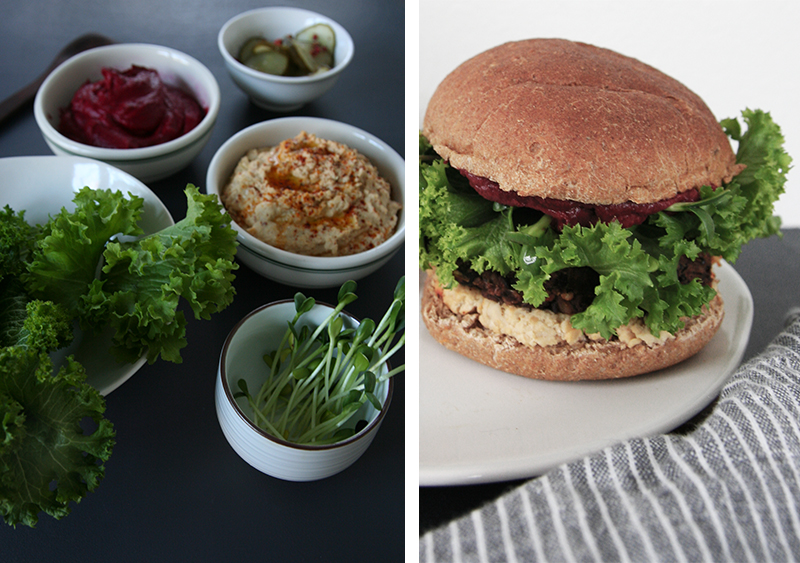 The Superbowl is a few weeks away and this recipe translates to little sliders really easily which is great for parties, I will encourage you to double this recipe!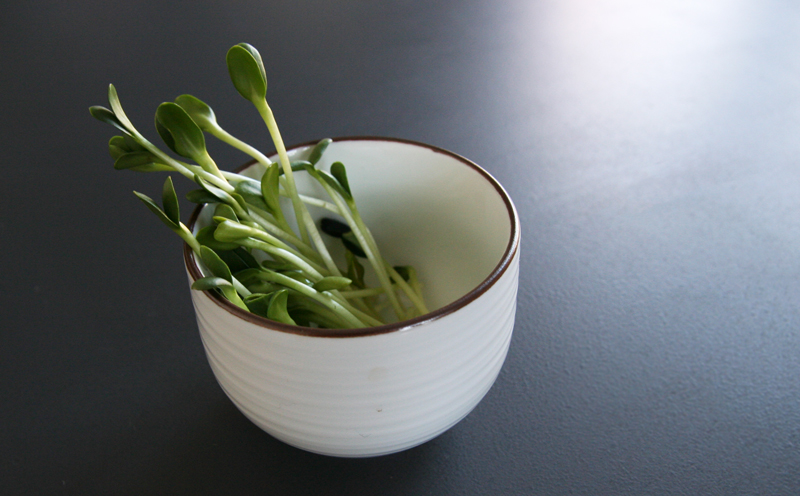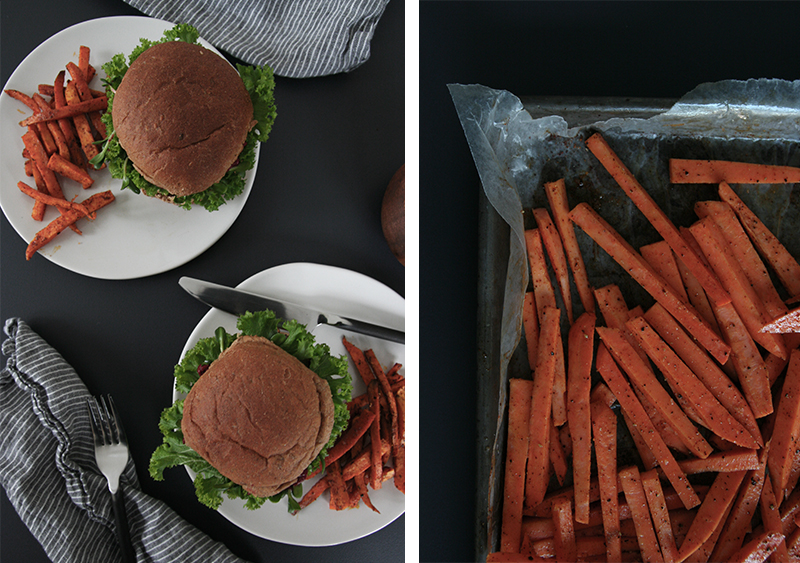 Vegan Fennel, Black Bean and Quinoa Burgers // Serves about 4 burgers
(vegan)
Ingredients:
Fennel, black bean & Quinoa burgers
1-2 teaspoons olive or avocado oil
1 medium shallot, chopped
2 garlic cloves, chopped
spices: 2 teaspoons each of ground cumin, coriander and viradoo
1 tablespoon vegan Worcestershire
1 tablespoon tomato paste
½ cup creminti mushrooms, diced
1 fennel bulb, diced
¼ cup walnuts
1 cup black beans, cooked & drained
1 "flax egg" (1 tablespoon ground flax + 3 tablespoons water)
¾ cup cooked black quinoa
salt & pepper
Quick Cucumber Pickle
1 cucumber, thinly sliced
½ cup water
½ cup white wine vinegar
3 tablespoons sugar
sprinkle of pink peppercorns
salt & pepper
Spicy Cumin Seed Hummus
1 15 oz. can or 2 cups chickpeas/ garbanzo beans
fresh juice of l large lemon
¼ cup tahini
1 garlic clove, peeled
2 tablespoons olive or avocado oil
1 teaspoon salt
½ teaspoon ground cumin seed
red pepper flakes to taste
Creamy beet spread
1-2 roasted beets, medium sized (you can make these ahead of time or buy ready made roasted beets, whole foods carries Love Beets which works great.)
¼ cup cashews
2 tablespoons tahini
salt & pepper
Additional Fixings: Sunflower Sprouts, Mustard Greens, Coarse porter mustard
Sweet potato fries with spiced ketchup
Ingredients:
2-3 sweet potatoes, sliced into fries
1 tablespoon olive oil per sweet potato
salt & pepper
6 fl oz. tomato paste
1 teaspoon cumin seed
1 teaspoon chili powder
1 teaspoon sriracha 
Instructions:
 Rinse and peel sweet potatoes and cut into your preferred shape of fry size.
Place onto parchment paper on a baking sheet and drizzle your olive oil over the fries. Top with salt and pepper. Set aside and add to oven when you add your burger patties into the oven. If you are not making vegan burgers, bake for 30 minutes at 375 degrees.
Combine your tomato paste, cumin, chili powder and sriracha into a small bowl and stir. Add a little bit of spice at a time and taste as you go to adjust.
Vegan Fennel, Black Bean and Quinoa Burgers
Instructions:
Preheat oven to 375 degrees.
In a blender or food processor, blend flax & water together and set aside.
Heat oil in a medium skillet. Over medium heat, add shallot, garlic, salt and pepper and cook for a few minutes until bits are translucent. Add the mushrooms and fennel and cook for 5 minutes. Add the dried spices, stir, and cook for a few more minutes.
Add the Worcestershire, tomato paste, walnuts and the first ½ cup of black beans. Stir and cook for another few minutes and turn off heat and let cool.
After it slightly cools, then add the contents from the pan to the blender or food processor with your "flax egg". Blend until everything is cohesive and a sticky mixture, it does not need to be perfectly smooth.
Transfer mix to a large bowl and stir in the remaining ½ cup black beans, and quinoa. Stir until this is all very cohesive, you can mash beans as much as you like. Divide into 4 segments and roll into balls.
Place the balls onto a baking sheet with parchment paper and smash balls down into patties.
Put patties into the oven for 15 minutes. Flip and bake for an additional 10-12 minutes until the outside is not mushy but the inside is still moist.
While your patties are cooking work on your fixing business.
Quick Cucumber Pickle: Slice cucumber thinly. Add to a small saucepan with water, white wine vinegar, sugar, pink peppercorns and salt and pepper and bring to a boil and let simmer for about 5 minutes. Drain and place in the fridge to cool.
Spicy cumin seed hummus: In a dry blender combine, chickpeas, lemon juice, tahini, garlic, oil, ground cumin seed, red pepper flakes; blend until thick and textured. Rinse out blender for creamy beet spread.
Creamy beet spread: In a dry blender combine, roasted beets, cashews, tahini, salt and pepper to taste.
Assemble burgers; Bun, mustard, hummus, burger, cucumber pickles, mustard greens, sunflower sprouts, creamy beet spread, bun. Enjoy!
This post is not sponsored by Love Beets. All opinions and thoughts are my own.
Recipe modified from Love & Lemons black bean & quinoa burgers.