I have always been a quiet person. My mom tells me stories of me sitting on the park bench by her slowly picking at my bowl of raspberries and watching the other kids play, learning and observing first before venturing in myself. Not that I was ever afraid to make the leap, it was just slow and intentional. In so many ways, I am still like this, I find it happening in my life even when I do not notice it at first.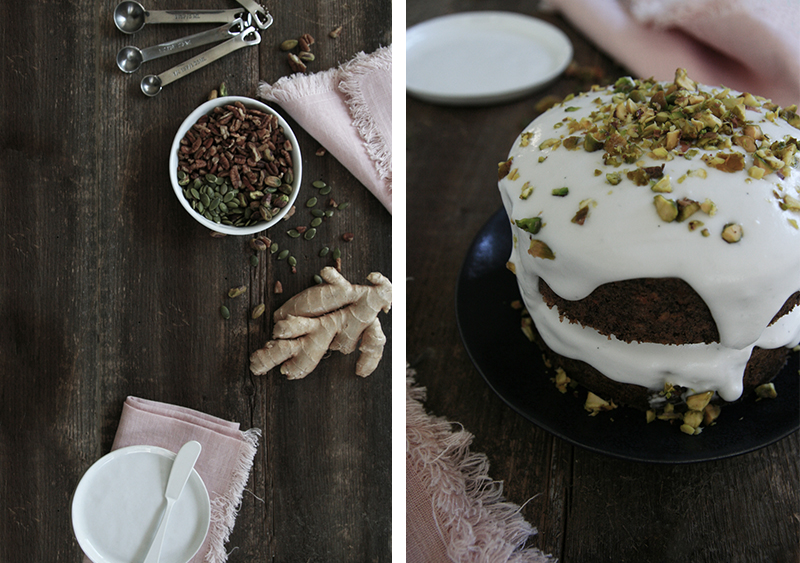 But when does being an observer no longer make an impact and allow us to be vulnerable and play your edge? "The edge is where we come right up against ourselves and what we can do and be. It is the boundary between where we are and where we grow, the place of comfortable discomfort, where all growing and healing happens" -Baron Baptiste, Journey Into Power. When your mindfulness, rules, boundaries, rituals and routines begin to govern you, it is time to make the leap and be vulnerable, make change, grow.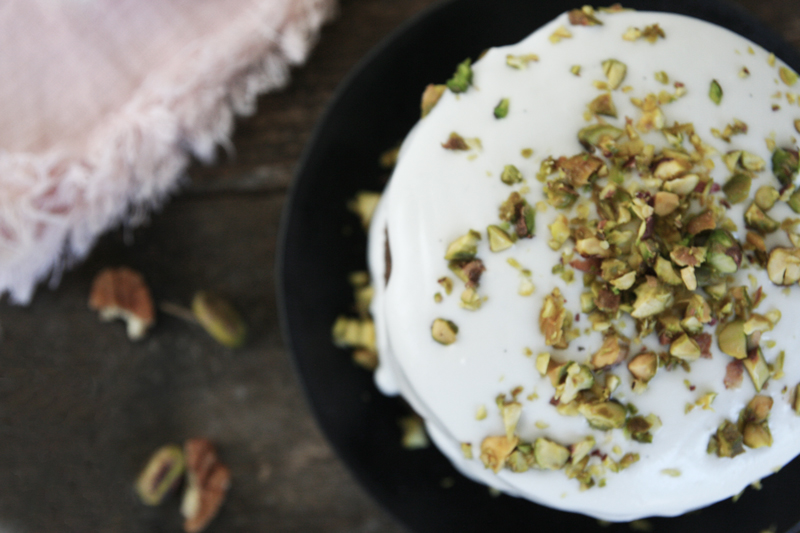 What I've found, as I get older I find myself having more courage, compassion for myself and understanding of authenticity. I've found that my passions in life lie in connection, people and their surroundings. But, in order to make connection, we really need to allow ourselves to be seen. "They didn't talk about it being comfortable, nor did they really talk about it being excruciating they just talked about it being necessary, …fundamental." -Brene Brown
I have been working on this space here for a few years now, sometimes not so seriously, others fully engrossed. Following others, learning from them, and taking my time to let this space evolve not knowing what this space really means or is yet. Then it hit me, isn't that what this space will always be, a working document? Ever evolving, always changing, taking shape as I learn, grow and change? It can only exist if I share it.
Additional Reading:
"Journey Into Power, by Baron Baptiste" How to Sculpt Your Ideal Body, Free Your True Self, and Transform Your Life with Yoga
The edge is where we come right up against ourselves and what we can do and be. It is the boundary between where we are and where we grow, the place of comfortable discomfort, where all growing and healing happens
"Daring Greatly, by Brene Brown" How the Courage to Be Vulnerable Transforms the Way We Live, Love, Parent and Lead.
and watch her TED Talk, Brene Brown: The power of vulnerability
Vulnerability is the core of shame, fear and our struggle for worthiness, but it also appears that it is the birth place of joy, creativity, belonging and love.
"Stop Believing That You Have to Be Perfect" An Article by Dorie Clark for the Harvard Business Journal 
Understand that failure is an ongoing process. It's important to recognize that failure is not a "one and done" phenomenon, where you climb the mountain and stay on top. Rather, it's an ongoing process.
Now let me share with you this delicious cake! This cake was born out of a late night sweet tooth craving, but not really having much around that was all that unhealthy and "sweet" except maple syrup. Maple syrup is a very healthy alternative to other sugars, it contains antioxidants that support our bodies immune system and include several beneficial vitamins and minerals. In addition, maple syrup is around three times as sweet as regular sugar with fewer calories, and you will need less than conventional refined sugar options. This might quiet possibly be the healthiest cake I have ever made or ate, and it is just as delicious, you would never guess from it's decadence.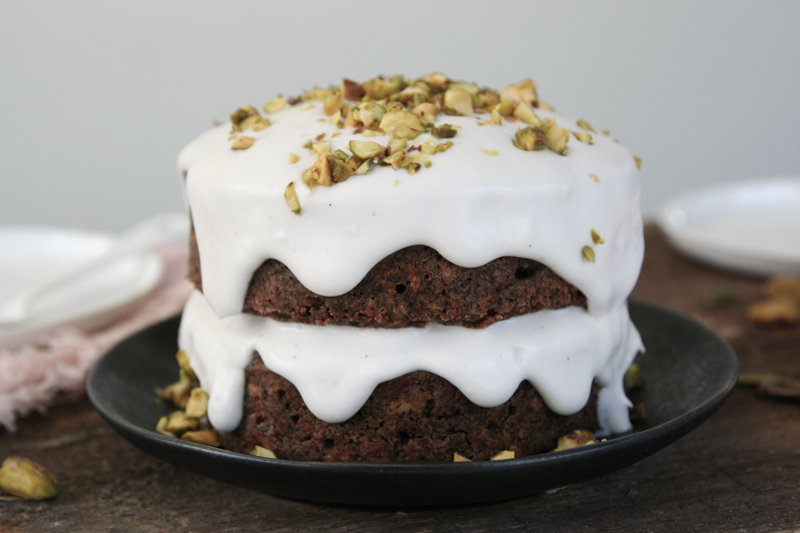 Mini Carrot Cake with Coconut Cream and Pistachios
(Vegan + Gluten Free)
Yields: 1 mini carrot cake, 2 layers with 2, 4.5 inch springform pans
Ingredients:
2 tablespoons flaxseed meal (ground raw flaxseed)
5 tablespoons water
1/2 cup maple syrup
1 tablespoon flaxseed oil
1 teaspoon cinnamon
1/4 teaspoon cardamon
1/4 teaspoon vanilla bean
1/4 cup pecans, chopped
1/4 cup pistachios, chopped
2 carrots, peeled and grated
1/4 cup pumpkin seeds
1 tablespoon fresh ginger root, chopped
1/2 cup buckwheat flour
fresh juice of 1 small orange (tangerine or clementine)
1 can coconut milk, full fat (chilled in refrigerator over night**)
1/4 cup pistachios, chopped for topping
Directions:
1. Preheat your oven to 320 degrees F.
2. Make Flax egg by combining flaxseed meal and water. Set aside and let rest for 5 minutes.
3. Combine in a mixing bowl your flax eggs, maple syrup, flaxseed oil, cinnamon, cardamon, vanilla bean, pecans, pistachios, grated carrots, pumpkin seeds, ginger and stir.
4. Mix in buckwheat flour into your yummy mixture and the fresh orange of one small orange, tangerine or clementine.
5. Oil your 2 small 4 – 4.5 inch springform round pans and evenly add your mixture to the pans.
6. Bake your cakes, place both pans in the oven for 35 minutes.
7. Flip your chilled can of coconut milk, full fat upside down and gently open. Pour out liquid and save the fat. In a mixture or bowl with hand held mixture, add coconut milk fat and whip until airy and fluffy. Optional to add additional vanilla bean or 2 tablespoons maple syrup.
8. Let your cakes cool before removing them from the pan and assembling. Assemble your layered cake with coconut cream in between your layers and keep placing coconut cream on the top and let it drizzle down the sides of the cake. Top with chopped pistachios and serve chilled or at room temperature.