This pumpkin seed pesto pasta is amazing and so incredibly good for you. I make variations of this recipe all of the time and it makes a really healthy and fast week night meal. One of my favorite luxurious kitchen tools I use in my kitchen quite frequently is my Spiralizer. A Spiralizer is a fancy machine that turns vegetables into different types of noodles. There are lots of great Spiralizer tools out there, I use a Paderno 4-blade Spiralizer from Crate & Barrel.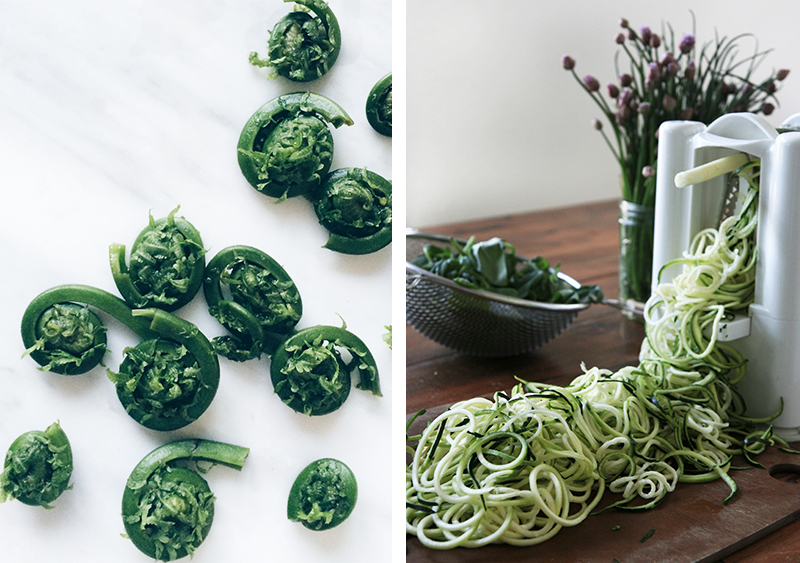 Blink and you might miss your chance for fiddlehead ferns at your local health food store or farmers market. Their season is incredibly short, and they are hard to find. They do not make this pasta meal, you can always add a different vegetable like, spinach, kale, broccoli or brussels sprouts. When I first tried these beautiful ferns, it was at one of my favorite local restaurants, The Bachelor Farmer on my Birthday in May. These tightly wound little babies are harvested during spring before the frond has a chance to mature and uncurl. They have a bright green color, snappy texture like a green bean but have a grassy taste similar to asparagus. They do have a unique flavor all their own and are worth a try if you see them.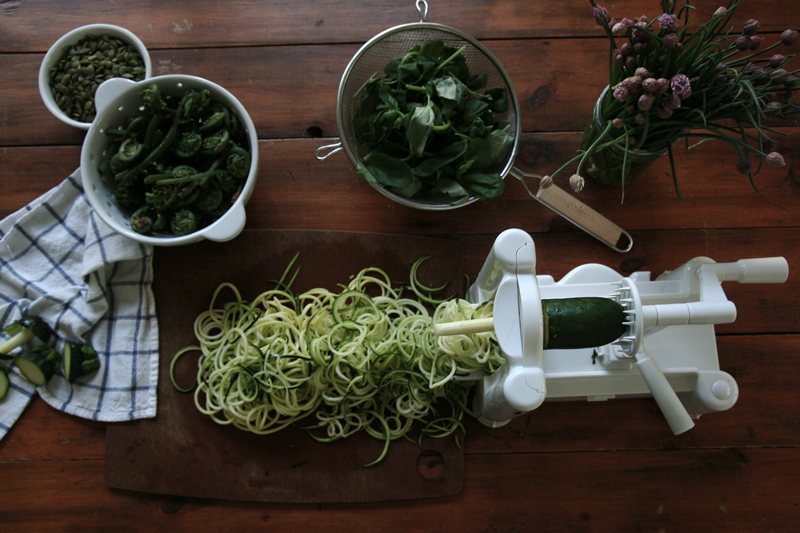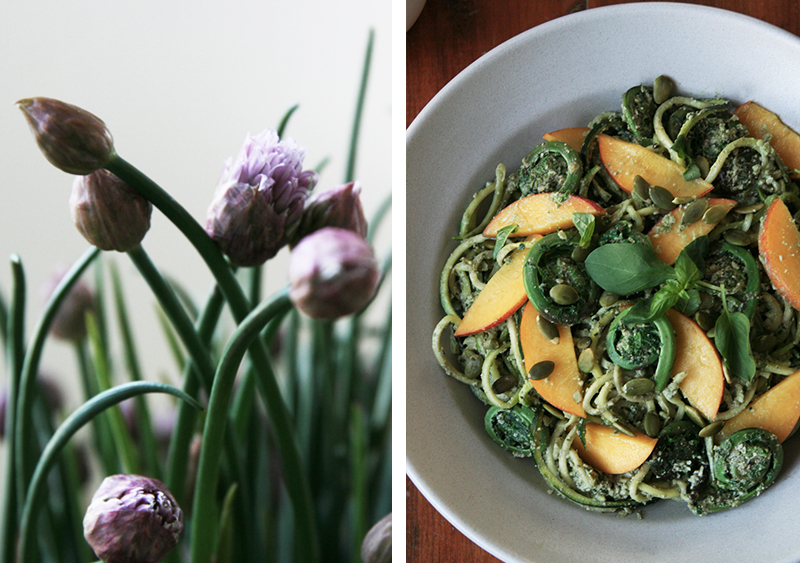 Zucchini Pasta with Pumpkin Seed Pesto and Fiddlehead Ferns // Serves 2
(Vegan + Gluten-free + Nut-free)
Equipment Needed:
Spiralizer, I use Paderno from Crate & Barrel
High-speed blender with dry blend jar option or a food processor
Ingredients:
1 cup pumpkin seeds
1/4 teaspoon sea salt
1 clove garlic
1 cup packed fresh basil
1 tablespoon fresh squeezed lemon juice
4 tablespoons olive oil
2 zucchinis
2 cups fiddlehead ferns, cleaned and trimmed
2 nectarines or other stone fruit, sliced
garnish with chopped chives
cracked black pepper to taste (optional)
Directions:
1. Make your pumpkin seed pesto. In a food processor or dry blend jar of your high-speed blender, blend pumpkin seeds, sea salt, garlic, fresh basil, lemon and 3 tablespoons olive oil. Blend until a smooth paste. Set aside.
2. Spiralize your zucchini and set aside.
3. Bring a medium sized pot of salted water to a boil. Clean and trim the ends of your fiddlehead ferns. After water is boiling, cook the fiddleheads until barely tender, 7-10 minutes; Drain.
4. Heat olive oil 1 tablespoon olive oil in a large skillet over medium heat. Stir in the prepared fiddlehead ferns. Add zucchini noodles and cook for about 2-5 minutes. Turn down heat to low and add pumpkin seed pesto and stir to coat ingredients.
5. Serve with sliced stone fruit, chopped chives and cracked black pepper.