Not sure if it was a rut, or that I took too much on in July… either way, things are looking up over here again and I have caught the blogging bug. I am so excited to share with you this easy, fast and delicious naturally gluten-free, nut-free and vegan muesli recipe. I have been a huge fan of the new muesli craze and have struggled to find store bought options that do not include almonds. I have found one brand that I just adore and that is Seven Sundays, a local company out of Minneapolis.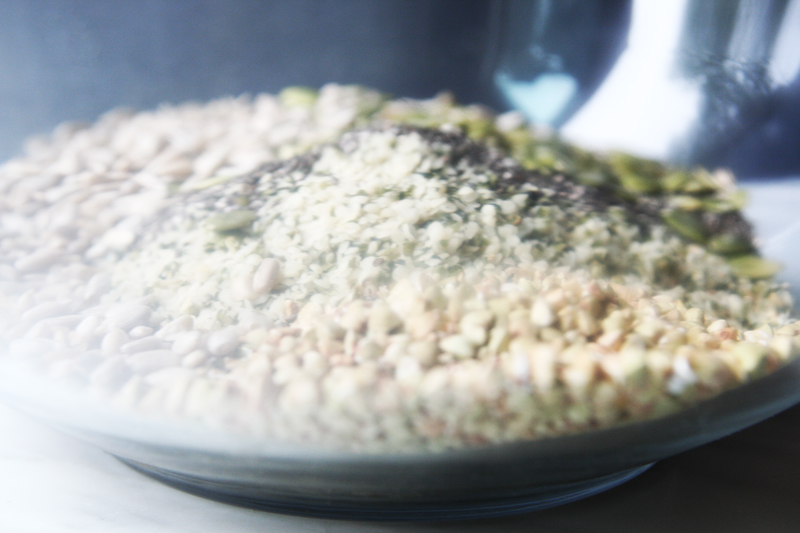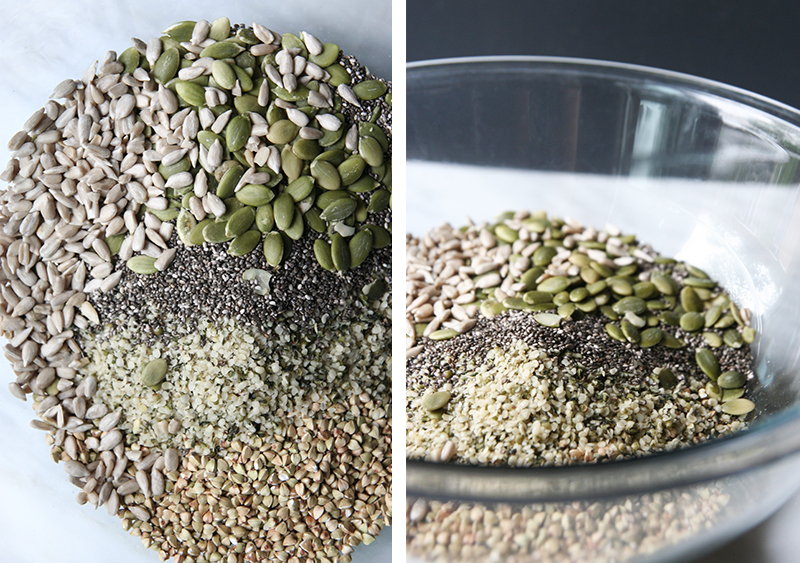 What I love most about this seed muesli is that it is so easy to make and throw together. Graham and I both have been just incredibly busy this summer and unfortunately our extravagant time consuming meal adventures have taken a back seat. We have just been living off of smoothies and this seed muesli this summer. This one I am sharing is my personal favorite combination but this seed muesli is great with yogurt, other nut milks, coconut milk and all sorts of fresh or frozen fruits. Something else you can play with a little bit here is adding honey or maple syrup and spices like cinnamon, cardamom or ginger.
Graham laughed when I made this.. "bird food in green milk?!" Yes, this is what I like to call bird food, ie. seed muesli. After his first bite, you could see his eyes open up a little wider. Yes, it does tastes "healthy", that is because it is healthy. This seed muesli is packed with so much goodness and it is rich in vitamins and minerals. It is filling but yet still somehow light, leaving you feeling satisfied but not weighed down for your busy day ahead.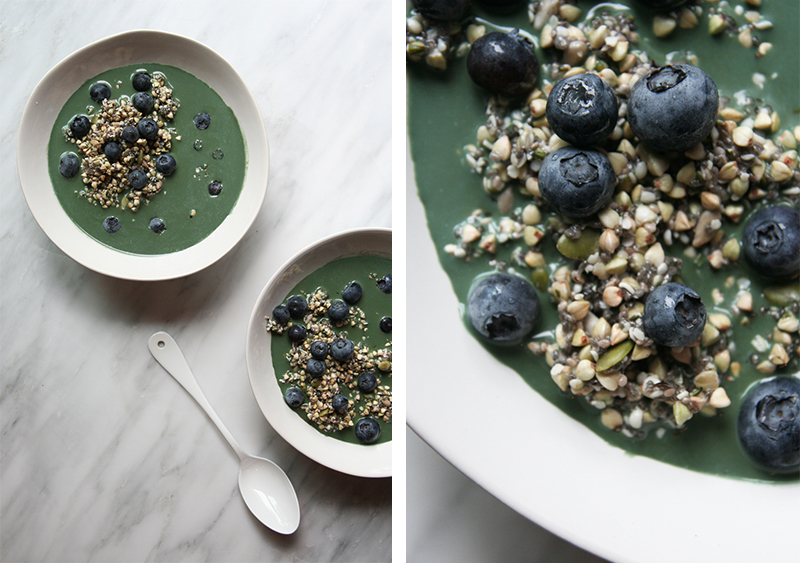 Print Recipe
Seed Muesli with Spirulina Milk and Blueberries
Seed Muesli with Spirulina Milk and Blueberries. Made with buckwheat groats, hemp seeds, chia seeds, pumpkin seeds and sunflower seeds.
Ingredients
2

cups

buckwheat groats

1

cup

hemp seeds

1

cup

chia seeds

1/2

cup

pumpkin seeds

1/2

cup

sunflower seeds

fresh summer berries or blueberries
Instructions
Add all of your seeds, buckwheat groats, hemp seeds, chia seeds, pumpkin seeds and sunflower seeds into a large mixing bowl and mix together. Store at room temperature or refrigerated in a wreck jar, or airtight container until serving.

Add about 1 cup of mixture into a bowl and combine with Blue-green spirulina milk or other nut milk of your choice and soak your seed muesli for about 20 minutes before enjoying. Top with fresh summer berries like blueberries and enjoy!